Did you know that as of 2021, the estimated global cost of cybercrime is $6.1 trillion? Cybercrime can happen to anyone. Your personal computer, small businesses and large corporations are all targets. It's our job to learn how to fight cybercrime.
Lucky for you, CompTIA has a wealth of free resources to help you start learning. We have gathered a collection of our favorite articles to help you build your cybersecurity skills. From the dark web to ethical hacking, discover new things and refresh your cybersecurity knowledge. Check out the resources below and read at your own (cyber) risk.
Free Cybersecurity Resources
Learn about different types of cybersecurity threats, why cyberattacks happen and who they target. Additionally, you'll learn why cybersecurity is important and more importantly, why it's everyone's job.
Not sure where to start finding the best cybersecurity job for you? Check out our list of job titles and salaries to jumpstart your job search.
CompTIA offers a wide variety of certifications to kickstart your IT career. See the best cybersecurity certifications we (and others) have to offer.
CyberSeek Series
CyberSeek is a great tool to inform your job search. Check out this series to learn more how to transition from your current role to a cybersecurity role:
4 Steps to a Cybersecurity Career
How to Transition From Finance to Cybersecurity
How to Advance From IT Support to Cybersecurity
How to Transition From Computer Networking to Cybersecurity
How to Transition From Security Intelligence to Cybersecurity
How to Transition From Software Development to Cybersecurity
How to Transition From Systems Engineering to Cybersecurity
IT Pro Success Stories
Get inspired by reading these IT pro success stories and then create your own:
How a Young IT Pro is Carrying on the Family Cybersecurity Legacy
How CompTIA Made the Impossible, Possible for an IT Student
How a Cybersecurity Analyst Unlocked His Career Potential With CompTIA
Information Security Analyst Explains Why It's Never Too Late to Get Started in IT
Cybersecurity Pro with 7 CompTIA Certs Explains How to Break Into IT Security
From New U.S. Arrival to Top Cybersecurity Talent in Six Years With IT Certifications
We've gone over the importance of cybersecurity and the existential tools that come with it, but what is cybersecurity? Read more to understand the meaning behind cybersecurity so you can start learning.
When it comes to preparing for potential data breaches or protecting your reputation, cybersecurity compliance is a great benefit to your team. Learn more about why cybersecurity compliance is so important.
Get ready to attack! Learn about the anatomy of a social engineering attack in order to avoid being its next victim.
There are good hackers and bad actors. Discover the ways ethical hacking can save us from the bad guys.
What's a dance party without some Log4j? Check out this article to see what Log4j is and why the vulnerability should be taken seriously.
Security knowledge is one of the most important skills you can offer an organization. Get the breakdown of our most popular certification, CompTIA Security+, and decide if it's right for you in 2022.
Steganography may sound old and strange, but odds are you've used it at some point growing up. Find out how you can write a secret message, detect it and deliver an attack.
Understand the five core functions of the NIST Cybersecurity Framework: Identify, protect, detect, respond and recover.
The dark web normally pertains to scary thoughts and sinister searches. Don't worry, it's not all that bad. There are many ways an IT pro can use the dark web for good. Learn more about the good, the bad and the ugly within the dark web.
According to InfoSecurity Magazine, about 2.9 million DDoS attacks occurred in Q1 of 2021, with an increase of 31% over the same period in 2020. There are multiple DDoS attack strategies, learn how you can utilize them and stop these attacks.
Ever wonder why it's so important to learn multi-factor authentication? It's everywhere and improves security by a landslide. Read more about why two (or three) authentications are better than one.
The goal of a social engineer is to carefully create a condition of "false trust," where an individual reveals information or otherwise takes an action that leads to a security breach. Learn the 12 ways you can protect yourself from attacks.

Read this guide to learn more about the basics of IT risk management, why it is important for the enterprise leaders, policies, procedures and technologies involved, and how to manage information risk.
+ Means Cybersecurity Careers
Do you need to improve your cybersecurity skills? At CompTIA + means IT careers. CompTIA certifications are well known for providing you the credentials you need to show future employers you have the skills to protect their organization.
Here are 5 ways that + means IT careers:

1. Choose a Certification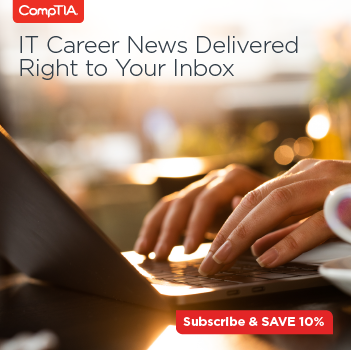 Not sure which certification is right for you? CompTIA offers cybersecurity certifications for every level of expertise. Our
cybersecurity
pathway can help you pick a certification based on your experience and career goals.
2. Study for Your CompTIA Certification Exam
CompTIA has multiple options to help you study for your CompTIA certification exam. Whether it's eLearning or study guides, we have what you need to prepare. Read more about how to study for
CompTIA Security+
and
CompTIA Cybersecurity Analyst (CySA+),
and stay tuned for the launch of new
CompTIA PenTest+
and
CompTIA Advanced Security Practitioner (CASP+)
training options later this month.
3. Save Money on CompTIA Certifications
Getting a CompTIA IT certification is an investment in your career but getting a discount can help. There are a number of ways you can get a
discount
on your CompTIA purchases.
4. Take Your CompTIA Certification Exam
Scheduling your exam is the easy part. CompTIA offers
online testing
24/7, so you can either go to a
testing center
or take it from nearly anywhere with an internet connection.
5. Land Your Next IT Job
Once you earn your certification, CompTIA can help you find the perfect IT job. We've teamed up with ZipRecruiter so you can get access to job alerts, digital badging and more
. ZipRecruiter is a leading online employment marketplace
that leverages artificial intelligence (AI)-powered smart-matching technology to actively connect millions of employers and job seekers. Be sure
to sync your credentials on ZipRecruiter
and continue to grow within the tech industry.
We hope these resources will further enhance your career profile. Keeping up your cybersecurity skills is very important. It's essential that you are aware of the latest threats to stay ahead of the cybercriminals all around us.
Learn the skills you need to get started in cybersecurity with CompTIA CertMaster Learn for CompTIA Security+. Sign up today for a free trial.