Now that another October – and hence another Cybersecurity Awareness Month – is upon us, it's time to take stock in why cybersecurity professionals are so important.
4 Reasons Cybersecurity Professionals Are Important
1. Cybersecurity Professionals Are Privacy Guardians
You can't ensure privacy without first getting your cybersecurity ducks in a row. One of the reasons many publicized attacks involve government agencies and credit reporting agencies is because they are pillars of our very identities in the modern world. Cybersecurity professionals help ensure that those pillars remain firmly in place. You could even argue that cybersecurity pros are critical curators of our online identities today.
The diagram below shows where cybersecurity and information protection intersect and how laws and standards, like the General Data Protection Regulation (GDPR) span both. Cybersecurity professionals are tasked with both security and privacy.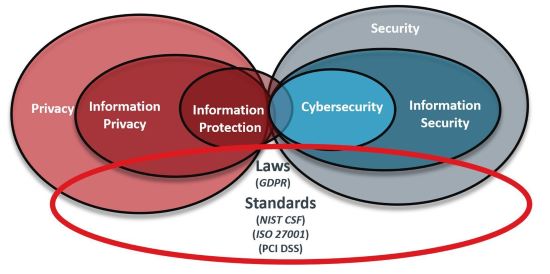 2. Cybersecurity Professionals Protect Our Supply Chain
The systems that help manage our supply chain are all highly digitized these days. Imagine would what happen if the cybersecurity professionals responsible for keeping these systems properly available didn't have adequate skills?
3. Cybersecurity Professionals Enable Creativity
Today's cybersecurity professional represents much more than just someone who says, "No" to new solutions. They actively contribute to the creative dialog by suggesting ways to ensure that the information organizations use and generate remains available and retains its integrity.
4. Cybersecurity Professionals Provide the World with Confidence
Finally – and perhaps most importantly – cybersecurity pros make sure that the information we generate and use is stored and transmitted securely. For all the talk about threat identification, cyber threat intelligence, and all of the latest interest in governance, risk management and compliance, the value of cybersecurity in all of its forms basically comes down to ensuring information integrity. That integrity brings confidence.
Cybersecurity professionals help create processes that organizations and governments around the world use to provide accurate, useful information. It doesn't matter if that information is about pandemics, votes or economic stimulus strategies: cybersecurity professionals work behind the scenes to help people remain confident as they move forward in their daily lives.

Video: Real Stories From Real Cybersecurity Heroes

Free Cybersecurity Resources
As a thank you to our valuable cybersecurity pros, below are some of our favorite resources related to cybersecurity certifications and jobs plus free tutorials on cybersecurity skills.
Cybersecurity Certifications
What Kind of Jobs Can You Get with Certifications?

Learn more about cybersecurity jobs and which CompTIA certifications can get you there.
Cybersecurity Jobs
Cybersecurity Skills
Cybersecurity Tutorials and Guides
CompTIA's Cybersecurity Awareness Month Activities
For cybersecurity awareness month, CompTIA is bringing you everything you need to succeed in your cybersecurity career. In addition to career advice and other cybersecurity resources on our website, watch for our weekly broadcasts on LinkedIn and YouTube.
CompTIA has exciting plans for Cybersecurity Awareness Month, including discounts, product giveaways and weekly live broadcasts. Enter our giveaway and then watch our broadcasts to see if you've won.