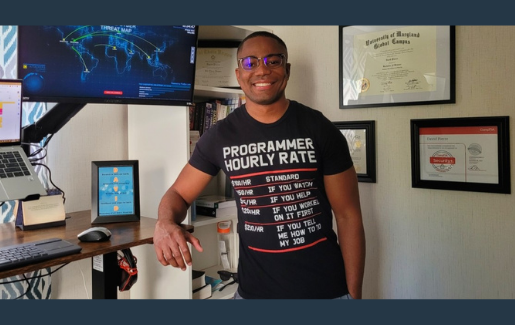 From his home office in the small town of Cumberland, Maryland, David Pierre, senior associate, application security at PricewaterhouseCoopers (PwC), enjoys the full-time work-from-home lifestyle. Each day, he utilizes his expertise to ensure that the enterprise's applications are properly hardened to vulnerabilities before going live; that security controls are in place and code reviews are performed with no issues. Such professional success and personal comfort represent a big change from what things looked like when he arrived from his native Haiti six years ago.
In 2016, Pierre landed in Maryland with tons of tech potential but no applicable credentials. As a non-native English speaker he faced even more barriers. But Pierre took the difficulties he faced in stride, possessing a characteristic that positioned him to rise to the top: Talent.
What he needed was a way to display that talent. Earning CompTIA Security+ allowed him to show U.S. employers what he could do, providing a pathway to earning an excellent living and fulfilling his natural curiosity – a curiosity that has animated Pierre's ambitions since his youth.
Curiosity, Technology and a Quest for Answers
When he was a young child in the city of Corail in Grand'Anse, Haiti, Pierre saw a helicopter and immediately wanted to know how it worked and how to build one. While he never built a helicopter, that natural curiosity has informed his lifelong approach to technology.
By the early 2010s, smartphones were catching on in Haiti. People in Pierre's neighborhood wanted this new technology and needed someone to facilitate connectivity and fix broken phones. Pierre taught himself the ropes of mobility and became the go-to guy for Android assistance.
When he reached college age, other interests overshadowed his tech hobby. He studied civil engineering and used his growing knowledge of English to work as an interpreter. One day, while handling translation duties for a mobile clinic, he met a nurse from the United States. Soon they were engaged and making decisions about where to start a family.
"It was one of the toughest decisions in my life, but [we decided] it would be easier for me to be [in the U.S.] than her in Haiti," Pierre said. "She is not a fan of the heat."
Working Hard to Get a Stateside Cybersecurity Start
In 2016, Pierre arrived in the United States and married his fiancée. Neither his interest in technology nor his civil engineering background were helping him land a job. To get by, he was mopping floors at Chik-fil-A and Lowe's.
Pierre's father-in-law informed him of a program at Allegany College of Maryland (ACM) in the growth area of cybersecurity. With his understanding of mobile hardware and networking, he got started. And school was just one of the educational paths he was pursuing.
"School can give you some direction, but if you really want to master something it's going to be up to you," Pierre said.
Having heard all about its unparalleled career-building value, Pierre began self-studying for the CompTIA Security+ certification. Passing a CompTIA exam is no easy task and, despite his dedication and preparation, Pierre did not pass the certification exam the first time.
Knowing the value of the certification and having a feel for the mechanics of the exam, he redoubled his efforts. After three months of even more intensive study, Pierre took the exam a second time. That time, he passed. He was ecstatic. He believed a new world of job opportunities was out there for him, and he was right.
A Quick Ascent From Help Desk Tech to Cybersecurity
In 2018, Pierre was still a student pursuing an associate's degree at ACM. With the CompTIA Security+ certification as his only professional credential, he interviewed at a small, local solution provider called Smart Choice Computer Solutions.
"In the interview with the CEO, they were asking some basic questions," he said. "Many of those, if you already had CompTIA Security+, you already knew [the answers]."
Pierre's cybersecurity knowledge got him hired, though he began on the ground floor. Talking with coworkers while fixing hardware, taking help desk calls and doing remote support, he gave his English proficiency a boost. On the side he was building his web design skills, so his boss gave him a shot building a client's website. Pierre succeeded, and his responsibilities expanded.
From 2018 to 2020 he was able to take on a diverse array of duties. On the web development side, he went from doing work for clients to designing, building out and launching an e-commerce store for the solution provider itself, and training employees on its functionality. He gave the brand's website a big overhaul, too.
On the infrastructure side, he got hands-on experience using a full slate of contemporary cybersecurity tools to secure networks and websites including Kali Linux for penetration testing, Zenmap for network monitoring and Wireshark for packet analysis.
"[Working at a small solution provider] is a great way to start," Pierre said. "You learn so much."
By the end of his tenure at Smart Choice, Pierre was monitoring networks and hardening IT systems just like CompTIA Security+ prepared him to do. He also began pursuing a bachelor's degree in software development and security, combining his penchant for coding and his understanding of infrastructure.
In 2020, with a CompTIA certification and a few years of on-the-job experience, Pierre made the leap to a massive company. Spending a year as a trust and safety investigator at Amazon Web Services (AWS), he gleaned unrivaled experience and then moved on to PwC.
In half a decade, Pierre went from mopping floors to assuring business-critical cybersecurity at global enterprises. And his quick and impressive ascent in the field is not slowing down.
Certifications: Just the Beginning
Pierre now plans to earn his master's degree in cybersecurity as well as the (ISC)2 Certified Information Systems Security Professional (CISSP). He anticipates learning a lot and, of course, earning a lot, with his sights set on a chief information security officer (CISO) role. And while he looks forward to salary increases, for Pierre it's not just about the money.
"It's a lot of money – but [if you don't love the field] you might get burned out or bored," Pierre said. "Cybersecurity is changing every day. You have to always be willing to learn if you are to be successful. Many other fields you go to school and then never learn again… with cybersecurity your degrees and certifications are just the beginning of your learning process. You have to be willing to learn every day, stay focused and add credentials."

Are you ready to turn your technology hobby into a career? Now is the time! Check out CompTIA Security+ to launch your cybersecurity career like David Pierre. Start learning today with a free trial of CertMaster Learn + Labs for Security+.

Matthew Stern is a freelance writer based in Chicago who covers information technology, retail and various other topics and industries.