What Is Remote Help Desk Support?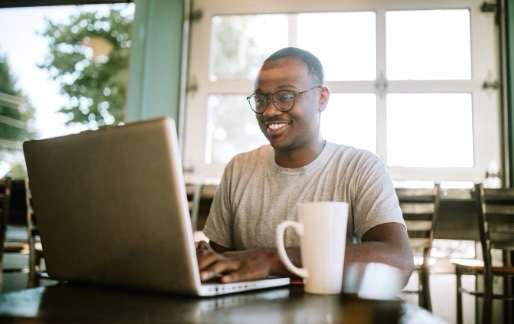 Remote help desk support is simply a virtual extension of the service desk. The remote help desk provides service and support to end users without an on-site team. This is an essential IT service for any business using technology, whether simple or sophisticated. Regardless of the complexity of your technology, you need to make sure you are supporting your end users, and a remote help desk is a cost-effective and efficient way to achieve exactly that.
What Does Remote Desktop Support Mean?
The help desk is an essential part of IT operations to ensure that users can access the tools and systems they need to be efficient in their jobs. When things go awry or workers can't access the technology they need, their first source of support is usually the help desk.
Traditionally, desktop support staff would operate on site to help manage technology issues with desktops. But now that on-premises desktops are no longer the standard, remote desktop support teams help troubleshoot and fix problems with personal PCs and laptops. For example, a remote desktop support team might help with operating system errors, enabling VPN access or assigning application users.
What Are Remote Help Desk Jobs?
Remote help desk jobs are becoming more and more common every day, especially in our post-pandemic reality. COVID-19 certainly shook up the workforce as a whole. Many employees have now transitioned to part- or full-time work from home and need remote access as well as remote tech support. With the new normal settling in, help desk technicians now have more opportunities for remote work.
The Growing Demand for Remote Help Desk Jobs
Job postings in technology continue to rise. In fact, tech jobs are projected to be among the fastest-growing occupations over the next ten years, estimated at double the rate when compared to most other fields.
There were more than 970,000 job postings in the United States in Q4 of 2021, indicating the high level of need for more IT pros and remote help desk staff. The most recent data shows that job postings are up, but hiring isn't matching the need, with only one employee being hired for every five jobs posted.
According to CompTIA research:
IT technical support and IT help desk support are both listed among the top five skills needed in job postings for 2021.
Tech support in particular is one of the largest occupation categories with an estimated base of 662,000+ employed workers in 2022.
Tech support jobs are expected to keep growing with approximately 725,000 jobs expected by 2032.
As of February 2022, there were more than 1.5 million job postings looking for job candidates with technical and help desk- support skills.
With a hybrid workforce becoming the norm, IT help desk technicians are needed to support workers on a consistent and ongoing basis.
Remote Help Desk Job Options
There are multiple options for IT pros looking to work in this expanding field. These are the top ten job titles in postings for remote help desk:
IT support specialist
Desktop support technician
Help desk technician
Technical support specialist
IT support technician
IT technician
Desktop support
IT specialist
Help desk analyst
Field service technician
What Are the Qualifications to Get a Remote Help Desk Job?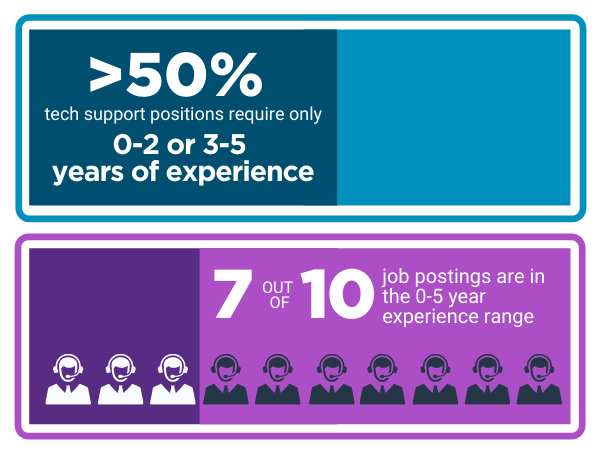 Most help desk jobs do not require much prior experience or education. CompTIA research shows that more than half of the tech support positions require only 0-2 or 3-5 years of experience. In fact, seven out of ten tech job postings are in the 0-5 year experience range.
Most remote help desk positions don't require a four-year degree. Hiring professionals indicate that a two-year degree or relevant certification is enough for most remote help desk positions. And IT managers (77%) have identified the CompTIA A+ certification as being highly valuable for remote help desk staff and entry-level IT positions.
The top ten skills identified by CompTIA for remote help desk jobs are as follows:
Technical support: Support that deals specifically with an application, system or components purchased by a company and provided to end users.
Customer service: The ability to deliver a solution quickly and to the customer's satisfaction.
Help desk support: The skills needed to manage inquiries from users such as device troubleshooting and network problems.
Repair: General skills needed to fix different hardware and devices.
Printers: Having the skills to configure, install and maintain printers of various levels of complexity.
IT support: General support for technology hardware or technology-related questions.
Microsoft Active Directory: Having the skills needed to manage the database that manages user identities and connects users to the various tools they need.
Hardware and software installation: Knowing how to install different hardware components and configure software on different devices.
Customer contact: Being able to contact users directly and work with customers to determine a satisfactory resolution.
Hardware troubleshooting: The ability to determine why issues are occurring on PCs, laptops and other hardware components, and using your skills to mediate the problem for a resolution.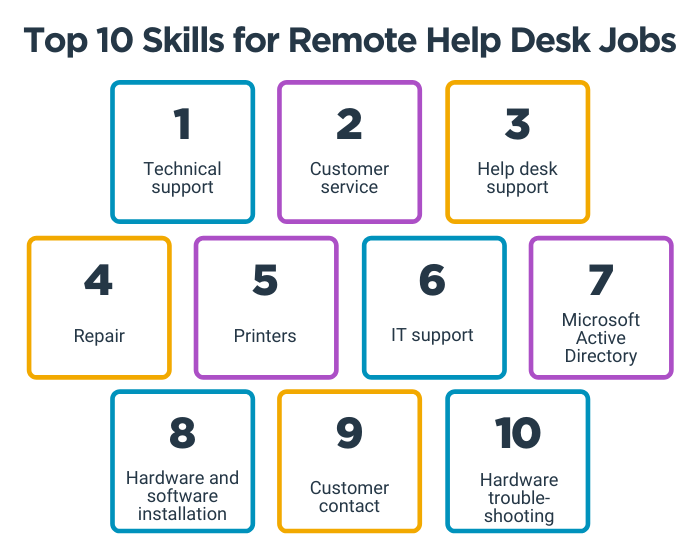 Who Needs a Remote Help Desk?
As remote work becomes the norm, businesses in nearly every industry can benefit from a remote help desk. Because most businesses utilize some form of technology as part of their operations, large enterprises and small businesses alike can either staff or outsource a remote help desk, which provides flexibility for IT pros. You can work in nearly any industry from nearly anywhere!
A CompTIA 2021 study shows that nearly all organizations use help desk support of some variety, with nearly half using a combination of internal and remote help desk options.
Remote help desk technicians handle a variety of problems, ranging from user access to mobile device management and security concerns. Many managed services providers (MSPs) now offer remote help desk service with flexible pricing options so organizations can scale their needs. A job with an MSP can be a good option for help desk pros who want exposure with companies in varying industries.
What Makes a Good Help Desk?
As the first line of defense, your help desk needs to be strong. The following characteristics make a good help desk:
It should be easily accessible and convenient
It should be easy for your staff to find and contact your help desk when needed. Support sessions should be flexible and user friendly.
Your help desk needs a solid ticketing system
Your ticketing system is the core solution for problem solving and service management. Make sure you have reliable, secure and intuitive management software to work though issues.
Provide self-service portals for simple problem resolution
There's no need to pull in technicians for simple problems such as password resets. Allow users to access a portal where they can resolve low-level problems without help desk intervention.
Consistent and visible sharing of knowledge
Often, the same problems arise repeatedly. There is no need for your team to put effort into solving an issue that already has a resolution. Provide an easy-to-use knowledge base with updated info on all issues.
Implement good customer service procedures
Due to low customer satisfaction in the past, many help desks are leaning into good customer service procedures to provide a better experience. Forward-thinking help desks are gathering customer feedback based on their interactions with personnel along with speed and satisfaction of ticket resolution.
Ensure secure transfer of information
Cybersecurity is a top priority when it comes to anything technology related. Make sure your help desk is communicating with protective measures in mind and taking precautions when providing sensitive information to customers.
Provide simple steps and guidance for resolution
Speak the language of your constituents to provide the best customer support. Make sure that your steps for resolution are clear, concise and easily understood by those with limited technical knowledge.
Automate as much as possible
Don't limit the productivity of your remote help desk team with rote tasks. Automate what you can and implement workflows where possible so you can free up your staff's time for more pressing tasks.
Make sure your help desk has a good understanding of business expectations
Every business is different. Your help desk should understand the core purpose of your business and develop processes and adopt tools to most effectively meet those demands.
Benefits of a Remote Help Desk
Remote help desks are beneficial for organizations in many ways. Remote help desk technicians keep things running smoothly and act as the front line of defense when technology problems arise. Providing remote support to staff is a cost-effective, scalable way to quickly and efficiently resolve technology issues.
Help desk support enhances employee productivity, making help desk technicians highly desirable. In general, help desk support also increases transparency for quick problem solving and resolution. Help desk technicians who can keep end users happy while efficiently solving problems are in high demand.
Want to land a remote help desk job? CompTIA A+ can get your foot in the door. Download the exam objectives or start learning with a free trial of CertMaster Learn + Labs for A+.
Read more about IT Support and Help Desk.