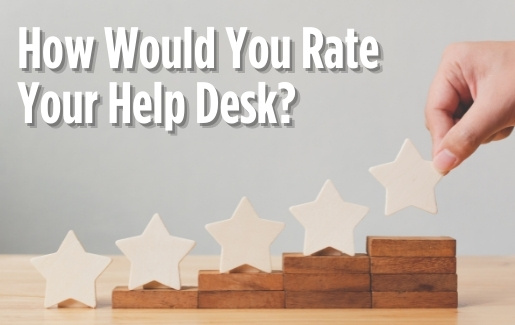 The customer experience is quickly becoming one of the defining traits of an excellent help desk, separating the subpar from the elite. New CompTIA research shows that while 67% of executives report being completely satisfied with the help desk, only 37% of IT staff and just 28% of business staff agree. How would you rate your help desk – and, more importantly, what can we do to raise those scores?
How Do We Measure Success at the Help Desk?
Every department has its own set of metrics and key performance indicators (KPIs) that set parameters for success. While some of these KPIs are shared across the entire organization, others are specific to key business functions. The help desk is no exception.
Ensuring business continuity and productivity is the ultimate goal of the help desk. Help desk technicians reach this goal by meeting customer satisfaction rates, increasing the speed of ticket resolution, increasing the number of tickets resolved and meeting ROI for help desk spending.

Measuring Customer Satisfaction

More than half of the companies surveyed by CompTIA believe that measuring customer satisfaction is key to improving the help desk – 65% of them, in fact, measure customer satisfaction in one way or another.
One way to measure this is by utilizing the customer satisfaction score, or CSAT. The CSAT tells you how satisfied your customers are with a product, service or interaction. A higher CSAT means greater customer satisfaction.

To implement this metric, you must first send out a customer satisfaction survey. The questions on the survey should prompt customers to rate their experience with your help desk on a scale from 1 to 5 – with 1 being a poor experience and 5 being an excellent experience.

To calculate your company's score, you take the number of satisfied customers and divide by a total number of responses. For example, if 78 of your 100 responses have a rating of 4 or 5, your score would be 78.

Measuring Speed of Ticket Resolution

Tracking the speed of ticket resolution seems like a no brainer when it comes to evaluating your help desk's performance – and 52% of the surveyed companies are tracking this.
There are a few variations here to consider:

You could track first response time, which is the time between the initial submission of a ticket and when a representative provides a first response.
Companies also track the time from that first ticket submission to the time the ticket was completely resolved – also known as average resolution time.
The help desk manager can use these statistics to track how the team as a whole is performing, as well as the performance of individual technicians.

Measuring the Number of Tickets Resolved

Of course, the help desk should be tracking the number of tickets they resolve in a given period of time. Of the companies surveyed, just 48% of them are actually doing this. Having a big picture view of the help desk's ticket status (solved, open, reopened, deleted, unassigned, escalated) gives you an opportunity to improve customer satisfaction rates.
Measuring ROI Against Help Desk Spending

The investments put into the help desk, anything from employee training and professional development to automation software and self-help resources should be measured against everything listed above. CompTIA research shows that right now only 38% of companies are engaging in this practice.
How will you know if the investments you make are worth it if you can't prove it? Measuring ROI is surely a organization-wide KPI – and it should be the same for the help desk.

What Are the Help Desk's Strengths and Weaknesses?

When it comes to evaluating anything, identifying strengths and weaknesses is a common approach for a very good reason – it's effective. When you break down what your help desk has mastered versus what they need help with, it becomes crystal clear where your focus should be.
Factors Impacting Satisfaction with the Help Desk
| | | |
| --- | --- | --- |
| Factor | Positive Impact | Negative Impact |
| Ability to solve technical problems | 55% | 34% |
| Support for remote work | 52% | 37% |
| Variety of communication channels available | 51% | 42% |
| Turnaround in resolving problems | 50% | 42% |
Essentially, these numbers mean that slightly more than half of the companies surveyed are happy with the help desk's performance in these areas. But in some cases, nearly half are not. These findings would suggest that the help desk needs to improve communication across a wider variety of channels and streamline (or speed up) the time it takes to resolve issues.
How Can We Make the Help Desk More Effective?
Once you've determined the metrics you'll use to evaluate your help desk and you've done some analysis on what is working and what isn't, it's time to get down to business. There are many avenues to consider to make the help desk more effective.
From the survey, CompTIA has identified four ways to improve the help desk:
Develop a better way to access the user system (56%)
Create better self-support resources (49%)
Implement better procedures for hardware issues (40%)
Make broader help desk contact options available (39%)
These suggestions are a good mix of technical improvements and communication enhancements that require a mix of technical and professional skills. This is where a capable IT support manager comes in. These IT pros have the skills to equip their team with the necessary resources and training to facilitate optimal outcomes. They are able to communicate sophisticated technology concepts to both IT pros and end users.
In other words, an effective IT support manager can manage both people and processes to enable the smooth and quick resolution of technical problems.

What Skills Do I Need to Get a Job at the Help Desk?

Today's help desk deals with end-user problems from the very simple to more complex. The trend is for these more simplistic tasks to be automated in some way or another to free up help desk technicians for more sophisticated issues.
To tackle those type of issues, the skills and qualities that help desk technicians are expected to have are starting to shift. For example, knowledge of cybersecurity, securing networks and remote/work from home support are in-demand skills that employers are looking for.

Change in Demand for Various Help Desk Issues

| | | | | | |
| --- | --- | --- | --- | --- | --- |
| | Increasing Significantly | Increasing Slightly | Stable | Decreasing Slightly | Decreasing Significantly |
| Cybersecurity | 36% | 34% | 18% | 8% | 3% |
| Securing networks | 31% | 36% | 22% | 6% | 2% |
| Remote/WFH support | 31% | 36% | 22% | 7% | 2% |
| Mobile device issues | 27% | 33% | 28% | 6% | 4% |
| Virtualization | 26% | 37% | 25% | 5% | 2% |
| SaaS/Cloud support | 25% | 32% | 27% | 6% | 3% |
| End-user support | 24% | 29% | 33% | 7% | 2% |
| Disaster recovery | 24% | 28% | 34% | 8% | 3% |
| Hardware issues | 23% | 32% | 33% | 7% | 3% |
| Software issues | 22% | 34% | 33% | 7% | 3% |
| MS Windows | 22% | 34% | 33% | 7% | 3% |
| macOS | 21% | 29% | 31% | 8% | 5% |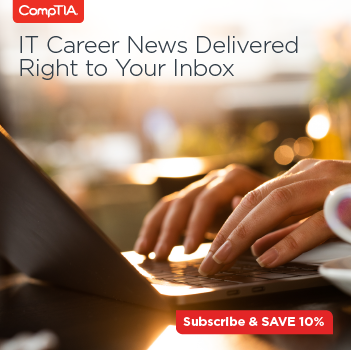 CompTIA A+ has an increased emphasis on cybersecurity, including malware, as well as cloud technologies, virtualization, IoT, network protocols and troubleshooting. It also covers the basics of scripting so that help desk technicians and technical support specialists understand what they're looking at when they encounter code.
CompTIA A+ continues to emphasize problem solving within a technology context. That's why 73% of executives surveyed say that CompTIA A+ is a strong option for IT support job roles. Employers want IT pros who can think critically and approach problems systematically to find a solution. Having CompTIA A+ shows employers that you have the hands-on skills and ability to solve technology problems at the help desk, and beyond.

Working at the help desk is a great way to launch your IT career. With a background in IT support, you not only have the skills needed to troubleshoot and resolve issues, but you also gain broad exposure to many areas of IT – an insider track that any IT pro should value.

Get the skills you need to start you IT career with CompTIA A+. Download the exam objectives for free today.