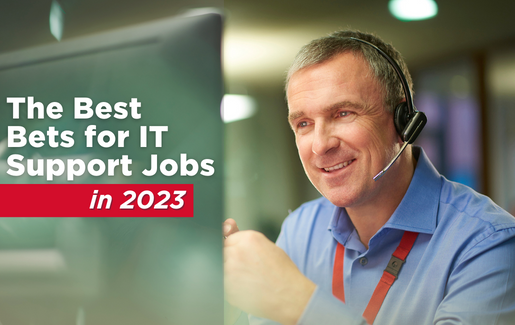 If you're thinking about starting a career in information technology, you're not alone. Despite the headlines around layoffs at high-profile tech companies, demand for technology workers continues to be strong across all industries. Organizations are using technology in new strategic ways, and they need IT pros who can help support the technology driving the vision.

Whether you're just getting started with a career or making a career move into the field of technology, one of the best places to start is IT support. This entry-level role requires a broad understanding of IT systems, which can be a launching point into a wide variety of IT careers. It's also one of the hottest jobs out there. During the 12 months ending on January 31, 2023, there were over 397,000 job postings for IT support roles.
And did we mention that IT support pays well? The median annual salary for IT support specialists in the United States is $49,770, which is 9% higher than the median national wage for all occupations. Salaries for advanced IT support specialists can top $90,000, and of course there are pathways from IT support into even higher paying technical roles.
Building the Skills to be an IT Support Specialist
If you're interested in pursuing a role as an IT support specialist, there are some fundamental skills you need to master. First and foremost are technical skills. This includes expertise with computer hardware, operating systems such as Microsoft Windows or iOS, cybersecurity and basic knowledge of computer networks. These are the skills that help IT support specialists resolve end-user technical issues.
The other set of critical skills are durable skills, also known as professional skills. These are the skills needed to succeed in a business environment, such as communication skills, problem-solving skills or troubleshooting. Whether it's working with teammates to figure out problems or providing customer support across the organization, durable skills make IT pros more valuable.
Different Types of IT Support Jobs
With the right skills, you can explore different flavors of IT support. Your job search may lead you to a dizzying array of job postings that all sound slightly different. Here are some of the main factors that can influence the day-to-day routine of an IT support specialist.
1. Type of company. It makes sense that a large company would have different needs from a small company. A large organization will usually have a more complex IT architecture. This can lead to more specialization among support jobs. Job titles such as help desk specialist or network support specialist may indicate a higher degree of focus.
Smaller organizations typically expect a more general approach, with an IT support specialist providing technical support in many different areas. Titles such as IT help desk support or IT support technician may hint at broader responsibilities.
Aside from organization size, different industries may have different needs. A healthcare organization will have different expectations compared to a financial organization, even though the basic skills remain the same. A small sampling of the top employers posting jobs for IT support specialists includes Best Buy, General Dynamics, Five Below, Deloitte, Humana, Xerox, Amazon, Accenture, Siemens and Toshiba.
2. Level of the role. While it is most common to see different levels of responsibility at a larger organization, even a smaller organization may have multiple levels of support in order to filter problems more efficiently. Generally speaking, IT pros describe the IT support breakdown as Tier I, Tier II or Tier III, where simpler problems are handled at Tier 1 and more complicated problems move up the chain.
A job description for a higher-level IT support specialist will usually include some requirement around years of experience, but the job title can also be an indicator. Titles such as technical support engineer or desktop support analyst may point at a need for a more advanced candidate, whereas IT support technician or technical support specialist may indicate more of an entry-level role.
3. Setting for the work. Different settings have different demands, and different settings can also be better or worse depending on your personality and the type of work you like to do. An IT support specialist may sit in a call center, providing support services for different employees or clients. They may move around an office building, fixing problems with equipment such as printers or IoT devices. They may even hit the road, resolving on-site issues at customer locations.
A job title like desktop support specialist probably implies something closer to the call center environment. A job title like field support technician could imply something a bit more mobile. The setting might also impact whether specialist jobs have a more flexible schedule.
All in all, there's a lot to consider once you've made the decision to explore tech support. If your job alert is bringing in a ton of options, be sure to look carefully through the details to understand the specifics behind each posting.
Want to get a better feel for a full-time job as an IT support specialist?
How to Get Started in an IT Support Specialist Job Role
Getting an entry-level IT certification, like CompTIA A+, can get your foot in the door to the best IT support jobs. Follow these steps to earn a CompTIA certification:
1. Choose Your CompTIA Certification
CompTIA A+ is the right place to start to pick up the basic skills. If you're aiming even higher, CompTIA Network+ and CompTIA Security+ are highly sought-after certifications for the IT support specialists and IT infrastructure professionals.
2. Study for a CompTIA Certification
Choose what works best for you! Options like eLearning, interactive labs, study guides, instructor-led training (and more) make it easy for you to learn depending on your preferences.
3. Save Money on a CompTIA Certification
Bundle an exam voucher with study materials, finance your payments or joining the CompTIA Store Club are just a few way you can save on your CompTIA certifications.
4. Take a CompTIA Certification Exam: In Person or Online
Your ideal testing environment may be in person or online in the comfort of your own home. Either way, you have the option to do what's best for you.
5. Get a new IT Job!
Once you earn that CompTIA certification, you not only have new knowledge and skills, you'll have an industry-recognized credential that potential employers in your job search will appreciate. Ready to find that new IT support job? CompTIA and ZipRecruiter have partnered to help you find jobs based on your certifications. Sign up now to get custom job alerts from ZipRecruiter and CompTIA.
Ready to start studying? Writing out your plan will set you up for success. Download our free training plan worksheet to help get organized and make your dream a reality.