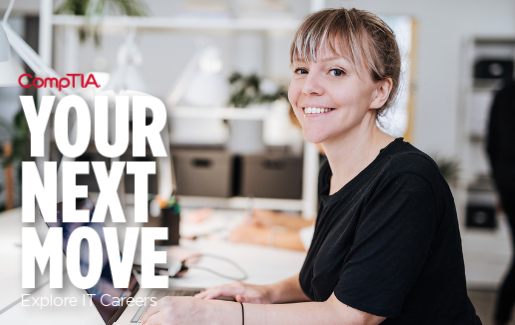 This article is part of an IT Career News series called Your Next Move. These articles take an inside look at the roles related to CompTIA certifications. Each article will include the responsibilities, qualifications, related job titles and salary range for the role. As you consider the next move in your IT career, check back with CompTIA to learn more about your job prospects and how to get there.
Effective IT teams are essential to the operational success of nearly any business. Like any other business team, IT benefits from solid leadership. An effective IT leader needs to be able to manage teams efficiently and communicate with end users, vendors and those outside the industry. If you have an interest in leading a team, while still providing end-user support and education, you may be interested in a career as an IT support manager.
Reimagine your post-high school educational experience with CompTIA Tech Career Academy, an affordable, fast alternative to traditional college.
Find out how.
What Is an IT Support Manager?
The IT support manager leads the help desk team, which may include various tiers of help desk technicians and technical support specialists. To do this, IT support managers need to have a working knowledge of the software and hardware systems in place at an organization and be able to implement or optimize the troubleshooting processes that lead to successful resolution of IT issues.
Successful IT support managers also equip their team with the necessary resources and training to facilitate optimal outcomes. They must also be able to communicate sophisticated technology concepts to both IT pros and end users, the latter of which may have limited technical understanding.
Other duties of an IT support manager may include the following:
Providing an optimal working environment for help desk employees while enabling quick and effective resolution
Training employees to adhere to customer service principles and best practices
Enabling fast and successful resolution of user issues
Supporting communication between escalation teams and end users
Developing a knowledge base of easily accessible resources for help desk employees to use when assisting end users
Evaluating the performance of individual technicians
Ensuring help desk technicians are abiding by ticketing expectations and tracking the resolution of problems
Supporting the delivery of quality technical support for end users or clients
An IT support manager is expected to develop necessary processes to make sure user issues are resolved to the satisfaction of all parties. These leaders need a wide-ranging knowledge of troubleshooting procedures and common IT problems.
Additionally, they are expected to guide their team to track issues from start to finish. Effective IT support managers will manage both people and processes to enable the smooth and quick resolution of technical problems.
IT Career Paths: How to Get into IT Support
How to Become an IT Support Manager
IT support managers have usually worked their way up the tiers of the help desk. Ideally, an IT support manager also has leadership experience, either formally as a supervisor or as a team lead.
Some organizations may require a bachelor's degree in computer science, but experience and IT certifications may suffice. CompTIA certifications like CompTIA A+, CompTIA Network+, CompTIA Security+ and CompTIA Project+ can validate your skills and show employers you're an ideal fit for the position. Check out the CompTIA Career Roadmap to see what other certifications can help you become an IT support manager.
The Details
IT Support Manager Salary Range
The 2019 median annual salary for this position was $59,234. (Burning Glass Technologies Labor Insights 2019)
IT Support Manager Job Outlook
There were 11,093 job postings for IT support manager roles in 2019, according to Burning Glass Technologies (2019) Labor Insights.
Job Titles Related to IT Support Manager
Will your next move be IT support manager? If so, download the exam objectives for CompTIA A+ to see what skills will get you there.