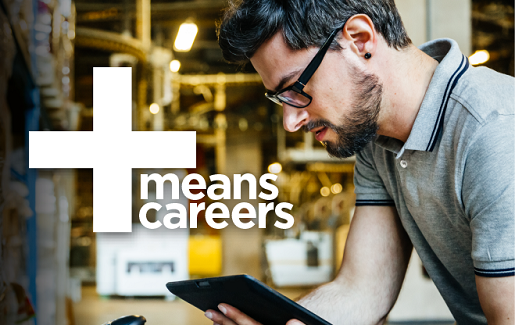 If you're familiar with CompTIA, you may know that the + means IT careers. CompTIA IT certifications have a long-standing history of being the industry credentials you need to show employers you have the IT skills they are looking for. Furthermore, our plethora of resources not only help you train and pass your CompTIA certification exam, but they can also help you market yourself, ace your interview and land the job of your dreams. Here are five ways CompTIA can help you get into IT and advance your IT career.
5 Ways + Means IT Careers
How to Choose Your CompTIA Certification
CompTIA certifications help IT pros at all levels prove to employers that they have the skills needed to work in IT. CompTIA A+ is the industry standard for establishing a career in IT, and all the certifications along the CompTIA Career Pathway can validate your skills as you move into more advanced or specialized roles.
Our newly revamped Career Roadmap and the IT Career Center section of the website can help you learn more about what IT jobs are out there, which certifications will help you get them and how to make your next move.

How to Study for a CompTIA Certification
CompTIA offers everything you need to prepare for your certification exam – at home, online or in an actual classroom. Many IT pros combine multiple training options to best prepare for their IT certification exam. Choose what work best for you, your learning preferences and your schedule.
How to Save Money on a CompTIA Certification
Getting an IT certification is an investment in both time and money, and that can be especially difficult if you're in school or job hunting. CompTIA offers a number of ways to make it easier for you to pay for your training and certifications.

How to Take a CompTIA Certification Exam: In Person or Online
As concerns about COVID-19 increased and sheltering in place became a reality, CompTIA made it a priority to help you still gain the skills and IT certifications you need to succeed in your career. Although we launched online testing during the global pandemic, it is here to stay.
With online testing, you can earn a CompTIA certification online, from your home – or any quiet, distraction-free, secure location – at a time that's convenient for you. Online testing is available 24/7, giving you a broader scheduling window than in-person training.

Of course, you're bound to have some questions … but don't worry, we have answers for you. We've compiled some frequently asked questions about procedures and best practices for you to use as a resource as you navigate CompTIA online testing. You can also read about (or watch) Network Chuck's experience getting CompTIA Linux+ with online testing.
How to Get an IT Job with CompTIA Certifications
Once you have a CompTIA certification, you not only have an industry-recognized credential that employers rely on to find qualified candidates, but you also have access to free resources that will help you find and land your dream job in IT.
Once you claim your digital badge, you can find job opportunities related to your CompTIA certification. And with CompTIA and ZipRecruiter, you can get tailored email alerts based on your certifications, skills and experience.

If you're new to IT, check out our free resources for displaced workers as well as the Career Change section of our website, which includes quizzes, articles and step-by-step guides to help you get into IT no matter your previous experience.

Wherever you are in your IT career, when you're ready for your next move, follow these four job search steps:

Even if you aren't looking to get a certification right now, CompTIA is here for you with free resources that can help you do your job. We've curated some that we thought could be especially helpful right now on our Free Resources for IT Pros page, but you can find more resources by topic on our website. Just hover over Resources in the menu bar and then select Cloud Computing, Computer Networking, Cybersecurity or IT Support and Help Desk to find blog articles, infographics, videos, handbooks and more.

Whether you're job hunting, furloughed, have some downtime or are busier than ever, CompTIA is here for you. Stay in touch to get more free resources and news from CompTIA as it becomes available.