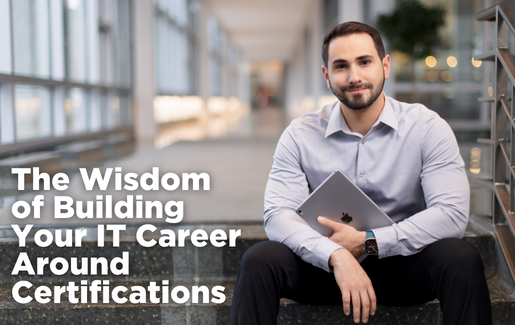 Going to school for cybersecurity is great, but certifications can often offer a faster, cheaper and more well-rounded path to a cybersecurity career. Juan Castillo, cybersecurity specialist, O'Neill Vintners & Distillers, should know. He currently holds CompTIA A+, CompTIA Network+ and CompTIA Security+ and is thriving in his career despite choosing IT certifications over graduate school.
It is a myth that IT pros must have a college degree. The truth is that you can launch your IT career with CompTIA A+. With CompTIA A+ you can become a career ready candidate even with no experience.
Related Blog: Getting Into IT Without a Degree
The Wisdom of Building Your IT Career Around Certifications
For IT pros, there are a slew of benefits to earning IT certifications. Perhaps the most prominent benefit is that certifications make it much easier to get a job in tech.
Per a CompTIA study, 91% of employers think IT certifications play a key role in the hiring process and can predict how successful a potential employee would be. This means most employers prefer job candidates who are certified. They are simply the safest bet when it comes to hiring.
Castillo remembers when he first understood the value of IT certifications. After graduating from college with a degree in computer science, an interviewer asked him why he should be hired without certifications. The interviewer wasn't satisfied with the fact that Castillo had earned a degree in tech. Instead, he was pointing out his lack of IT credentials.
"That pushed me to build my career around certifications," Castillo explained. "At that time, I could have either gone to graduate school or pursued certifications. I feel that by earning the certifications I have now, I validated my skill set and work ethic to my employer."
According to Castillo, employers are seeking the broad range of knowledge that IT certifications confer. They are also looking for workers who are open-minded and not set in their ways. Typically, IT pros who spend their time and money getting certified value professional growth and lifelong learning. They are the exact job candidates employers need most.
Why Choose CompTIA Certifications?
Getting certified as an IT professional can help you land a job in IT, get a promotion or establish yourself as an expert in your field. But which certification provider should IT pros choose? Castillo recommends CompTIA.
"I recommend CompTIA certifications because of how easily they can be earned," Castillo said. "CompTIA has made it simple to get certified. You just have to study, set an exam date and show up to the exam. Online exams make the certification process even easier. CompTIA certifications are also more affordable than others."
Additionally, CompTIA offers industry-recognized certifications that employers trust and seek out specifically.
Castillo encouraged his fellow IT pros to advocate for their professional growth and save money by asking their employer to cover the cost of CompTIA exams. Most employers see the value of IT certifications, and many will seriously consider a request for ongoing educational opportunities in IT. These include certifications. Interested IT professionals could also ask that CompTIA training solutions be provided so they can study for the exam of their choice.
Explaining to your employer how getting certified will align you with the company's goals will give you the best chance of getting a CompTIA exam covered. And don't avoid asking for what you want because you don't work for an IT company. Castillo said that even companies outside the tech industry are often willing to invest in IT employees by enabling them to get valuable certifications.
How CompTIA Certifications Differ From Vendor-specific Credentials
Another great reason to choose CompTIA certifications over others is because they are vendor neutral.
Vendor-specific credentials have value, but they have a narrow focus. Vendor-neutral certifications are the exact opposite. Unlike vendor-specific certifications, CompTIA certifications provided Castillo with a broad range of IT knowledge.
"I'm in an industry where we're constantly evolving and needing to change, and I need to understand all these different types of languages and the different software that are involved in IT," Castillo said. "So, instead of seeking specialized IT certifications, I wanted to gain broader knowledge, which CompTIA certifications provide. I knew this information would enable me to speak to IT issues competently."
CompTIA certifications not only impart broad knowledge of IT topics, but also allow students and IT pros to apply new skills in real-world situations. This sets them apart from other certifications and gives certified individuals a distinct edge over the competition.
"CompTIA offers some really good resources and knowledge within their study guides, and also their other training tools," Castillo said. "I refer to the study guides in my day-to-day work. This helps me practically and proves to my employer that I am using resources that other tech community members are using as well."
Castillo said earning CompTIA vendor-neutral certifications has also helped him bolster what he's been doing in his IT role and overall career and given him greater notoriety with his boss.
For example, since earning his CompTIA certifications, his boss has "thrown him into the deep end," so to speak. "I know some people don't like that," said Castillo, "But I think that's a great thing to go through as an IT professional."
Every IT pro has a different journey to a career in cybersecurity, or whatever tech specialization they choose. For some, this will include a degree in a related field. But it doesn't have to. Choosing IT certifications over traditional schooling is a viable way to start your IT career more quickly and economically.
Learn the skills you need with CompTIA CertMaster Learn. Sign up today for a free trial today!