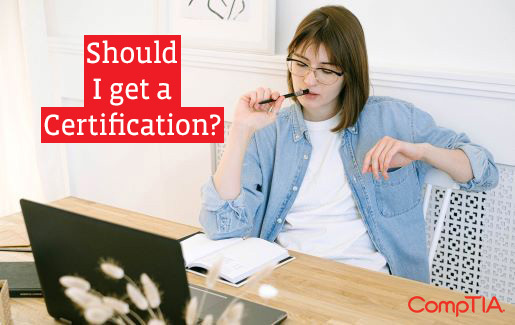 The question is simple: Why get IT certifications? The answer is multi-layered. In an increasingly competitive marketplace, it's harder than ever for job candidates to impress their employers. Hiring managers realize the importance of certification in information technology (IT). In fact, according to a CompTIA study, 91% of employers believe IT certifications play a key role in the hiring process and are a reliable predictor of a successful employee. Ultimately, gaining industry-recognized IT certifications are a professional development opportunity that will differentiate you in a challenging job market, heighten career advancement opportunities and set you on a lucrative career path.
Reimagine your post-high school educational experience with CompTIA Tech Career Academy, an affordable, fast alternative to traditional college.
Find out how.
What Are Some IT Certifications?
IT professionals get certified for a variety of reasons, and the certification you choose to pursue should directly reflect your desired outcome.
Are you looking to build foundational knowledge that will help you land an entry-level job?
Are you looking to explore a specialty like computer networking or cybersecurity?
Are you a certified IT professional looking to further your IT career?
The most popular IT certifications can boost your confidence, expand your knowledge and increase your reliability and performance. Here's an overview of what types of IT certifications are available to you.
Cybersecurity Certifications: Certified Information Systems Security Professional (CISSP), Certified Information Security Manager (CISM), Certified in Risk and Information Systems Control (CRISC), Certified Information Systems Auditor (CISA), CompTIA Security+ and CompTIA Cybersecurity Analyst (CySA+) are among the most popular, according to the Global Knowledge 2020 IT Skills and Salary Report.
ITIL: ITIL Foundation, ITIL Practitioner, ITIL Service Lifecycle: Service Operation, ITIL Service Lifecycle: Service Transition and DevOps Foundation/Fundamentals are designed for those who want a career in IT service management.
Microsoft Certifications: Microsoft Certified Solutions Expert (MCSE) for server infrastructure and Microsoft Certified Solutions Association (MCSA) for cloud computing are popular choices.
Cisco Certifications: Cisco Certified Network Associate (CCNA), Cisco Certified Network Professional (CCNP) and CCNA Security are just a few of the options.
Project Management Institute (PMI): Project Management Professional (PMP) is a certification for those pursing a project manager position.
Amazon Web Services (AWS): The AWS Certified Solutions Architect is Amazon's certification for AWS technologies.
CompTIA Certifications: CompTIA A+, CompTIA Network+ and CompTIA Security+ are the most popular CompTIA core certifications. The CompTIA Career Roadmap helps you explore how our certifications map to specific IT positions.
IT certification shows employers that you're the right fit for the job – and that sentiment is increasing. A whopping 94% of HR managers expect IT certification to grow in importance over the next two years as compared to only 84% two years ago.
What Are the Best IT Certifications?
That begs the question: What are the best IT certifications? It's obvious your choices are broad and can be somewhat overwhelming. To put it simply, the best certification for you is the one that will expand your skill set in a way that will help you land the IT job of your dreams.
To determine which certification is right for you, CompTIA has created career pathways that can help you align your career goals with IT specialties. You can also check out this list of which CompTIA certifications cover the skills you need for specific IT jobs.
For Core IT Skills
Every IT position requires a baseline knowledge of topics like operating systems, networking, cybersecurity and more. CompTIA's core IT skills certifications level the playing field and lay the foundation for a successful career in IT, no matter what path you take.
For Computer Networking and IT Infrastructure Skills
When taken together as the CompTIA Infrastructure Career Pathway, the following certifications validate the skills needed across IT operations, deepening your mastery and broadening the number of IT infrastructure roles in which you can contribute.
For Cybersecurity Skills
The following certifications make up the CompTIA Cybersecurity Career Pathway, validating your cybersecurity skills, from beginner to advanced cybersecurity pro.
Build Your IT Skills with Multiple Certifications
CompTIA Stackable Certifications demonstrate that you have the knowledge and experience needed to grow your IT career. They validate the skills of various IT roles and show a deeper mastery, opening up more job opportunities for you.
Within each pathway, CompTIA Stackable Certifications are categorized by experience level:
Specialist: Early-career IT professionals with 0-2 years of experience
Professional: Mid-level IT professionals with 2-5 years of experience
Expert: Established IT professionals with more than 5 years of experience
If you're a seasoned IT pro already on your way to the next level, check out which IT certifications pay top dollar.
What Are Some Careers in IT?
The job opportunities for those with IT training are endless. Not only are technology careers in demand, but as new technologies emerge, brand new IT job roles are developing as well.
Below are a few IT careers that are currently flourishing. This list is just snapshot of the different types of IT careers available to those who have the technical background and excellent soft skills, like communication and leadership. Check out our Career Roadmap and Your Next Move blog series to learn more about what IT careers are out there.
How to Earn an IT Certification
Earning an IT certification requires equal parts dedication and motivation. In order to succeed, you have to be focused and dedicated to your professional development – and, you have to want it. All IT certifications require some sort of training. This can be done in-person, in a traditional classroom or lab setting, or remotely from your home or office.
At CompTIA, we break earning your IT certification into four steps:
Choose your IT certification.

Do your research and decide which certification best aligns with your career goals. Browse CompTIA certifications.

Get familiar with you IT certification exam.

Download and study the exam objectives and the practice test questions.

Begin learning and training for your exam.

Choose from traditional study guides, online training and exam prep, interactive labs, video training or instructor-led programs to create a learning experience that works for you. Explore all IT certification training.

Register and take your certification exam.
First, buy your exam voucher. (P.S. Find out how to get a voucher discount!) Then, decide if you are going to test in-person or online and register for your exam. Since online testing is relatively new, we've put together some answers to FAQs about the process.
Many organizations are struggling with IT hiring due to large skills gaps in the workforce. Employers are desperately seeking skilled IT pros. Now is the time to strike while the iron is hot! If you are going to join today's digital workforce, it makes sense to start acquiring your IT certifications now.
Whether you're just getting into IT or have multiple certifications under your belt, stay connected with CompTIA as you make your next move. Sign up for our newsletter and get 10% off your next purchase.