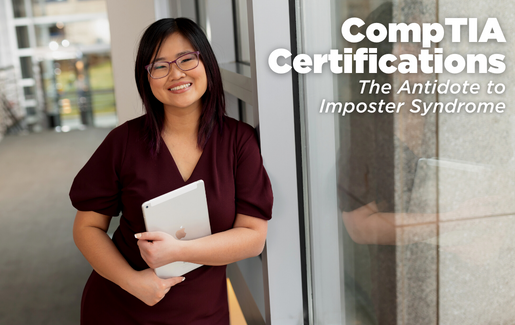 Cybersecurity professionals are in high demand. There are more than 700,000 job openings for cybersecurity positions in the United States alone. When an IT pro earns the necessary experience, skills and certifications to specialize in cybersecurity, it benefits the entire IT industry.
Vina Ta, cybersecurity specialist, Lordstown Motors Corporation, is one of the cybersecurity pros working hard to keep sensitive data and systems safe. But how did she get where she is, and what role did CompTIA play in her success? Read on to find out.
The Fast Track to Cybersecurity Success
For Vina Ta, the journey to a role in cybersecurity has been deliberate, focused and relatively brief. She first earned her bachelor's degree in computer science from Kent State University in 2019. While she was a student, in 2018, she landed a 7-month internship at Diebold Nixdorf as a security education analyst. Ta then transitioned to another 7-month cybersecurity internship role at Park Place Technologies in 2019.
Later that year, Ta accepted a position as a security operations center (SOC) analyst for Binary Defense, where she worked for nearly two years. In July 2021, she stepped into her current role as cybersecurity specialist for Lordstown Motors Corporation.
The Perks of Working in Cybersecurity
Cybersecurity is a fantastic field to work in, not just because cybersecurity pros are in demand, but also because it often leads to a better quality of life. A few of the things Ta loves about her job as a cybersecurity specialist include having a great manager, great co-workers, a great team and an exceptional work-life balance.
"People think when you work in cybersecurity that you're working around the clock," Ta said. "But a normal day for me is getting coffee, checking in on my co-workers, seeing what my tasks are for the day and then getting into that unique day's rhythm. So, there is no monotony."
Ta also loves that cybersecurity requires lifelong learning. Learning makes her happy, and with her job, she gets to do a lot of it. She also loves that she gets to make people feel comfortable in understanding and learning about cybersecurity and cited compassion as her biggest strength. You may not automatically associate compassion with cybersecurity, but as evident in Ta's role, there can be a strong link between the two.
"When you can understand how people are, it makes it so fun when you're training them or educating them or talking to them," she said. "You are able to give them that personal touch that's often missing in tech, in my opinion."
The Power of People in Cybersecurity
Many employers seek cybersecurity specialists who not only have experience and skills, but relevant IT certifications. CompTIA Security+ is an example of an in-demand cybersecurity certification. Ta earned CompTIA Security+ in April 2021 to further her knowledge and skills. But why did she choose CompTIA Security+, and how did it benefit her? To begin with, it deepened her knowledge of cybersecurity.
"CompTIA Security+ gave me a baseline understanding of the different departments and roles within cybersecurity," Ta said. "I value the certification because it doesn't just focus on one specific criteria. You learn about many aspects of cybersecurity, such as identity access and security operations. I took the certification exam after I'd already been hired, when I had time to focus and study."
Healthy peer competition also played into Ta's choice to earn CompTIA Security+. As she watched a few of her co-workers earn CompTIA Security+ and CompTIA Network+, she experienced a greater desire to earn CompTIA Security+ herself. Ta also values CompTIA Security+ because as she studied for the certification exam, she found her ultimate passion.
"In the process of studying for the exam, I found my true passion, which is in the people side of cybersecurity, such as security education and business. I love working with people and realized that as I prepared for my exam," she said.
Ta wasn't the only one who was thrilled she became CompTIA certified. Her boss was also happy. Her employer values CompTIA Security+ because it gave Ta a holistic overview of cybersecurity and allows her to focus on key areas that are relevant to her job role.
Is CompTIA Security+ Worth It?
The Antidote to Imposter Syndrome
Imposter syndrome is a thief of confidence, and most people deal with it at some point in their career. Ta attributes her lack of imposter syndrome and success in her job in part to CompTIA Security+, which boosted her confidence in ways she wasn't expecting.
"Imposter syndrome is when you feel like you're inadequate in your field or department," Ta said. "Earning CompTIA Security+ made me more successful in my field by helping me prove to myself that I could do anything I set my mind to. By getting CompTIA Security+ and landing a job, I realized I am more than what I thought I was originally."
In a short period of time, Vina Ta has experienced considerable success in her cybersecurity career. With the recent addition of CompTIA Security+ to her resume, paired with her dedication to learning and people, the sky's the limit for her.

Learn the skills you need with CompTIA CertMaster Learn. Sign up for a free trial today!