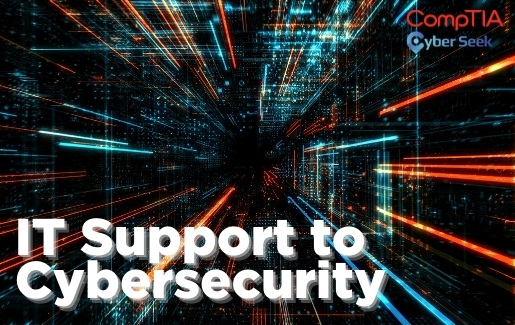 Many IT pros begin their journey in the tech industry in one of the many IT support job roles out there. IT support offers many opportunities for IT pros to gain experience working in a professional tech environment before branching out into other facets of IT.
For those that aspire to grow towards a cybersecurity career, but aren't sure where to start, you should check out CyberSeek. CyberSeek is an online interactive tool that IT pros can utilize to learn about jobs within cybersecurity along with specific information about the salaries, credentials and skill sets associated with each role.
CyberSeek provides career pathways for those that work in networking, software development, systems engineering, financial and risk analysis, security intelligence and the most recent addition - IT support. Read on to learn about how you can transition your IT support career into a cybersecurity career.
Invest in yourself without breaking the bank. CompTIA Tech Career Academy offers flexible, affordable and fast training for careers in tech.
Learn more.
IT Support to Cybersecurity: The Skills You Need
Working in IT support offers experience that can help you in an entry-level career in cybersecurity such as a cybersecurity specialist, cybercrime analyst or incident analyst.
In the United States, there are currently over 253,000 open jobs in the IT support feeder role that require the following cybersecurity skills from potential IT support candidates:
| | |
| --- | --- |
| GENERAL TECH SKILLS REQUESTED | CYBERSECURITY SKILLS TO ADD |
| Technical Support | Information Systems |
| Help Desk Support | Computer Forensics |
| Repair | Linux |
| Printers | Information Assurance |
| IT Support | Vulnerability Assessment |

Employers will expect an IT support professional to have these general tech skills. Make sure those skills are strong. The above-listed cybersecurity skills are particular skills that IT support professionals should add to their skill set to enhance your opportunity to earn a cybersecurity job.

How to Learn These Skills
CompTIA certifications cover the skills you need to move from IT support to cybersecurity, and each certification has a full suite of training products so you can tailor your studying to how you learn best.
If you're not sure which certification is right for you, take a look at the CompTIA Cybersecurity Career Pathway. CompTIA Network+ helps you understand the ins and outs of computer networks, how they're set up and how they function so you know what you're working to secure. And CompTIA Security+ validates the baseline skills needed to perform core security functions. Once you have some experience under your belt, CompTIA Linux+ is the perfect complement to your cybersecurity skills.
Once you choose which certification is right for you, download the exam objectives to see what's covered and then select your training solution. You can take a class, like CompTIA Live Online Training, or self-study with CertMaster eLearning solutions.
CertMaster Learn
CertMaster Learn is a self-paced, comprehensive online learning experience that helps you gain the knowledge and practical skills necessary to be successful on your CompTIA certification exam, and in your IT career. CertMaster Learn helps you stay on track with your studies, while robust analytics bring awareness of your strengths and weaknesses.
CompTIA Labs
CompTIA Labs make it easy for you to practice and apply your skills in real workplace scenarios in preparation for the certification exam. All lab activities use real equipment and software, are based on scenarios found in the workplace and align with CompTIA exam objectives.
CompTIA now offers integrated Learn + Labs for most CompTIA certifications, giving you a streamlined learning experience. Read more here.
IT Support to Cybersecurity: The Education You Need
According to CyberSeek, the following educational requirements represent the percentage of online job listings requiring either less than a bachelor's degree, a bachelor's degree or a graduate degree.
49% do not require a bachelor's degree
45% require a bachelor's degree
6% require a graduate degree
IT pros should keep these criteria in mind during their job hunt. Since half the jobs do not require a degree, if you're an IT pro that has prioritized certifications rather than a formal education, you shouldn't count yourself out of the following cybersecurity job roles.
IT Support to Cybersecurity: The Jobs You Could Get
The IT support job roles that transition well into a cybersecurity role are all entry-level jobs that can help propel you into mid-level and advanced-level cybersecurity careers down the line.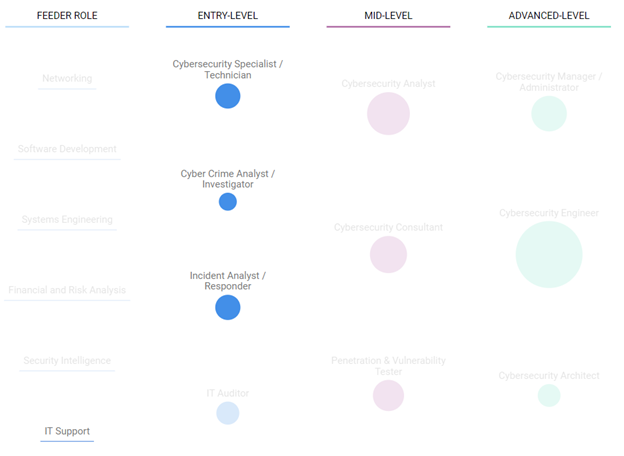 Cybersecurity specialist/technician: Cybersecurity specialists analyze risks and develop strategies to prevent breaches.
Cybercrime analyst/investigator: Cybercrime analysts and investigators are similar to detectives – they uncover data and information to build a case.
Incident analyst/responder: Incident analysts work to investigate cybersecurity or computer network-related incidents in real time and develop strategies to handle and prevent them in the future.
The average salary for these three job roles is $93,755 according to CyberSeek. This data is valuable during your job hunt to ensure you're getting a fair offer.
IT Support to Cybersecurity: The Certifications You Need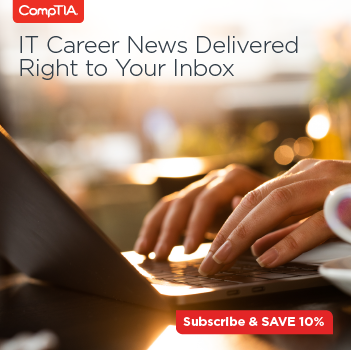 CompTIA Certifications
According to CyberSeek, of the 253,000+ job openings in the IT support feeder role, the following certifications are the most commonly requested by hiring employers:
CompTIA Network+: Develops a career in IT infrastructure covering troubleshooting, configuring and managing networks.
CompTIA Security+: Validates the baseline skills necessary to perform core security functions and pursue an IT security career.
Other Certifications
IT Infrastructure Library (ITIL) Certification: Helps aspiring IT pros learn best practices for delivering IT services.
Microsoft Certified Professional (MCP): Proves IT pros are up-to-date with technical requirements through a series of Microsoft certifications.
Transitioning from IT support to cybersecurity is a journey that IT pros should feel encouraged to embark on. You can rely on CyberSeek for updated information that will help you. Make sure you check in every few months for new data!
Check out the CompTIA Cybersecurity Career Pathway to see how CompTIA certifications can help you get into cybersecurity and advance your cybersecurity career.