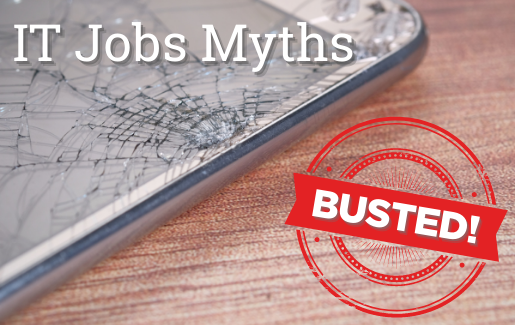 This article is of the first of an IT Career News series called IT Job Myths Busted. These articles break down and explain common misconceptions about a career in IT. Each article will address the myth and explain the truth behind it.
Are you craving a career in IT, but you're not keen on the idea of having to spend years and money on earning a computer science degree? Maybe you'd be surprised to know that a computer science degree is not necessary to succeed in a technology career.
There are IT pros who have computer science degrees, but others have business degrees, communications degrees or no degree at all! A large portion of IT jobs don't require a four-year degree or even a two-year degree. If not having a degree has kept you from pursuing a career in IT, you should know that most technology positions just require proof that you can do the job. And thanks to certifications and prior experience, this is possible!
Invest in yourself without breaking the bank. CompTIA Tech Career Academy offers flexible, affordable and fast training for careers in tech.
Learn more.
IT Certifications
IT certifications are very important – they prove the skills and knowledge that an IT pro has on certain topics. For example, CompTIA Security+ validates the baseline skills you need to perform core security functions and pursue an IT security career.
Did you know that 9 in 10 tech-savvy organizations value certifications as part of the hiring process? This shows that certifications are helpful in getting your foot in the door and making a good impression on a potential future employer.
There are hundreds of IT certifications out there that can help you move forward in your IT career. The CompTIA IT Certification Roadmap can make navigating the world of certifications a little easier. Whether you're interested in information security, web and mobile, software development or network and cloud technologies, choose your career path and identify the certifications that can help you get there.
The CompTIA Career Pathway can also help you discover which CompTIA certification is right for you at this point in your career. CompTIA certifications align with IT infrastructure and cybersecurity career paths, and each certification in the pathway strengthens your knowledge in that area. Early-career certifications like CompTIA A+, CompTIA Network+ and CompTIA Security+ are great starting point for people who need to build foundational IT skills before moving into a specialization. Check out this page to see what kinds of jobs you can get with a CompTIA certification.

IT Experience
Gaining experience in the technology field is another way to learn skills that will make you a strong IT pro. You may be asking the following questions:
How can I gain experience without a job?
Don't I need a job to get experience?
Not necessarily! You don't need a full-time, paying job to get hands-on IT experience. You can gain experience in a lot of ways:
Fiddling around with a computer or mobile device at home
Helping out friends and family with their computer issues
Volunteering for a local nonprofit that needs tech support
Check out these tips for practicing your IT skills at home
Another way to gain experience is to surround yourself with people who are successful in the industry that you're looking to break into. Talk to them, pick their brain and learn from their successes and failures. Many people disregard the benefits that having a mentor can bring to your career and miss out on gaining additional experience and knowledge. Find someone you respect and who is in a position you hope to be in one day or is in an area of IT that you are interested in.
While there are many things you can do to gain the tech skills and experience that you need to start a career in IT, you may already have some of the professional skills employers are looking for.
Check out the 10 Skills You Didn't Know Could Land You an IT Job
If you don't have a computer science degree, don't let it hold you back from pursuing a career in IT. Many top IT careers don't require college degrees. The IT industry is looking for candidates who can get the job done and are willing to work hard, regardless of their academic standings. If that sounds like you, through certifications and experience, you're on your way to a booming IT career!
Get career advice like this right in your inbox with CompTIA's IT Career Newsletter. Subscribe today, and you can save 10% off your next CompTIA purchase.