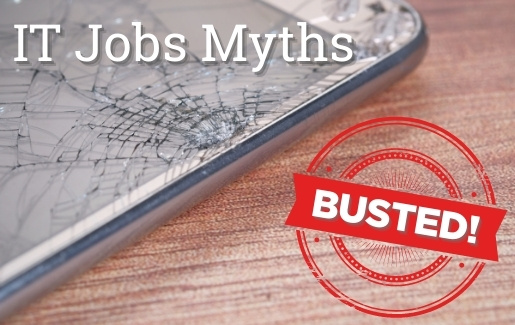 This article is part of an IT Career News series called IT Job Myths. These articles break down and explain common misconceptions about a career in IT. Each article will address the myth and explain the truth behind each myth.
Getting a new job is great, right? The butterflies and excitement you feel from being accepted to a new position can make you feel like you're on cloud nine. But that euphoric feeling can quickly make your stomach drop when you're surprised with a lower salary offer than you were expecting.
For example, let's say you were just offered a job as a security administrator. You've done your research, so you know that the average salary for a security administrator is $80,000, but you were offered $65,000. You may feel a little defeated and disappointed, but there are some details you should investigate while digesting this information.
What Does Average Salary Mean?
The average salary is a calculation of the salaries reported for a certain job category, location, demographic or other specification. This means that the minimum and maximum salaries that make up the range can vary greatly. The salary data put out by the U.S. Bureau of Labor Statistics, for example, is based off wages reported on federal tax forms. But other average salaries may come from self-reported data, like the Global Knowledge IT Skills and Salary Report. So, even though the average salary for a security administrator is $80,000, the actual salary you are offered could be between $40,000 and $120,000, as shown in the table below:
| Minimum Salary | Maximum Salary | Average Salary |
| --- | --- | --- |
| $40,000 | $120,000 | $80,000 |
| $50,000 | $110,000 | $80,000 |
| $60,000 | $100,000 | $80,000 |
| $70,000 | $90,000 | $80,000 |
This table also shows the multitude of ranges that can produce an average salary of $80,000. It's important to not get stuck on the average of $80,000 – know that there certainly are individuals earning $50,000 as a security administrator, as well as those earning six figures.
What Makes Salaries Vary So Much?
But why is there such a difference in salaries for the same job? First, as they say – location, location, location. Someone who lives in an area with a lower cost of living might make a lower salary than someone who lives in a major metropolitan area with a higher cost of living. . Similarly, salary ranges will vary from employer to employer based on the type – corporate, government or nonprofit – size and earnings of the organization. For example, a global Fortune 100 company will typically pay more than a local nonprofit. The number may also be based on experience – someone who is new to cybersecurity will earn less than someone with years of experience. And additional skills and IT certifications play a role in the salary offered.
Read More Busted IT Job Myths
How to Use Salary Data to Your Advantage
Let's continue with the security administrator example. So, you get your $65,000 salary offer and you're a little bit disappointed – you learned that the average salary is $80,000 after all! You could use the following arguments to negotiate that number up a bit.
Location: Do you live in a city like New York, Los Angeles or Washington D.C. where cost of living is high? You may have an argument for why you are deserving of a salary closer to the average of $80,000.
Years of industry experience: Are you still early in your IT career, or are you a seasoned veteran? Consider your years of experience when receiving a new salary offer.
Education level: While higher education is not necessary to be successful in an IT career, it can allow you to command a higher salary.
Skills: Does your previous experience showcase all the skills needed to succeed in your new role? If your skills go above and beyond the job description, then you could be deserving of a higher salary.
Certifications: The

2018 IT Skills and Salary Report

finds that in North America, the average salary difference between certified and non-certified IT staff is $15,913, or 22%. If you want a higher salary but your certifications are lacking, consider adding a few more certs to your resum

e

. Learn which IT certifications will make you the most money.
Weighing the Complete Offer
Remember that the salary is just part of the full perks and benefits package offered by most companies. There may be a number of ways, including the following, to increase that financial bottom line that should play into your decision as to whether or not the offer is right for you:
Retirement contributions, such as 401(k) match
Paid health, dental, life and other insurance benefits
Paid time off and holidays
Bonuses and stock options
Growth potential – could you get a raise in six months? A year? Is there a clear career path with promotions and salary increases?
Professional development – will the company pay for you to increase your skills through training and certifications or even higher education?
Discounts and reimbursements for things like public transportation, child care, home high-speed internet or even movies and rental cars
Work

–

life balance benefits, like a short commute, working from home, flexible schedules and compressed work weeks
Food and beverages in the office – even snacks and free coffee add up over time
Conclusion
When researching salaries and aiming your career at specific job titles, remember that you may see a wide range of salaries for one particular job. Salaries vary based on the company itself and geographic location and can depned on what other benefits are offered. Remember to consider the full picture of the job, the salary and any benefits of perks to realize the true value of the offer.
Looking to get into IT? Check out our brand-new, free online course CompTIA On Ramp: How to Get an IT Job.