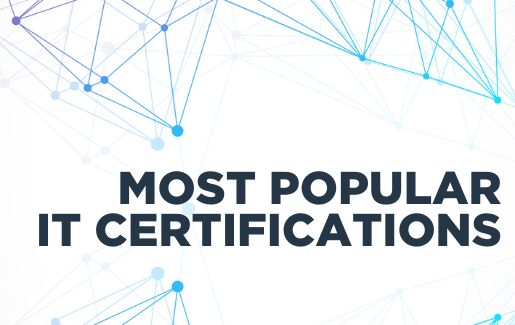 Skillsoft has released its annual report of the most popular IT certifications worldwide. According to the report, 91% of information technology professionals have at least one certification. In fact, respondents hold an average of four certifications in their field, with 41% of these earned in the last six months. Of course, the potential to advance your IT career, along with the possibility of making more money, is a huge incentive to becoming certified. But IT pros of all levels have other reasons as well.
After achieving a certification, IT professionals recognize the benefits immediately, including:
An increase in work quality
More engagement with their work
Faster job performance
Why Are IT Certifications Popular?
Taking a deeper dive into why IT pros want to get certified, one thing is clear: It's not always about the money. Obviously, a higher salary is beneficial, but that's usually not the only driving force behind getting an IT certification.
The fact of the matter is IT professionals are hungry for knowledge and professional development and are driven to expand their areas of expertise. With that kind of attitude, anything is possible.
IT Certifications Increase Job Effectiveness
Salary aside, those who have recently earned an IT certification show increased job effectiveness:
56% say their quality of work has improved
41% say they are more engaged in their work
36% say they are faster at performing their job
Think about these numbers for a moment. Earning just one new IT certification results in 80% of IT pros feeling that their skill set is even more valued within their business. And they're not the only ones who feel that way.
IT Certifications Validate Skills
Since 2015, the percentage of companies reporting a skills gap has risen, according to the Skillsoft study. Close to 60% of all IT decision-makers anticipated a skills gap in 2022. And 41% of companies believe that certified staff are instrumental in closing skills gaps. In fact, more than 96% of IT managers say that certified staff add value to their organizations.

Hiring managers cite the specific benefits of a certified staff:
45% say certification boosts productivity
44% say certification meets client requirements
37% say certification cuts down troubleshooting time
35% say certification allows projects to be completed faster
35% say certification provides a competitive edge

There it is. Certified professionals are better at closing skills gaps, satisfying client requests and increasing productivity while taking less time to do so. What business wouldn't want that?
What Are the Best IT Certifications for 2023?
While we certainly understand the value of IT certifications, choosing what certification program to pursue can be overwhelming. What IT certification is in demand for 2022 – and why?

Organizations worldwide continue investing in certifications, but there has been a decrease in investments in certain skilled areas and IT decision makers are changing up where they are investing. In 2022, the top priority among decision makers was cloud computing, with 41% of decision makers listing it as their top focus. Coming in second for the first time in three years is cybersecurity, with 31%. Coming in at third and fourth are AI/ machine learning and infrastructure/ systems. What does this information suggest? IT managers are investing in areas where skills gaps lie in an effort to upskill current staff and fill gaps.

Among cybersecurity certifications, Microsoft ranks as the most popular worldwide, followed by ISACA and CompTIA.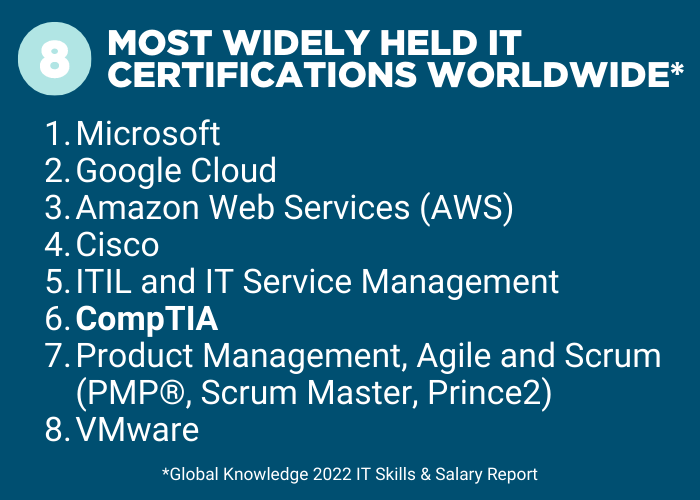 1. Microsoft
Microsoft offers certification training in six areas: Azure, data & AI, Dynamics 365, the modern workplace, business applications, security and other specialty certifications.
CompTIA IT Fundamentals (ITF+), similarly to Microsoft Azure, also focuses on the essential IT skills and knowledge needed to perform advanced end-user tasks and is a great option for people wondering if IT is right for them.
2. Google Cloud
Google Cloud certifications allows organizations to leverage Google Cloud technologies to drive business objectives.
The CompTIA Cybersecurity Career Pathway includes CompTIA Security+, CompTIA Cybersecurity Analyst (CySA+), CompTIA PenTest+ and CompTIA Advanced Security Practitioner (CASP+), and covers the skills cybersecurity pros need at all levels.
3. Amazon Web Services (AWS) Certifications
AWS certifications validate IT professional's technical skills and expertise in cloud.
CompTIA Cloud+ is a vendor-neutral certification that builds a foundation of knowledge and skills that can be applied across all vendor products and helps IT pros compare the similarities and differences of cloud providers.
4. Cisco Certifications
Vendor-neutral IT certifications like CompTIA Network+ validate the skills needed to work on any equipment and provide foundational skills that will prepare you for vendor-specific certifications like CCNA.
5. ITIL and IT Service Management
ITIL® Foundation was the most widely held certification in 2021, and ITIL and IT Service Management certifications now come in at number five.

CompTIA Server+ is a vendor-neutral certification that validates the hands-on skills of IT professionals who install, manage and troubleshoot servers in data centers as well as on-premises and hybrid environments.
6. CompTIA Certifications
Of course, a familiar name appears on the list of most popular worldwide IT certifications – and that's CompTIA. CompTIA also places in the list of the most widely held security, governance, compliance and/or privacy-related certifications for 2022.
CompTIA Cloud+ is a vendor-neutral certification that builds a foundation of knowledge and skills that can be applied across all vendor products and helps IT pros compare the similarities and differences of cloud providers.

7. Product Management, Agile and Scrum (PMP®, Scrum Master, Prince2)
Project management certifications help professionals to gain fundamental knowledge, terminology and processes of effective project management. Scrum certifications allow for individuals to learn the scrum framework, remove barriers to team progress, and help teams self-organize.
CompTIA Project+ is a versatile certification for IT professionals who coordinate or manage small-to-medium-sized projects. It covers essential project management concepts beyond the scope of just one methodology or framework.
8. VMware
VMware certifications range from data center virtualization, cloud management & automation, network virtualization, desktop and mobility and digital workspace.

CompTIA Network+ is a vendor-neutral certification that prepares candidates to support networks on any platform. It is the only certification that covers the specific skills that network professionals need.
IT Certifications Are in Demand
According to data from Lightcast, there were more than 164,000 job listings posted during 2022 that requested one or more of the following CompTIA certifications: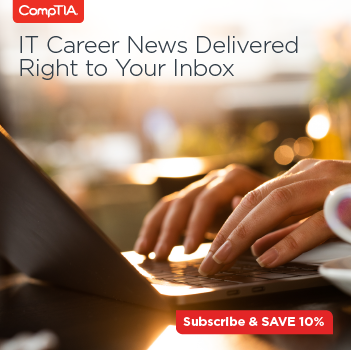 These numbers illustrate not only that IT professionals are enthusiastic about obtaining IT certifications (especially CompTIA), but also that employers are regularly asking candidates to have these certifications in hand before applying.
Of course, the more knowledge and experience you have, the more money you could earn. According to Skillsoft's 2022 IT Skills & Salary Report, 22% of IT decision-makers say certified employees deliver $30,000 or more in additional value compared to non-certified employees. When it comes to salaries In North America, cybersecurity-certified professionals are paid highest, with an average salary of $123,370. Non-cybersecurity-certified IT pros are paid an average of $108,488. IT pros with specific in-demand skills, make more money earlier in their careers. And it goes without saying that a higher-level certification often comes with a bigger paycheck.
When you consider all the positives that come with earning an IT certification, it makes complete sense that so many IT pros are going after certifications with such passion. Self-confidence, extensive knowledge, reliability, top-notch performance, expedited promotions and a career path with an upward trajectory are all great reasons to get certified. And, ultimately, if it helps boost your salary – there's absolutely nothing wrong with that.
How to Get CompTIA Certified
CompTIA certifications have a long-standing history of being the industry credentials you need to show employers you have the IT skills they are looking for. Furthermore, our plethora of resources not only help you train and pass your CompTIA certification exam, but they can also help you market yourself, ace your interview and land the job of your dreams. If you're looking to get certified for the first time – or the sixth – check out how + Means IT Careers.
Ready to start studying? Writing out your plan will set you up for success. Download our free training plan worksheet to help get organized and make your dream a reality.