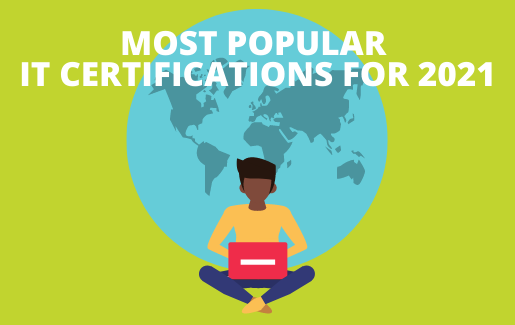 The Global Knowledge 2020 IT Skills and Salary Report is out, and with it comes the highly anticipated list of most popular IT certifications worldwide. According to the report, 87% of information technology professionals have at least one certification, and nearly 40% are pursuing the next. Of course, the potential to advance your IT career, along with the possibility of making more money, is a huge incentive to becoming certified. But IT pros of all levels have other reasons as well.
After achieving a certification, IT professionals recognize the benefits immediately, including:
An increase in work quality
More engagement with their work
Faster job performance
Why Are IT Certifications Popular?
Taking a deeper dive into why IT pros want to get certified, one thing is clear: it's not always about the money. Obviously, a higher salary is beneficial, but that's usually not the only driving force behind getting an IT certification.
The fact of the matter is, IT professionals are hungry for knowledge and professional development and are driven to expand their areas of expertise. With that kind of attitude, anything is possible.
IT Certifications Increase Job Effectiveness
Salary aside, those who have recently earned an IT certification show increased job effectiveness:
52% say their quality of work has improved
36% say they are more engaged in their work
31% say they are faster at performing their job
Think about these numbers for a moment. Earning just one new IT certification results in more than half of IT pros feeling that their skill set is even more valued within their business. And, they're not the only ones who feel that way.
IT Certifications Validate Skills
IT hiring managers agree. Certification value is nearly unanimous – 94% of decision makers worldwide say that certified team members provide added value above and beyond the cost of certification.
Hiring managers cite the specific benefits of a certified staff:
52% say certification closes organizational skills gaps
44% say certification boosts productivity
43% say certification helps to meet client requirements
36% say certification cuts down troubleshooting time
35% say certification provides a competitive edge
There it is. Certified professionals are better at closing skills gaps, satisfying client requests and increasing productivity while taking less time to do so. What business wouldn't want that?
What Are the Best IT Certifications for 2021?
While we certainly understand the value of IT certifications, choosing what certification program to pursue can be overwhelming. What IT certification is in demand for 20201 – and why?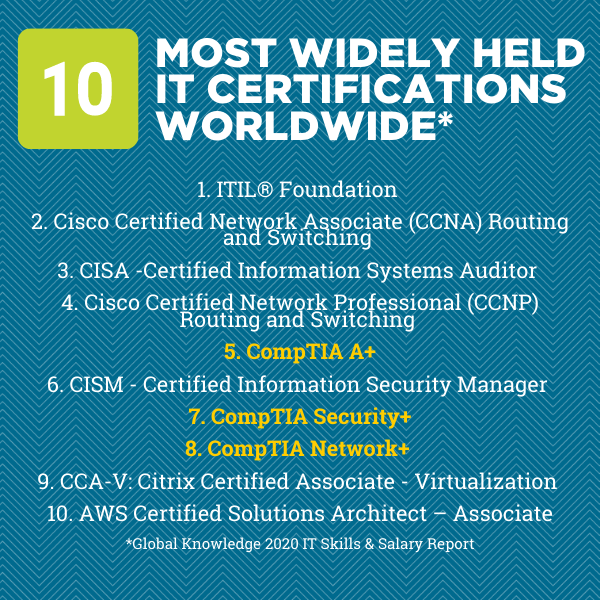 1. Cybersecurity Certifications
This year, 30% of the top 10 list is cybersecurity related – a nod to a continued effort to place more emphasis on risk reduction and security-related defense. That number is promising as IT decision makers consistently have the most difficulty hiring cybersecurity talent.
In fact, 43% of those decision makers worldwide struggle to fill IT security openings – up from 38% just one year ago. The demand in this IT field is already high and the skills gap continues to grow – meaning a cybersecurity certification is one of the best avenues for IT pros to consider.
Among cybersecurity certifications, Certified Information Systems Auditor (CISA) ranks as the most popular worldwide (as well as the most popular certification among female IT pros), while ISACA's Certified Information Security Manager (CSIM) and CompTIA Security+ rank second and third, respectively.
2. ITIL
ITIL® Foundation is the most widely held certification in 2020. ITIL Foundation validates an understanding of the ITIL framework and how it can be used to enhance IT service management. Those holding ITIL certification and working in service management earn an average salary of $120,617 in North America.

CompTIA IT Fundamentals (ITF+) also focuses on the essential IT skills and knowledge needed to perform advanced end-user tasks and is a great option for people wondering if IT is right for them.
3. Cisco Certifications
Cisco comes up next, with Cisco Certified Network Association (CCNA) Routing and Switching and Cisco Certified Network Professional (CCNP) Routing and Switching both ranking in the top five. Routing and Switching is the runaway winner among the most popular Cisco certifications worldwide. (Editor's Note: In 2020, Cisco rolled its multiple CCNA certifications into one.)

Vendor-neutral IT certifications like CompTIA Network+ validate the skills needed to work on any equipment and provide foundational skills that will prepare you for vendor-specific certifications.
4. CompTIA Certifications
Of course, a familiar name appears three times on the list of most popular worldwide IT certifications – and that's CompTIA. CompTIA A+, CompTIA Network+ and CompTIA Security+ all earn rightful places in the top 10 most widely held certifications worldwide – and all three appear in the list of certifications most popular with women.
5. Citrix Certifications
The Citrix Certified Association – Virtualization (CCA-V) credential validates the skills that IT operators and administrators need to manage, maintain, monitor and troubleshoot XenDesktop solutions.
6. Amazon Web Services (AWS) Certifications
The AWS Certified Solutions Architect – Association certification rounds out the top 10 most popular worldwide and is intended for individuals who perform a solutions architect role. The exam validates your ability to effectively demonstrate knowledge to architect and deploy secure and robust applications on AWS technologies.

CompTIA Cloud+ is a vendor-neutral certification that builds a foundation of knowledge and skills that can be applied across all vendor products and helps IT pros compare the similarities and differences of cloud providers.
When looking to the future, many IT professionals are planning to acquire more cloud computing skills, mainly because organizations have ramped up their adoption and implementation of cloud technologies.
Why You Should Get an IT Certification
From entry-level jobs to specialized IT positions, CompTIA certifications have a definite impact on performance. According to research by IDC, job candidates and staff with CompTIA A+ and CompTIA Security+ certifications outperform professionals who do not have these certs.
The whitepaper, Impact of CompTIA Certifications on Performance, offers some interesting conclusions about IT pros with certifications, and specifically, CompTIA certifications, including documented gains in soft skills like confidence, knowledge, reliability and performance.
Confidence: Certified employees are more confident in their skills. With that confidence comes proactive solutions, out-of-the-box thinking and high-level problem-solving abilities.


For example, CompTIA Security+ certification holders are 85% more likely to believe they have the knowledge and skills needed to successfully fulfill their jobs!

Knowledge: It's safe to say that with more IT training in new areas, one will gain more knowledge. And with that knowledge, certified staff are relied upon to make key decisions and perform at a high level.


In fact, CompTIA-certified professionals with one year of experience demonstrate between 24% and 52% more domain knowledge than non-certified IT pros with three years of experience!

Reliability and Performance: With confidence and knowledge come reliability and performance. From a purely logical perspective, who are you going to trust more to make decisions and be more proficient in their roles? Someone who has gone the extra mile to learn more, gain more confidence and make themselves a more valuable member of the team? Or someone who possesses less skill and knowledge? That's why employers turn to certified IT pros.


Did you know that CompTIA-certified pros in IT support and cybersecurity outperform their non-certified counterparts by up to 53% in certain responsibilities within those positions? Plus, IT staff with ongoing training and certification maintain their high levels of knowledge and performance, whereas non-certified staff's knowledge has shown to degrade up to 25% over four years without ongoing training!
IT Certifications Are in Demand
According to data from Burning Glass Technologies, between January 2020 and December 2020, there were 108,463 IT job listings posted that requested one or more of the following CompTIA certifications:
These numbers illustrate not only that IT professionals are enthusiastic about obtaining IT certifications (especially CompTIA), but also that employers are regularly asking candidates to have these certs in hand before applying.
Of course, the more certifications someone holds, the higher their average salary. According to Global Knowledge, an IT professional who has six or more career certifications makes $91,643 a year – 8% more than the worldwide average. In North America, someone with six or more certifications earns $13,000 more than someone with one certification. And it goes without saying that a higher-level certification usually comes with a bigger paycheck.
When you consider all the positives that come with earning an IT certification, it makes complete sense that so many IT pros are going after IT certifications with such passion. Self-confidence, extensive knowledge, reliability, top-notch performance, expedited promotions and a career path with an upward trajectory are all great reasons to earn an IT certification. And, ultimately, if it helps boost your salary – there's absolutely nothing wrong with that.
How to Get CompTIA Certified
CompTIA certifications have a long-standing history of being the industry credentials you need to show employers you have the IT skills they are looking for. Furthermore, our plethora of resources not only help you train and pass your CompTIA certification exam, but they can also help you market yourself, ace your interview and land the job of your dreams. If you're looking to get certified for the first time – or the sixth – check out how + Means IT Careers.
Ready to start studying? Writing out your plan will set you up for success. Download our free training plan worksheet to help get organized and make your dream a reality.