While the Global Knowledge 2019 IT Skills and Salary Report has a strong focus on money, the findings of this year's report reveal so much more than an IT professional's desire for cash.
IT pros are going hard after certifications for a few reasons:
They want more experience.

Holding multiple certifications makes them more well-rounded pros and gives them more opportunities.

The skills gap is real – there are plenty of IT jobs out there for those who are qualified.

They're more effective in their current positions.
Why Are IT Certifications Popular?
Taking a deeper dive into why IT pros want to get certified, one thing is clear: it's not about the money. Obviously, a higher salary is a beneficial outcome, but that's not the driving force behind getting an IT certification.
The fact of the matter is, IT professionals are hungry for knowledge and driven to expand their areas of expertise. The end results are typically positive.
IT Certifications Increase Job Effectiveness
Salary aside, those who have recently earned an IT certification report increased job effectiveness:
52% say their expertise is more sought after within their organization.

45% have implemented efficiencies.

43% are faster at performing their job.

23% state that product/service deployments have gone smoother.
Think about these numbers for a moment. Earning just one new IT certification results in more than half of IT professionals feeling that their skill set is even more valued within their business.
Nearly half have utilized their new skills to increase efficiency and effectiveness within their organization.
And nearly the same percentage are simply performing at a faster rate, thereby creating their own efficiencies...which ultimately contributes to a more nimble and agile infrastructure.
All from just one new IT certification.
Certified professionals are better at closing skills gaps, satisfying client requests and increasing productivity while taking less time to do so. What business wouldn't want that?
The Most Popular IT Certifications
So, with all those certifications out there to be earned, which are the most popular among IT professionals? And why?
1. Cybersecurity Certifications
Of the Global Knowledge 2019 IT Skills and Salary Report's more than 12,000 respondents, 27% hold at least one cybersecurity certification with another 25% planning on pursuing one within the next year.
Why do so many IT workers around the world want to be cybersecurity certified? Cyber-attacks are growing more and more sophisticated with each passing day, which poses a very serious and very real threat to nearly every company across the globe. The bottom line is, businesses need cybersecurity experts in their organization to help safeguard them from increasing cyber-threats.
Among cybersecurity certifications, Certified Information Systems Security Professional (CISSP) ranks as the most popular in North America (as well as the third-highest-paying worldwide), while Certified Information Systems Auditor (CISA) takes the top spot in all other regions. ISACA's Certified Information Security Manager (CISM) and Certified in Risk and Information Systems Control (CRISC) are both ranked among the top five most popular in all other regions as well.
2. ITIL
ITIL certifications take second place among the most popular IT certifications. Leading the way is ITIL Foundation, with 93% of all ITIL-certified pros in North America holding this cert.
ITIL Practitioner is the second most popular IT service management certification in North America, followed by ITIL Service Lifecycle: Service Operation, ITIL Service Lifecycle: Service Transition and DevOps Foundation/Fundamentals.
3. Microsoft Certifications
Not surprisingly, Microsoft is third on the list, with 16% of all respondents owning at least one Microsoft certification. The retired Microsoft Certified Professional (MCP) and Microsoft Certified Trainer (MCT) were two of the most popular certifications in this category.
Microsoft Certified Solutions Expert (MCSE): Server Infrastructure is held by 20% of Microsoft-certified professionals in North America. Microsoft Certified Solutions Association (MCSA): Windows Server 2008 (19%) and MCSA: Windows Server 2012 (17%) aren't far behind.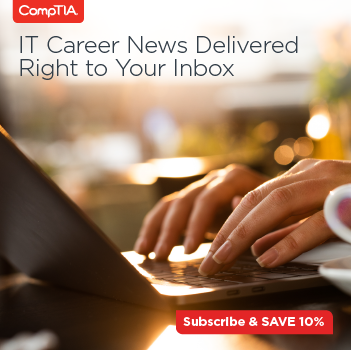 4. Cisco Certifications
Cisco comes up next, with 16% of all IT professionals surveyed holding at least one Cisco certification. Cisco Certified Network Associate (CCNA) Routing and Switching is the runaway winner among the most popular Cisco certifications worldwide, followed by Cisco Certified Network Professional (CCNP) Routing and Switching and CCNA Security.
5. CompTIA Certifications
Rounding out the top five most popular certification types is a familiar name. CompTIA certifications are held by 13% of all survey respondents, with CompTIA Security+, CompTIA A+ and CompTIA Network+ leading the way worldwide. In North America, 62% of all CompTIA-certified professionals have Security+, the most of any region.
Why You Should Get an IT Certification
What kind of impact on performance do CompTIA certifications have? According to research by IDC, job candidates and staff with CompTIA A+ and CompTIA Security+ certifications outperform professionals who do not have these certs. The whitepaper, Impact of CompTIA Certifications on Performance, offers some interesting conclusions about IT pros with certifications, and specifically, CompTIA certifications.
Confidence: Certified employees are more confident in their skills. With that confidence come proactive solutions, out-of-the-box thinking, and high-level problem-solving abilities. (CompTIA Security+ certification holders are 85% more likely to believe they have the knowledge and skills needed to successfully fulfill their jobs.)
Knowledge: It's safe to say that with more training in new areas, one will gain more knowledge. And with that knowledge, certified staff are relied upon to make key decisions and perform at a high level. (CompTIA-certified professionals with one year of experience demonstrate between 24% and 52% more domain knowledge than non-certified IT pros with three years of experience!)
Reliability and Performance: With confidence and knowledge come reliability and performance. From a purely logical perspective, who are you going to trust more to make decisions and be more proficient in their roles? Someone who has gone the extra mile to learn more, gain more confidence and make themselves a more valuable member of the team? Or someone who possesses less skill and knowledge? That's why employers turn to certified IT pros. (CompTIA-certified pros in IT support and cybersecurity outperform their non-certified counterparts by up to 53% in certain responsibilities within those positions. Plus, IT staff with ongoing training and certification maintain their high levels of knowledge and performance, whereas non-certified staff's knowledge has shown to degrade up to 25% over four years without ongoing training.)
IT Certifications Are in Demand
According to data provided by Burning Glass Technologies, between December 2018 and November 2019, there we're 187,047 IT job listings posted that requested the following CompTIA certifications:
These numbers illustrate not only that IT professionals are enthusiastic about obtaining certifications (especially CompTIA), but also that employers are regularly asking candidates to have these certs in hand before applying.
And that makes a lot of sense for both employer and employee, especially those seeking their first IT jobs. IDC research shows that IT professionals who are certified before their first position are 50% more likely to get a promotion within one year of being hired than "never-certified" IT professionals.
Additionally, CompTIA-certified IT pros are twice as likely to get promoted than non-certified IT employees. As Pete Caro, a senior IA architect with Ponte Technologies said, "Having [CompTIA] A+, Security+ or Network+ equals a sustainable career in the industry."
When you consider all the positives that come with earning an IT certification, it makes complete sense that so many IT pros are going after IT certifications with such a passion (and why so many employers are seeking certified professionals). Self-confidence, extensive knowledge, reliability, top-notch performance, expedited promotions, a career path with an upward trajectory – earning an IT certification is certainly an investment that pays off. And ultimately pays better, too. And there's nothing wrong with that.
Ready to get an IT certification? Learn more about which certification is right for you and then download the exam objectives for free to begin studying.