This article is part of an IT Career News series called Your Next Move. These articles take an inside look at the roles related to CompTIA certifications. Each article includes the responsibilities, qualifications, related job titles and salary range for the role. As you consider the next move in your IT career, check back with CompTIA to learn more about your job prospects and how to get there.
The future is in the cloud. With the rise of smart devices and interconnected everything, cloud technology and careers are skyrocketing. Because cloud jobs require out-of-the-box thinking and problem solving, cloud computing is not for everyone. But if you like to think creatively, stay on top of current technology and be interconnected; cloud engineering could be in your future.
What Is a Cloud Engineer?
A cloud engineer is responsible for implementing and maintaining a cloud system. They manage the code to keep the system running smoothly. They are also responsible for maintaining the cloud so it addresses the business's needs fully and accurately. Cloud engineers often have a specialization that focuses on more specific tasks, such as software, network, systems or security.
What Does a Cloud Engineer Do?
Design, maintain and operate cloud systems and applications
Develop applications for cloud computing
Understand the language of business and developing a cloud system to address the business's needs
Program code for the cloud system in languages such as Java, Python, Ruby and C++
Plan, design, manage and support current cloud technology systems and develop a plan for future systems
Develop a support system to keep cloud systems secure and interconnected to all devices
Prevent data loss by implementing a disaster recovery and business continuity plan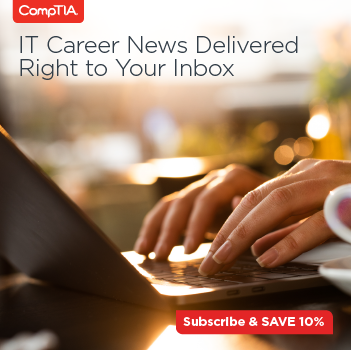 How to Become a Cloud Engineer
Cloud engineering is not an entry-level role. It requires three to five years of work experience on top of a bachelor's degree in computer science or a related field. Some positions may require a master's degree. Many positions also require certifications depending on what systems they work with. IT pros in cloud computing may benefit from IT certifications like CompTIA Cloud+ and CompTIA Linux+.
You can get into a cloud computing career from many different places, but having an IT infrastructure background will help. This may include jobs such as software developer, systems administrator, database administrator, network engineer or enterprise architect. A position as an administrator typically leads into specialist positions, which then provide the stepping stone to move into cloud. This doesn't mean you can't start from a different position though! Any position with network architecture and database experience is a great fit for cloud roles.
The Details
Salary Range
According to Burning Glass, in 2021 the wage for cloud engineers could range from $88,200 to $141,200.
Cloud Engineer Job Outlook
There were more than 42,000 total job postings for Cloud Engineers from June 2020 to May 2021 in the United States.
Job Titles Related to Cloud Engineer
Cloud software engineer
Cloud security engineer
Cloud consultant
Cloud developer
Read about more IT jobs featured in Your Next Move.