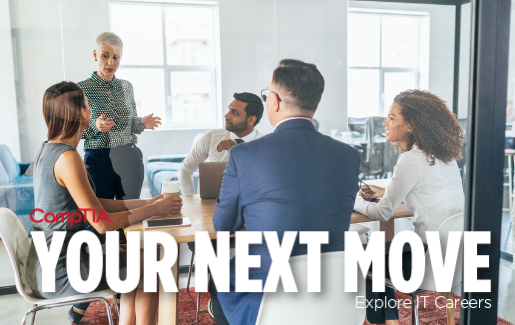 This article is part of an IT Career News series called Your Next Move. These articles take an inside look at the roles related to CompTIA certifications. Each article will include the responsibilities, qualifications, related job titles and salary range for the role. As you consider the next move in your IT career, check back with CompTIA to learn more about your job prospects and how to get there.
Data is powerful – and businesses understand that. Organizations worldwide are in the business of collecting consumer data to level up in product development, marketing and overall profitability. But simply collecting data won't do the trick. Companies need people who are trained to analyze, translate and communicate findings from mountains of data to make informed business decisions. These people are called business intelligence (BI) analysts – and if you have the passion and the skill set, it might be a good next move for you.
What Is a Business Intelligence (BI) Analyst?
A business intelligence analyst puts the data collected by an organization to good use and provides insights that support decision-making efforts in the following ways:
Collects data that is consistent with company goals
Maintains and updates business intelligence tools and databases
Programs tools and data models to help visualize and monitor data
Analyzes data such as revenue, sales, market information or customer engagement metrics
Interprets the data
Communicates findings that suggest ways to grow and improve the business
A career as a business intelligence analyst offers great flexibility. With the right mix of skills in your toolbox, you could choose to work in a specific industry like health care, education, finance or even law enforcement. If you have a technical background and enjoy IT, you could choose to work with smaller companies and have greater responsibility. For example, you could take on the BI analyst duties in addition to being a systems administrator.
How to Become a Business Intelligence Analyst
Having an educational background in math or computer science is often preferred for a business intelligence analyst position. Candidates should understand a variety of analytic processes and have experience in technologies like SQL. An understanding of software in areas like database management, user interface and queries, and enterprise resource planning may also be beneficial.
You might think a career in data analysis is all about the numbers, but successful business intelligence analysts also must possess excellent communication skills. A big part of the job is translating your findings for a non-technical audience. To do this, you must be open to working with others in a team environment and have the ability to create a narrative that supports what the data shows.
One way to learn this blend of skills is through professional certification. CompTIA Data+, available now, is an early-career data analytics certification for professionals tasked with developing and promoting data-driven business decision making.
This brand-new data analytics certification covers the skills required to facilitate data-driven business decisions, including:
Mining data
Manipulating data
Visualizing and reporting data
Applying basic statistical methods
Analyzing complex datasets while adhering to governance and quality standards throughout the entire data life cycle
In addition to the certification, CompTIA will release a full suite of training products to help you learn and practice data analysis skills and prepare for your certification exam.

CertMaster Learn: Learn at your pace with interactive lessons and videos
CertMaster Labs: Get hands-on practice using real software applications
CertMaster Practice: Test your knowledge and find out if you're ready for the exam
The Official CompTIA Study Guide: Learn and review exam objectives with our comprehensive textbook
CompTIA Live Online Training: Train in real time with experienced instructors online
The Details
Business Intelligence Analyst Salary Range
The median annual wage for business intelligence analysts is $93,000 as of 2021 (U.S. Bureau of Labor Statistics).
Business Intelligence Analyst Job Outlook
From 2020 to 2030, the U.S. Bureau of Labor Statistics projects an increase of 14% for management analyst positions, with 907,600 net new jobs expected during that 10-year period.
Job Titles Related to Business Intelligence Analyst
+ Means More
At CompTIA, + means IT careers. That means you can consider us your partner on your journey to becoming certified, finding, interviewing for and winning that new job role.
We help you save money. Getting a CompTIA certification is an investment in your career but getting a discount can help. There are several ways you can save money on your CompTIA purchases.
We help you decide how to take your exam. Scheduling your exam is the easy part. CompTIA exams are offered at testing centers around the world as well as through online testing, which is available 24/7, so you can test in person or at home. Learn more about your testing options.
We help you land your next job. We've teamed up with ZipRecruiter so you can get access to job alerts, digital badging and more. Be sure to sync your credentials on ZipRecruiter as you continue to grow within the tech industry.
Need more job inspiration? Check out CompTIA's Tech Job Report video series now premiering on CompTIA Connect. Learn more about the latest data and trends in tech hiring and the implications for employers and the U.S. workforce with new episodes each month.
Read about more IT jobs featured in Your Next Move.
Will your next move be business intelligence analyst? If so, check out CompTIA CertMaster Learn + Labs for Data+ - an online eLearning platform covering data analysis skills. Sign up today to start your free trial.