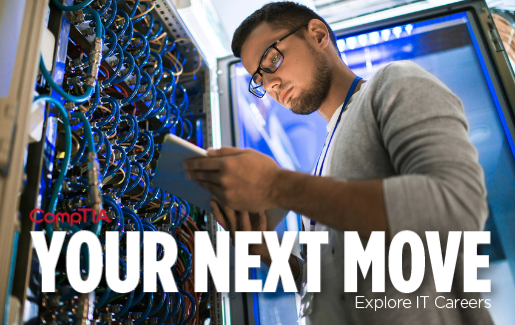 This article is part of an IT Career News series called Your Next Move. These articles take an inside look at the roles related to CompTIA certifications. Each article will include the responsibilities, qualifications, related job titles and salary range for the role. As you consider the next move in your IT career, check back with CompTIA to learn more about your job prospects and how to get there.

Contrary to popular (and stereotypical) belief, you can be an IT pro with a passion for people. After all, technology doesn't work if the end user doesn't understand how to use it. If your excitement for technology intersects with your love of helping people, then field service technician may be a good next move for you.
What Is a Field Service Technician?
A field service technician is responsible for analyzing, troubleshooting and evaluating technology issues in the field. This role generally supports external clients or end users in the following ways:
Make data easily accessible to those who need it
Pay attention to customers' descriptions of computer problems
Ask questions to properly diagnose the problem
Walk customers through the recommended problem-solving steps
Set up or repair computer equipment and related devices
Train users to work with new computer hardware or software
Document changes, revision and problems
Provide information to other team members and managers

The main role of a field service technician is helping end users get the most out of their equipment. Individuals who are technically well-versed and are able to help clients install, repair and maintain hardware and software while building relationships with customers will succeed in this role.
It's important to note that a field service technician is not your typical office job. As the title implies, this type of IT pro works in the field, meaning at client sites or a customer's house – like a cable company technician, for example.
Your day likely consists of a schedule of places to be at certain times, and you could be in charge of making your own schedule. However, there is always some paperwork involved.
In addition to troubleshooting and problem solving, field service technicians are also responsible for creating reports outlining their field calls.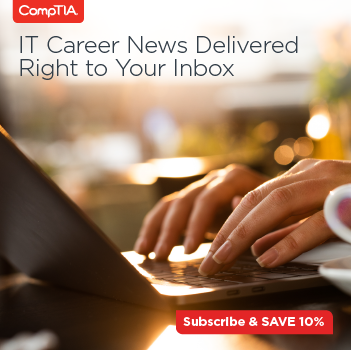 How to Become a Field Service Technician
Most employers hiring a field service technician are looking for someone with a high school diploma or GED equivalent. Of course, since mechanical aptitude is necessary, third-party validation of your technical skills can help you get your foot in the door.
In fact, out of all the IT job listings out there, CompTIA A+ appears the most in ads for field service technicians, field techs or field engineers. Earning your CompTIA A+ certification demonstrates your baseline knowledge of hardware, software, infrastructure and networking. Read more about how to get an IT certification.
But technical skills are not the only requirement for this role. Professional skills play a big part as well.
Here are a few of the most important soft skills that a field service technician must have:
Great attention to detail
Self motivation
The ability to explain complex technical terms in a user-friendly way
While a field service technician is generally an entry-level position, those who excel in the role may move on to become office managers or head field service technicians.

IT Career Paths: How to Get into IT Support
The Details
Field Service Technician Salary Range
The median annual wage for a field service technician is $57,910 (U.S. Bureau of Labor Statistics (BLS)).
Field Service Technician Job Outlook
From 2018 to 2028, CompTIA projects an increase of 10% for field service technicians, with 863,100 jobs recorded in 2018.
Job Titles Related to Field Service Technician
Field systems technician
Field technician
Field engineer
Will your next move be field service technician? If so, check out CompTIA A+ to get the skills to get you there.