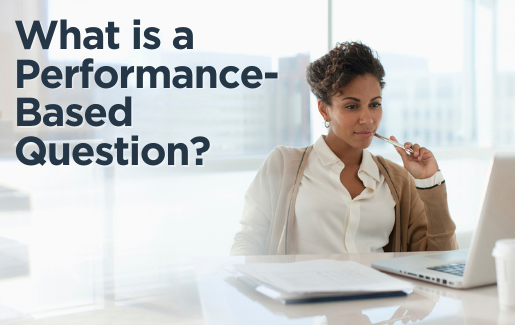 Many of the CompTIA certification exams include performance-based questions (PBQs). Performance-based questions test your ability to perform a task or solve a problem using a simulated environment. These questions are designed to provide real-world problem solving that would be expected on the job related to that specific certification exam.
Many of the CompTIA certification exams blend multiple-choice and performance-based questions to test IT pros on their knowledge and skills. Performance-based questions allow you to better execute your skills in scenarios along with traditional multiple-choice questions, in which you select the best answer to the question and the correct answers are scored.
So, what is a performance-based question on the CompTIA certification exams? Continue reading to learn more about performance-based questions, what you can expect and how these test your skills and knowledge to better your IT career.
What To Expect With Performance-Based Questions
Performance-based questions on the CompTIA exams allow IT pros to execute their skills and knowledge in a hands-on simulation rather than just relying on multiple-choice questions to measure knowledge and skills. Performance-based question types require candidates to apply their hands-on experience more thoroughly.
Different question types within the exams are built and designed based on the typical job roles related to the target audience of the certification. For example, cybersecurity professionals' jobs related to CompTIA Security+ will differ from a help desk professionals' job related to CompTIA A+. Therefore, the exam objectives and exam content on each of these exams will differ as well. An advantage for IT pros is that you can use the study resources available such as study guides, practice tests, sample questions and CompTIA CertMaster solutions which include examples of performance-based questions.
Performance-Based Question Models
Since performance-based questions test your ability to solve real-world scenarios, they are offered as simulations or within a virtual environment.
Below are the two question types offered and an explanation of how they can be scored during the exam:
Simulations: Simulation test questions provide a technology environment, such as a firewall, network diagram or operating system. The functionality is limited and aimed to allow numerous potential responses or pathways to complete the simulation.

Virtual environments: Virtual testing environments use virtual machines or systems that run specific operating systems and software. Because these environments provide a complete and full feature-set, all forms of accurate and inaccurate steps or pathways can be completed.
These two types of performance-based questions will differ for each certification exam. This can apply to testing on whether an exam requires simulations or virtual environments.
While CompTIA Advanced Security Practitioner (CASP+) uses simulations and virtual environments for PBQs.

The exams are reevaluated every 3 years to meet the demand of today's IT environments. Therefore, the number of PBQ's is anticipated to increase over time. You can review exam objectives and a practice test simulation to get a better idea of the type of the performance-based questions.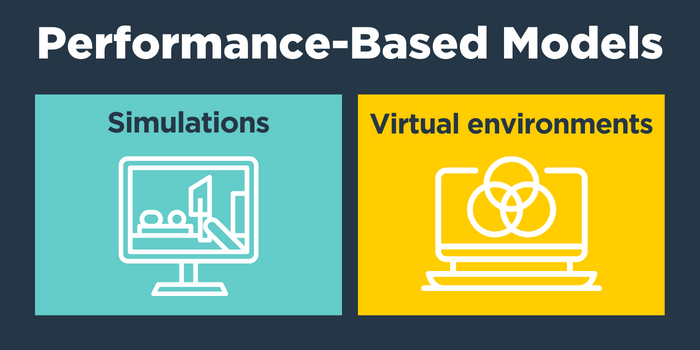 How Performance-Based Questions Are Scored
Performance-based questions are a portion of the overall certification exam. These question types are more hands-on versus traditional multiple-choice questions. Both types of questions on the CompTIA certification exams are scored in real time by CompTIA's testing provider PearsonVUE for in-person and online testing. The scoring between each question is confidential to uphold the integrity of these high-stakes, ANAB accredited certification exams.
In addition to testing and scoring, candidates often ask whether performance-based questions offer partial credit.
Here are responses to the two most commonly asked questions regarding performance-based questions on CompTIA's certification exams.
Q: What if there is more than one method to get a correct answer to a question? Will the exam scoring system address the answer accordingly?
There may be questions for which there is more than one way to answer correctly. In these circumstances, you will receive a valid score if the right solution to the problem is achieved.
Q: Will partial credit be given if I answer a portion of a performance-based question?
Some performance-based questions may offer partial credit while others may not. In addition, some performance-based questions may offer higher point values as compared to others. Due to confidentiality, we cannot provide specific details of how each performance-based question is scored nor the total point values offered on each exam.
Preparing For Performance-Based Exam Questions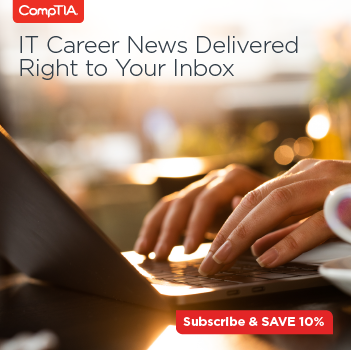 In order to properly prepare for your certification exam, you need to be ready for the type of questions you need to answer. The best way to prepare for PBQs is to really understand the material.
Start by downloading the exam objectives for the certification you are going to attempt. Take note of what you may already know versus what will likely be new concepts to you. Then come up with a study plan to learn the skills you need to master. How will you know when you've mastered them? It's simple, practice them. The best tool to get this done in one place is CertMaster Learn + Labs.

Our integrated bundle combines CertMaster Learn, an exam prep learning guide featuring interactive e-learning with flashcards and performance-based questions along with self-assessments and CompTIA Labs. CompTIA Labs provide hands-on learning and training experience in real virtual environments. You can utilize actual equipment and software with comprehensive lab guides aligned with exam objectives.
Don't forget about CertMaster Practice. This tool offers an online knowledge assessment and certification preparation plus practice exam resource. There are a plethora of other suitable study resources you can tap into as well. A fan favorite is Professor Messer and the official CompTIA study guides.
Ready to get started? Sign up for a free trial of CertMaster Learn + Labs where you can practice the skills you need for performance-based exams while you learn the material.