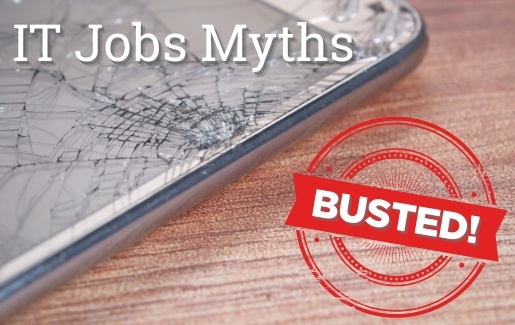 This article is part of an IT Career News series called IT Job Myths. These articles break down and explain common misconceptions about a career in IT. Each article will address the myth and explain the truth behind each myth.
When you picture a technology professional, you may think of an IT pro sitting alone in a dark room with lots of cords, devices and screens. Are you surprised to know that is so far from the truth? IT professionals need to be very personable and easy to talk to. This is because they are required to interact with others all day long. Whether it be helping someone install more RAM on their laptop, setting up another colleague's work-issued cell phone or orienting a new hire on how to use the internal systems – there is so much more to being an IT pro than technology. Project management skills and professional skills are equally important and vital to a successful technology career.
Project Management Skills
Project management is an essential skill to a career in IT. You may think, sure, I'm organized! But there is much more to project management than organization. Having the following sub-skills of project management will make you a more well-rounded IT pro.
1. Leadership
IT teams are often brought in to discuss new initiatives throughout the organization. Since technology drives so many decisions and makes practices more efficient, teams like marketing, finance and human resources are implementing new technologies more often, and IT pros help lead those types of projects. As a leader, you must have good decision-making capabilities, be able to motivate others and be accountable.
2. Adaptability
Being flexible and having the ability to adapt to changing work conditions is very important. Situations and plans can change – staying calm and not bowing under the pressure of those changes can gain you respect as a leader – and makes you a more pleasant colleague to be around. Being adaptable also reduces stress because you won't get hung up on changes that may occur.
3. Organization
As mentioned before, being organized is very important when it comes to project management. Keeping digital files and plans in order and up to date will help keep tasks and due dates on track, leading to the success of a project.
At the same time, it's important as an IT pro to keep your work space organized, too. At any given time, you could have multiple laptops and cellular devices in your workspace, and it's important to have a system in place so you know what you are supposed to be doing with each device.
These are just three of the many qualities that show you have what it takes to be a good project manager. You can validate your IT project management skills with a certification like CompTIA Project+. CompTIA Project+ is more versatile than other certifications because it covers essential project management concepts beyond the scope of just one methodology or framework.

Professional Skills
Professional skills are personal attributes that enable someone to interact effectively and harmoniously with other people. Your professional skills can make you a stand out candidate when interviewing for a new job, or they can help illustrate that you're ready for a promotion.
What is one of the most important professional skills in IT? Communication! Communication is important in any job role, but especially as an IT pro. Often, you will be communicating with someone who is having a problem with their technology. It's your job to explain the problem and solution in a way that they can quickly and easily comprehend.
There are so many different means of communicating – both verbally and in writing. You will need to learn how to communicate well in each of these capacities. Being easy to talk to makes you a desirable person to work with – and that's a win for you and your colleagues.
Get career advice like this right in your inbox with CompTIA's IT Career Newsletter. Subscribe today, and you can save 10% off your next CompTIA purchase.