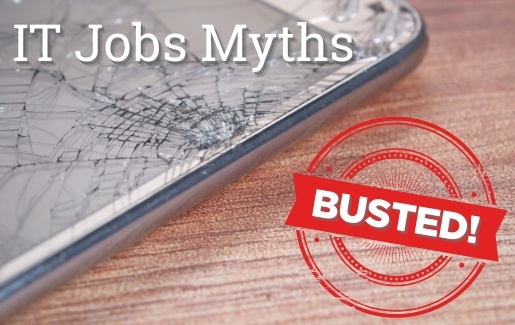 This article is part of a series called IT Job Myths Busted. These articles break down and explain common misconceptions about a career in IT. Each article will address the myth and explain the truth behind each myth.
Are you looking for a career that is exciting, rewarding, constantly evolving and social? You may be surprised to hear a career in IT involves all of these characteristics. It's a common stereotype that IT pros work alone, typing away in a dark corner of the basement, but that could not be further from the truth! IT pros are constantly working with others, in ways like helping an end user get back on the network, explaining the importance of cybersecurity to the board or recommending technology solutions to meet business needs, just to name a few.
Because of this, IT pros need to be able to communicate and collaborate well since they are constantly interacting with other people with ranging technology skill levels. For example, you could be working on a project with other experienced IT pros, speaking in technology jargon like it's your native language, but an hour later you could be installing software on the accounting team's laptops. Professional skills are clearly very important as IT pros work with all types of groups in the workplace, and there are many different types of these skills.
Communication Skills
Communication skills enable someone to interact effectively and harmoniously with other people. Having strong foundational communication skills make you enjoyable to work with, and that is very important in a professional setting!
As an IT pro, you could be spending a lot of time explaining things to other colleagues that are not as well-versed in technology as you are. It's vital that your delivery is pleasant, approachable, and easy to understand. Communication skills are just one type of professional skill that is important for IT pros to have.
Team Skills
In contrast to the stereotype that IT pros are lonely and anti-social, they do frequently work on teams. You will be working very closely with this specific set of colleagues, so it's important to build a strong rapport and working relationship.
One way to be a good teammate is to carry your load. Make sure you're always staying true to your obligations and completing your work on time. Another is to have a positive attitude regarding the circumstances. When someone constantly complains and doesn't work hard, it brings down the morale of the whole team.
Managerial Skills
Do you have your sights set on managing a team? The skills needed to be a solid manager are a special kind. You have to be able to manage all types of personalities – from Chatty Cathy to Negative Nancy. Personalities are not cookie cutter and require special approaches from a manager.
Managers must also be able to put out internal fires and keep the peace among the team. Managerial skills are very unique, so if you have strong problem-solving skills and a passion to help people excel in their careers, a manager role could be a great fit for you.
Conclusion
Let's get that image of the technology worker in a dark basement working in solitude out of your head. As you can see, IT pros are extremely social. If you've been deflecting the idea of beginning a career in IT because you're afraid of working in a secluded environment, don't worry! You now know this is not the case. Combine your technology skills with your wit and charm, and enter into the rewarding world of an IT career!
Get career advice like this right in your inbox with CompTIA's IT Career Newsletter. Subscribe today, and you can save 10% off your next CompTIA purchase.