Updated with new data from CyberSeek. The time frame for CyberSeek data is October 2018 through September 2019.
A career as a software developer can be very exciting – from building apps that your friends and family use daily to developing systems that run devices and control networks. While this is a great career path, did you know that all the experience you have in software development can smoothly transition you into a cybersecurity career?
If you currently work in networking, software development, systems engineering, financial and risk analysis or security intelligence, you're in luck because CyberSeek has outlined cybersecurity career pathways that begin with these roles, called feeder roles. They have skills that overlap with those needed by cybersecurity pros.
This article is the second in a series that details the cybersecurity career pathway that starts with each of these roles and will focus on how to get into cybersecurity from feeder roles such as software development.
The Skills Needed for Cybersecurity
Your experience in software development gives you certain transferable skills that can help you begin a career in cybersecurity such as a cybersecurity engineer, penetration tester, cybersecurity analyst or cybersecurity architect.
Click the image to go to the interactive pathway.
Learn About the Other CyberSeek Pathways and Feeder Roles
According to CyberSeek, there are more than 500,000 job postings for open cybersecurity jobs in the United States. One of the common feeder roles for cybersecurity jobs is software development, which had 1.2 million job postings during the 12-month period covered by CyberSeek.

If you have any of the following skills, make sure potential employers know, as they are the top-requested skills in this category.
Information systems
Cryptography
Information assurance
Security operations
Information Security
Risk assessment
Authentication
Risk management
Disaster recovery planning
Cybersecurity Degree Requirements
6 percent do not require a bachelor's degree
84 percent require a bachelor's degree
10 percent require a graduate degree
Cybersecurity Experience Levels
All of this information is good to keep in mind while you are exploring a career in cybersecurity. Now let's get a little more specific – what cybersecurity experience level is right for you? We've filtered through the information provided by CyberSeek by career level.
Entry-Level Cybersecurity Jobs
You may be surprised to hear that there are no entry-level cybersecurity roles in the software development pathway. If you consider the overall degree requirements shared above, it makes a little more sense since 94 percent of job openings require higher education.
Software development, on the other hand, has entry-level opportunities that can be obtained with IT certifications, boot camps and other non-degree training courses, so consider starting your career in software development and get your degree while you're working to prepare you for your next move.
Mid-Level Cybersecurity Jobs
If you are a few years into your software development career and are hoping to transition to a cybersecurity career, having these skills can help you:
Information security
Information systems
Linux
As you can imagine, cybersecurity involves knowing your systems inside and out, and knowing the security involved in protecting those systems. Another great skill to have is Linux because it's very a handy skill in cybersecurity careers.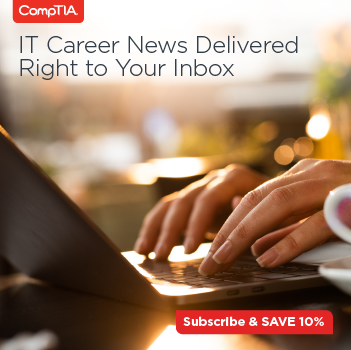 IT pros in software development who want to transition into a mid-level cybersecurity job may want to get one of these certifications:
SANS/GIAC
Certified Information Systems Auditor (CISA)
Certified Information Security Manager (CISM)
In recent years, CompTIA has also released two mid-level cybersecurity certifications: CompTIA Cybersecurity Analyst (CySA+) and CompTIA PenTest+. And CompTIA Linux+ can prove that you have the Linux skills employers are looking for.
In terms of education levels, 81 percent of the mid-level roles require a bachelor's degree and 9 percent require a graduate degree. On the plus side, you can look forward to a generous $99,000 average annual salary when you find a job in this category!
Advanced-Level Cybersecurity Jobs
If you are an extremely skilled and experienced software engineer, you could be a great candidate for one of the advanced-level cybersecurity job openings. Employers hiring for advanced-level cybersecurity jobs look for the following skills:
Information security
Network security
Cryptography
Project management
Linux
Many of the advanced-level roles have a focus on project management because the further along you advance in your career, the more work you must manage and the more projects you are involved in.
In addition to CISM, GIAC and CISA as mentioned in the mid-level category, Certified Information Systems Security Professional (CISSP) is a highly regarded certification. Also consider CompTIA's advanced-level cybersecurity certification, CompTIA Advanced Security Professional (CASP).
The education requirements for advanced-level cybersecurity jobs are 80 percent bachelor's degree and 11 percent graduate degree.
Another high average is the salary in this pathway – these jobs can pull in $119,500 per year.
Transitioning to a cybersecurity career from software development isn't a huge stretch. Many of the skills you already have can set you up for success in cybersecurity. CyberSeek is constantly updating its data to provide you the most accurate information for your job search, making it a great resource to help you learn what skills and certifications are necessary for a successful career in cybersecurity!

Check out the CompTIA Cybersecurity Career Pathway to see how CompTIA certifications can help you get into cybersecurity and advance your cybersecurity career.