If you work in security intelligence, you are well on your way to having the skills needed in cybersecurity. While both fields aim to identify, monitor and counter cyber threats, security intelligence takes a broader perspective and includes physical and cybersecurity, whereas cybersecurity analytics hones in on protecting critical IT infrastructure.
Security intelligence roles are most prevalent in government and enterprise, while cybersecurity roles can be found in any number of organizations and industries, opening up more job opportunities. People looking to switch from security intelligence to cybersecurity may need additional training or IT certifications to round out their skill set.
If you work in security intelligence – or have a security intelligence background but are struggling to find work – take a look at cybersecurity. This booming field continues to grow, and CyberSeek outlines career paths that can set you on the road to success. Keep reading to see what a career path in cybersecurity might look like for someone with security intelligence skills.
Security Intelligence to Cybersecurity: The Skills You Need
Your experience in security intelligence gives you certain transferable skills that match those required for a plethora of cybersecurity job roles.
In the United States, there are currently over 20,000 open jobs in the security intelligence feeder role that request the following cybersecurity skills from potential security intelligence candidates:
| | |
| --- | --- |
| GENERAL TECH SKILLS REQUESTED | CYBERSECURITY SKILLS TO ADD |
| Intelligence Analysis | Security Information and Event Management (SIEM) |
| Cybersecurity | All-Source Intelligence |
| Vulnerability | Signals Intelligence |
| Computer Science | Risk Analysis |
| Auditing | Human Intelligence |

If you have any of the above skills, highlighting them on your resume and during interviews can help position you as an excellent candidate for the large number of jobs currently hiring, according to CyberSeek.
How To Learn These Skills
CompTIA certifications cover the skills you need to move from security intelligence to cybersecurity, and each certification has a full suite of training products so you can tailor your studying to how you learn best.
If you're not sure which certification is right for you, take a look at the CompTIA Cybersecurity Career Pathway. For those brand new to IT, CompTIA A+ will give you a solid foundation for understanding things like operating systems, hardware and troubleshooting. CompTIA Network+ helps you understand the ins and outs of computer networks, how they're set up and how they function so you know what you're working to secure. And CompTIA Security+ validates the baseline skills needed to perform core security functions.
Once you choose which certification is right for you, download the exam objectives to see what's covered and then select your training solution. You can take a class, like CompTIA Live Online Training, or self-study with CertMaster eLearning solutions.
CertMaster Learn
CertMaster Learn is a self-paced, comprehensive online learning experience that helps you gain the knowledge and practical skills necessary to be successful on your CompTIA certification exam, and in your IT career. CertMaster Learn helps you stay on track with your studies, while robust analytics bring awareness of strengths and weaknesses.
CompTIA Labs
CompTIA Labs make it easy for you to practice and apply your skills in real workplace scenarios in preparation for the certification exam. All lab activities use real equipment and software, are based on scenarios found in the workplace and align with CompTIA exam objectives.
The newly integrated CertMaster Learn + Labs is now available for CompTIA Security+. Learn more here.
Security Intelligence to Cybersecurity: The Education You Need
According to CyberSeek, the following educational requirements represent the percentage of online job listings requiring either a bachelor's degree or a graduate degree:
All listings require at least a bachelor's degree

73% require only a bachelor's degree
27% require a graduate degree
As you can see, all of these security intelligence job roles require some type of formal education and IT pros should keep this criterion in mind when searching for a new job.
Security Intelligence to Cybersecurity: The Jobs You Could Get
Security intelligence can lead you to an entry-level cybersecurity job role which could then turn into something more advanced down the road.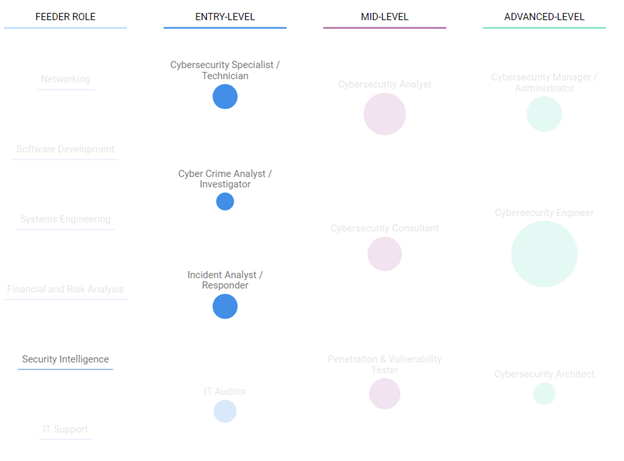 Cybersecurity specialist/technician: Cybersecurity specialists analyze risks and develop strategies to prevent breaches.
Cybercrime analyst/investigator: Cybercrime analysts and investigators are similar to detectives – they uncover data and information to build a case.
Incident analyst/responder: Incident analysts work to investigate cybersecurity or computer network-related incidents in real time and develop strategies to handle and prevent them in the future.
The average salary among these three job roles is $97,215. This data from CyberSeek is valuable during your job search to ensure you are being offered a fair wage.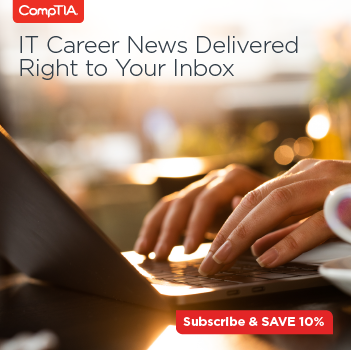 Security Intelligence to Cybersecurity: The Certifications You Need
According to CyberSeek, of the 20,548 job openings in the security intelligence feeder role, the following certifications are the most commonly requested by IT employers.
CompTIA Certifications
CompTIA Security+: Validates the baseline skills necessary to perform core security functions and pursue an IT security career.
Other Certifications
Certified Information Systems Security Professional (CISSP)
GIAC Certifications
Certified Ethical Hacker
Certified Information System Auditor (CISA)
A career in cybersecurity provides many possibilities, and you have the choice to do what will make you happiest and most fulfilled. Your experience in security intelligence has prepared you for a successful cybersecurity career – be confident in your established skills, develop additional skills where you may be lacking and earn a few applicable certifications and you're on your way to a thriving career in cybersecurity.
Check out the CompTIA Cybersecurity Career Pathway to see how CompTIA certifications can help you get into cybersecurity and advance your cybersecurity career.