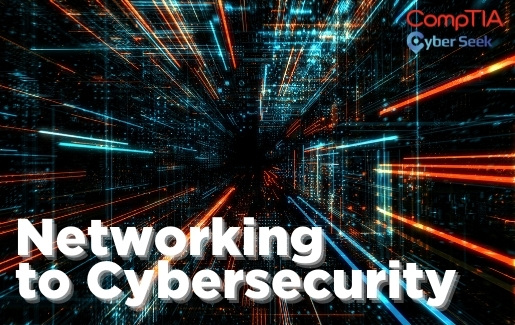 Updated with new data from CyberSeek. The time frame for CyberSeek data is October 2018 through September 2019.
Many IT roles now include some cybersecurity responsibilities, and once you get that taste, you may want to do more. Perhaps you're even thinking about pursuing a cybersecurity career. If you currently work in networking, software development, systems engineering, financial and risk analysis, or security intelligence, you're in luck because CyberSeek has outlined cybersecurity career pathways that begin with these roles. This article is the first in a series that details the cybersecurity career pathway that starts with each of these roles and will focus on how to get into cybersecurity from networking.
What Is a Feeder Role?
Known as feeder roles, the jobs mentioned above often serve as stepping stones into a cybersecurity career because of the similarities in skill requirements and significant skill overlap with multiple core cybersecurity roles.
Choose Your Own Cybersecurity Career
There are many opportunities for IT pros to start and advance their careers within cybersecurity. CyberSeek's interactive career pathway shows key jobs within cybersecurity, common transition opportunities between them and detailed information about the salaries, credentials and skillsets associated with each role.
These core cybersecurity roles are the most commonly requested job categories across the cybersecurity ecosystem. They are classified as entry level, mid-level or advanced level based upon the experience, education levels and credentials requested by employers.
The Skills Needed for Cybersecurity
Your experience in networking and IT infrastructure gives you certain transferable skills that match those required for the cybersecurity job roles shown in the pathway below, including cybersecurity specialist, cybersecurity analyst, penetration tester and cybersecurity engineer.
Click the image to go to the interactive pathway.
Learn About the Other CyberSeek Pathways and Feeder Roles
If you have any of the following skills, highlighting them on your resume and during interviews can help position you as an excellent candidate for the almost 300,000 jobs posted in the United States that fall into the networking feeder role pathway.
Information Security
Information Systems
Cryptography
Information Assurance
Security Operations
Risk Assessment
Python
Risk Management

Cybersecurity Degree Requirements
Your education level is also important, and you may be surprised to see the degree requirements for the jobs on this pathway:
18 percent do not require a bachelor's degree
75 percent require a bachelor's degree
7 percent require a graduate degree
Cybersecurity Experience Levels
All of this information is good to keep in mind while you are exploring a career in cybersecurity. Now let's get a little more specific – what cybersecurity experience level is right for you? We've filtered through the information provided by CyberSeek by career level.
Entry-level Cybersecurity Roles
Entry-level cybersecurity job roles require these skills the most, according to CyberSeek:
Information Security
Information Systems
Network Security
Linux
In fact, all four entry-level cybersecurity job roles list information security as a top skill requested. If you are experienced in preventing unauthorized access and use of information, you have a leg up on other candidates.
IT certifications can validate the skills you have and show employers that you're the right person for the job. CompTIA Security+, SANS/GIAC Certification and Certified Information Systems Security Professional (CISSP) can be a good place to start.
CompTIA Security+ is unique as the only one that assesses baseline cybersecurity skills through performance-based questions. It emphasizes hands-on practical skills, preparing security professionals to problem solve a wider variety of issues. If you don't already have CompTIA Security+, consider the benefits it could bring to your career.
Entry-level cybersecurity roles in this track have an average salary of $93,250 – so if you brush up on your skills and have the right certifications, know that this is a fair salary to expect when you get that job offer.
Mid-Level Cybersecurity Roles
If you're further along in a networking career and are looking to transition into cybersecurity, having the following skills is highly desirable:
Information Security
Information Systems
Linux
Vulnerability Assessment
Like the entry-level roles, information security is very important. But consider expanding your knowledge into Linux and vulnerability assessment, as they will only make you a stronger candidate for future cybersecurity roles.
In addition to the certifications mentioned in the entry-level category, many mid-level job listings request GIAC and Certified Information Systems Auditor (CISA) Over the past two years, CompTIA has also released mid-level cybersecurity certifications that are gaining traction: CompTIA Cybersecurity Analyst (CySA+) and CompTIA PenTest+.
The degree requirements for mid-level jobs are higher than those of entry-level jobs, but not by much. An average of 81 percent of job listings in the mid-level networking track require a bachelor's degree, compared to 77 percent in the entry-level track.
That said, the salaries for mid-level jobs are also higher than for entry-level jobs. You can earn an average salary of $99,000 a year in a mid-level cybersecurity role.
Advanced-Level Cybersecurity Roles
If you're a highly experienced networking IT pro, you may be ready for one of the job roles in the advanced-level track.
Cyberseek identified these five skills as most required for advanced-level cybersecurity roles:
Information Security
Network Security
Cisco
Cryptography
Project Management
Project management is often overlooked because it is a soft skill and not a technical skill, but that doesn't make it any less important! IT professionals juggle many projects as well as performing routine job duties and strengthening this soft skill can give you a leg up on competition. CompTIA Project+ can validate your IT project management skills, and as an added bonus, it's one of the top 10 highest-paying IT certifications.
You may be surprised to discover that the most requested certifications at the advanced level are the same as mid-level:
GIAC

Certified Information Systems Auditor

(CISA)

Certified Information Security Manager

(CISM)
The knowledge and skills that these certifications validate are common in both mid-level and advanced-level job roles, so earning these certifications can prove to employers that you have the knowledge it takes to be successful in your job. CompTIA Advanced Security Practitioner (CASP) is also a great option for cybersecurity professionals who want to want to work directly with cybersecurity technology and keep their hands on the keyboard rather than moving into a management role.
The majority of job postings in the advanced-level track require higher education:
80 percent require a bachelor's degree
11 percent require a graduate degree
But with higher education, again, comes higher salary. The average salary for advanced-level cybersecurity job roles is $119,000.
As you can see, transitioning to a career in cybersecurity from networking is easier than you may think. Many of the skills you already have are common skills needed for a successful career in cybersecurity. With its detailed, actionable data about supply and demand in the cybersecurity job market, CyberSeek is a great resource to help you learn what skills and certifications are necessary for the cybersecurity job of your dreams.
Get on the CompTIA Cybersecurity Career Pathway today!