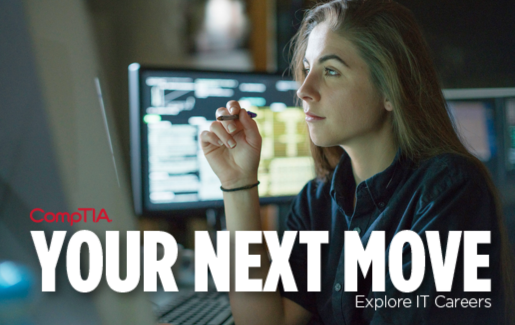 This article is part of an IT Career News series called Your Next Move. These articles take an inside look at the roles related to CompTIA certifications. Each article will include the responsibilities, qualifications, related job titles and salary range for the role. As you consider the next move in your IT career, check back with CompTIA to learn more about your job prospects and how to get there.
An incident response analyst is an expert you call when a cyberattack or breach has occurred. These IT professionals are tasked with stopping the bleed, eradicating the threat and remediating the damage. Incident response analysts must have the technical chops to investigate the incident and the ability to work well under pressure. If you want to put your cybersecurity knowledge to good use guiding a team of responders, incident response analyst may be your next move.
What Is an Incident Response Analyst?
The main role of an incident response analyst is to minimize the overall effects of a breach on an organization's systems, networks and digital assets.
Here are a few ways they support an organization:
Prevent threat escalation
Minimize the damage of a breach
Guide solutions implemented by responders
Provide reports to the security team
Perform post-resolution analysis
Monitor, test, assess and improve an organization's cybersecurity posture
Develop protocols, policies and training programs
An incident response analyst role falls under the larger category of cybersecurity analyst. While a cybersecurity analyst is responsible for detecting cyber threats and then implementing changes to protect an organization, an incident response analyst is focused on specific security events.
IT pros that are successful incident response analysts are good at thinking and acting on their feet. In many cases, there may not be defined incident response procedures to fall back on. Therefore, you must be able to quickly assess a situation and take action.
What Does an Incident Response Analyst Do?
While incident responders work to neutralize or eliminate an immediate security threat, incident response analysts are at the helm, providing direction and guiding the team's activities. They do this by leveraging their cybersecurity expertise and using a variety of tools.
For example, during a breach, an incident response analyst may be called in to enforce cybersecurity policies and procedures, identify compromised computers and assets, monitor security feeds and support internal investigations using e-discovery and forensics. This is a leadership role that requires a delicate balance of urgency and calm, analysis and action, and versatility and structure.
But the job doesn't end there.
Once the threat is contained, an incident response analyst is responsible for communicating to management via post-incident reports. Some organizations may lean on incident response analysts to develop and implement policies, procedures and training exercises.
Getting to this level requires years of experience. An incident response analyst is not an early-career cybersecurity role. Employers seeking incident response analysts are looking for candidates who have the right blend of technical and durable skills, along with substantial experience working within a security team.
How To Become an Incident Response Analyst
You'll need to gain at least a few years of experience in more early-career roles, like cybersecurity specialist or network administrator. Generally, you need at least 2-3 years of experience in these roles to either advance to a cybersecurity analyst position, or qualify for a computer security incident response team or security operations center (SOC). Once you become part of that team, you can start expanding your knowledge and honing your incident response skills.
Some organizations require an associate or bachelor's degree in computer science, information security or a related field. Although, more employers are starting to recognize alternative pathways to technology jobs. One of those pathways is IT certification. IT certifications can be beneficial to those with and without a traditional degree by providing a validation of up-to-date, job-role-based knowledge and skills.
The new CompTIA Security+ (SY0-701) represents the latest and greatest in cybersecurity, covering the most in-demand skills related to current threats, automation, zero trust, IoT, risk – and more. CompTIA Security+ helps you develop a core foundation of essential skills, paving the way for a fulfilling career.
You'll learn how to:
Assess the security posture of an enterprise environment and recommend and implement appropriate security solutions.
Monitor and secure hybrid environments, including cloud, mobile, Internet of Things (IoT) and operational technology.
Operate with an awareness of applicable regulations and policies, including principles of governance, risk and compliance.
Identify, analyze and respond to security events and incidents.
While CompTIA Security+ shows employers that you have the skills and hands-on experience necessary to step into an early-career cybersecurity role, you'll need to build on these skills in order to land a mid-level role like incident response analyst.
CompTIA Cybersecurity Analyst (CySA+) is a certification for cyber professionals tasked with incident detection, prevention and response through continuous security monitoring, and can help you get to the next level.
In addition to certifications, CompTIA offers a full suite of training products to help you learn the technical and professional skills needed to become an incident response analyst:
Want to see more? Check out all available training options offered in the CompTIA store.
The Details
Incident Response Analyst Salary Range
The median annual salary for cybersecurity analysts, under which incident response analysts fall, is $112,000 in the United States, per the U.S. Bureau of Labor Statistics (BLS). This is 142% higher than the median national wage for all occupations.
According to CyberSeek, the average advertised salary for an incident response analyst in the United States is $85,000. Of course, there are many factors that influence salary such as location, job level, years of experience, company size and more.
| | | | | |
| --- | --- | --- | --- | --- |
| 10th Percentile | 25th Percentile | 50th Percentile | 75th Percentile | 90th Percentile |
| $66K | $85K | $112K | $141K | $175K |
Incident Response Analyst Job Outlook
There were more than 171,000 job postings by U.S. employers for cybersecurity analysts from May 2022 to April 2023, and incident response analysts are included in that category. More specifically, CyberSeek shows 7,266 job postings by U.S. employers for incident response analysts during that same time period.
Additionally, the need for cybersecurity analysts will continue to grow, reaching about 234,000 by 2033. The 10-year projected growth for this job category is 242% above the national rate.
Job Titles Related to Incident Response Analyst
+ Means More
At CompTIA, + means IT careers. That means you can consider us your partner on your journey to becoming certified, finding, interviewing for and winning that new job role.
We help you save money. Getting a CompTIA certification is an investment in your career but getting a discount can help. There are several ways you can save money on your CompTIA purchases.
We help you decide how to take your exam. Scheduling your exam is the easy part. CompTIA exams are offered at testing centers around the world as well as through online testing, which is available 24/7, so you can test in person or at home. Learn more about your testing options.
We help you land your next job. We've teamed up with ZipRecruiter so you can get access to job alerts, digital badging and more. Be sure to sync your credentials on ZipRecruiter as you continue to grow within the tech industry.
Need more job inspiration? Check out CompTIA's Tech Job Report video series now premiering on CompTIA Connect. Learn more about the latest data and trends in tech hiring and the implications for employers and the U.S. workforce with new episodes each month.
Read about more IT jobs featured in Your Next Move.
Will your next move be incident response analyst? If so, download the exam objectives for CompTIA Security+ to learn more.