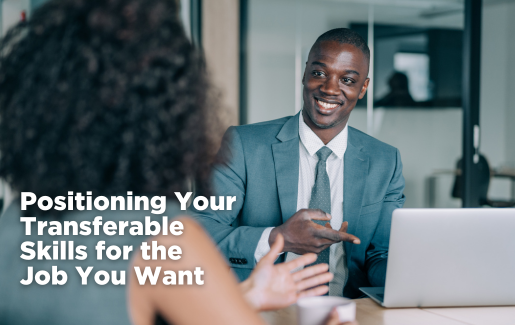 When it comes to searching for and applying to jobs, you'll often find job postings with mile-long lists of skill requirements. While these lists are helpful and give you a high-level overview of what it takes to do the job, chances are you aren't skilled in every single area that the organization is looking for. However, you can look at your own experience and leverage your transferable skills to help you make your next career move.
We spoke with David Toste, career services manager at CompTIA, to find out more about transferrable skills and how you can position your experience for the next job you want.

Check out the career resources series:
Transferable Skills and How To Identify Yours
"Transferable skills are skills that can be used in a variety of industries," said Toste. "For example, if someone is working as a cashier at a coffee shop, chances are they are interacting with customers frequently. Although many may believe that the skills they obtained at the coffee shop would be irrelevant in a tech job, the truth is many tech jobs require customer service experience."
You can't make your transferable skills work for you if you don't know what they are. "It would be wise to research the types of roles you're interested in through various sources like LinkedIn and other job pages," Toste said. "A Google search can help you to identify the top transferable skills for the positions you're interested in."
Once you have a good idea of the skills needed for the job you want, you can cross reference these with your own experience to understand how your existing skill set can help you find success in a new role or industry.
In your job search, it is also important to understand skills that don't qualify as transferable skills. These are called hard skills.
"For instance, if you have experience working on a very specific software program, that skill might be hard to transfer over if there aren't others using the same program. It's harder but not impossible to paint as transferable," Toste said.
Showcasing Your Skills
Highlighting your experience and transferable skills doesn't have to wait until the interview. There are many ways your skills can be working in your favor before you even submit your application.
"Most transferable skills have keywords associated with them. For instance, team building, customer service and project management," said Toste. "Take a look at profiles of others working in the industry you are looking to get into as well as job postings to determine what keywords are being used, then make sure to include them throughout your resume and LinkedIn profile. There are free sites like TagCrowd that can help you with this."
Before you get carried away adding keywords to your resume and professional profiles, it is beneficial to do a little research into the industry you're applying to work in.
"You will not know how your skills transfer if you don't research the industry and the positions you're interested in," said Toste.
You've Done Your Research, What's Next?
You've put in the work to understand what your transferable skills are and how they translate to the job you want, but where do you go from there?
On top of understanding how your skills can help you get the job you want, you must also consider the reason your potential employer is looking for them. Doing so can help you position yourself for success in the interview process. Practice talking about experiences you have had in your previous jobs to make an explicit case for how you will use them to excel in your new role.
"You should use real examples of your successes with these skills and how they could allow you to be successful in your new role," said Toste. "Be clear and confident and ensure you have a story to tell. If troubleshooting is an important skill, make sure to have real examples of items which were difficult to troubleshoot and how you overcame that challenge successfully, and if not successfully, what you learned from that experience."
Get the in-demand skills you need with CompTIA certifications and training solutions. Download the exam objectives to get started.