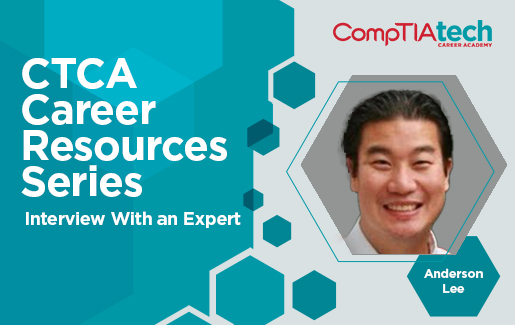 It behooves any job seeker to understand best practices around every aspect of the interview process before you begin your job search, including when it's best to follow up and how to frame your communications. While there's no secret formula to getting your dream job, there are steps you can take to show a potential employer just how interested you are.
We spoke with Anderson Lee, senior manager, student success and career services at CompTIA, to find out more about job search communications and how you can best position yourself for the job you want.
Check out the career resources series:
How Long Should You Wait?
When it comes to following up after an interview, the timing should be partially informed by the interviewer.
"If your interviewer tells you that they will be in touch by a certain date, then wait until then to follow up. In the meantime, sending a thank-you email is both acceptable and highly encouraged," said Lee.
If your interview ends without clear direction or a date you will hear back, there's no reason to believe that you did poorly. As a general guideline, Lee recommends to always take the time to write a thank-you email, then wait a week or two to follow up. It's important to understand that speed of execution may not be the best strategy for job seekers hoping to impress their future employer.
"Sometimes, candidates think if this is done as quickly as possible, it somehow helps distinguish themselves from others," said Lee. "A better approach is taking a little time to think about the interview and write a thoughtful message that highlights your earlier responses while being appreciative of the time and consideration you were given."
The Value of Following Up
Following up is not only important, but it can also be effective.
"Just because you have applied for a position and interviewed, it would be an oversight to presume that those on the other side of the so-called table know how interested you still are, especially since it is more than likely other candidates have interviewed as well," Lee said. "If done thoughtfully, [following up] is by no means pushy, and you could even make their decision easy for them, in a good way."
When drafting a follow-up message to a potential employer, politely express that although you haven't yet heard back, you are still very interested in the role you interviewed for.
"Then, in a sentence or two, remind those you are following up with of why you think you would be a great hire who can help the company or organization. Offer to provide any additional information, and end by once again saying thanks," he said.
While you may feel inclined to ask for feedback in your follow-up, it is best practice to save this for another time.
"In general, asking for feedback is a good practice, but please keep in mind that the primary purpose of a follow-up message is to politely remind your interviewer of your interest in the position," he said. "If you are early on in your career or trying to begin a new one, then asking for feedback is even more applicable and appropriate. During a job search, the little things matter, and your openness toward receiving advice can help you be successful along the way."
Reflecting on Your Experiences and Keeping Up Momentum
The nature of job searching means you won't be offered every job.

"Receiving the 'thank-you-for-your-interest email,' is always going to be disappointing, and it is alright to feel this way, but only for a short while," said Lee.
Even if you don't get the news you had hoped for, at least you know where you stand as a candidate. Once you set aside your disappointment, Lee advises taking a moment to write back and thank the sender for the opportunity to interview.
"You may think this door is closed, and it could very well be. Still, if working for this organization truly interested you, then ask to be kept in mind for future or similar positions. Understandably, when it comes to interviewing, much attention is paid to making good first impressions. Making lasting ones should receive the same amount," Lee said.
Part of not letting rejection get you down is continuing to apply for jobs.
"During a job search, momentum is everything," said Lee. "Even if you think an interview or several of them have gone well, and you are optimistic about receiving an offer, continue researching and applying until you do and, of course, accept."
While we all would like our job searches to be brief, applying feedback you receive and staying the course can help you learn about more fulfilling opportunities. If this happens, you are in a much better place than you were when your search began, Lee explained.
Shifting Your Perspective
No matter how much effort, practice and preparation you put into interviewing, any job search includes occasional setbacks.
"Even if the position you interviewed for would be a dream come true, the best and only thing you can do in the meantime is to continue researching and thoughtfully applying for other opportunities that align with your interests and skills," Lee said.
When you do face setbacks, it's alright to feel disappointed.

"At the same time, please try to avoid overthinking how you responded to questions during your interview and second guessing yourself. This will just lead to more doubt and negativity. Instead, think of those you can confide in and turn to for advice and insight," he said.
Finally, keep an open mind. While it is rare for a job search to result in compelling someone to pursue a completely different career, it does happen — but shifts in what a candidate is looking for can be more common.
"What I often see are more subtle changes. For instance, a student I worked with initially began job searching with only Fortune 100 companies in mind," said Lee. "Over time, the student's list changed as more opportunities were researched. In a similar way, after being steadfast in only being open to fully remote positions, hybrid roles became more appealing."
What are the key takeaways here? Following up after an interview can give you a leg up in your job search if done correctly and taking time to reflect and implement feedback can help you to narrow down exactly what it is you want out of your potential new role.
"Let your experiences inform and refine your job search. The possibilities uncovered can inspire you to unlock your potential," expressed Lee.
Ready to start your CompTIA Tech Career Academy Journey? Apply Today.