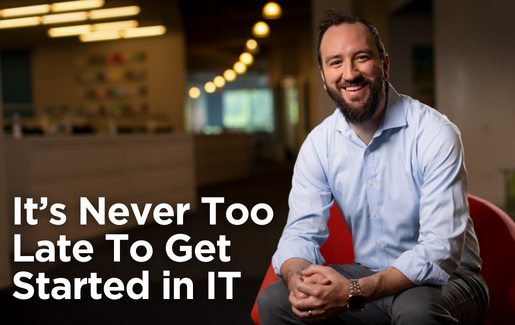 Dolly Parton once said, "It's okay to change dreams in the middle of the stream." Scott Krager, information security analyst, is living it.
Not everyone in IT starts their career in their 20s. Plenty of people with no prior knowledge of technology change careers mid-stream, when they are vested in another industry entirely. The reasons they choose to switch to an IT career are endless. They may want to have a higher earning potential, a more flexible schedule or just a change of scenery.
Scott Krager, information security analyst at Blain's Farm & Fleet, began pursuing IT when he was working as a personal trainer. "[Being a personal trainer] was fine, it was a job," Krager said. "I got my MBA and thought I'd go a different route, and it didn't work out ultimately."
His original plan not working out ended up working in his favor as it led him to IT.
Transitioning From Personal Training to Cybersecurity Quickly
At the start of the COVID-19 pandemic, Krager, who has an undergraduate degree in fitness, found IT through a friend who worked in the field. Krager enjoyed tinkering with old laptops and PCs and had a fair understanding of how they work, although he wasn't familiar with many technical terms. After learning of his interest in technology, his friend recommended that he get CompTIA A+ and start his tech career journey. The rest is history.
With a wife and three children, as well as a full-time job, getting into IT was not necessarily easy for Krager. He had to quickly get good at budgeting his time as he studied for his CompTIA A+ exam. But he saw IT as a career path and not just another job. He knew any sacrifices he made to establish a career in tech would be worth it. He was right.
Krager earned CompTIA A+ in February 2022 after about a year-and-a-half of studying for it. CompTIA A+ provided him with a basic knowledge of hardware and networks. It also covered operating systems, troubleshooting, security, cloud computing and virtualization, mobile devices and operational procedures.
Krager also earned CompTIA Security+ as part of an online cybersecurity bootcamp he participated in through Evolve Security Academy. He was so successful in his bootcamp that he was invited back to be a teaching assistant, an invitation he accepted. He also had the opportunity to intern at Evolve Security Academy from April 2021 to September 2021. This gave him some IT experience and helped him land his job as an information security analyst in April 2022.

Have you decided a career in IT is right for you? Here are 6 steps to kick off your career change.
Keeping an Open Mind Holds Value for Career Changers
Open-mindedness is a virtue for career changers. "I started in fitness and thought I was going to do business and sports management, and then I went into tech," Krager said.
Krager's open-mindedness led him to the career that was best suited for him. Even though he didn't think any of his skills would transfer to IT, he found that they did. For example, he uses the customer service skills he learned in the past when he speaks to vendors and communicates with his IT teammates.
It's also essential that those who have decided to go into tech or are already in IT maintain an open mind. According to Krager, it can pay off.
"IT is a huge space," he said. "Exploring different topics and keeping an open mind, especially early on, is huge. And it will open your eyes to more and more that's out there that you probably don't know about. So rather than starting out with an end goal in mind, just start out and see what's out there. You never know."
The Benefits of CompTIA Certifications for Career Changers
Certifications often play a key role in getting a job in IT. But that is just one of the reasons they are so valuable to Krager.
Krager values CompTIA certifications because they gave him talking points that he used with prospective employers. In other words, they caught him up on all the fundamentals of IT so that he could hold his own in a conversation with any IT pro. Additionally, they provided concrete evidence that he could do the job he was applying for.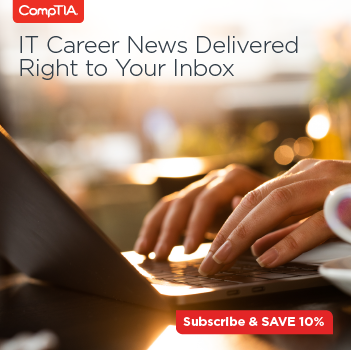 CompTIA certifications also gave Krager peace of mind and the confidence to move forward with his IT career. He said that with CompTIA A+ and CompTIA Security+ (and CompTIA Network+, which he is currently studying for), he can help organizations help people.
Krager also values CompTIA certifications because they are vendor-neutral and because CompTIA is an industry leader.
"CompTIA has built its brand, so people know what it's about," he said. "You know CompTIA certifications are valued. You know you're learning a lot and you're getting something tangible for that learning, something you can speak to and put on a resume."
According to Krager, CompTIA certifications can help an IT pro advance their career. That's what they helped him do.

Are you ready for a career change? Take our quiz to find out.
Enjoying a Flexible Schedule as a Remote Information Security Analyst
As a remote information security analyst, Krager's job activities often change from week to week. They primarily revolve around incident response, triaging alerts from the security operations center (SOC), analyzing emails for phishing attempts, doing vulnerability research and mitigating security issues. He also works with end users and promotes best practices for cybersecurity.
One of the most enjoyable things about being in IT for many people is having a flexible schedule like Krager's. He described his current schedule as being extremely flexible.
"My hours are technically 7 a.m. to 4 p.m., but today I took the middle of the day off," he said. "I'm going to catch up on some emails and do some work when I get back. My boss is really cool about that. So, if you get busy in the morning, you can take a little time off and clear your head. It's not like punching the clock or anything like that."
Some days, such as on-call days, are not as flexible for Krager as cybersecurity professionals must respond to alerts immediately. Overall, he enjoys the job flexibility that most people only dream about.
Krager's current position isn't merely flexible; it is also rewarding, and he is no longer stressed at work. "I'm in a good spot," he shared. "I feel like I'm finally valued and am in a role at a company that treats me well and pays me well."
By just about anyone's estimation, Scott Krager is living the dream, made possible by IT and his own determination to succeed in the field.

Learn the skills you need to change your career with CompTIA CertMaster Learn. Sign up today for a free trial today!
Connect with Scott Krager on LinkedIn to keep up with his cybersecurity career and see what the future brings him.