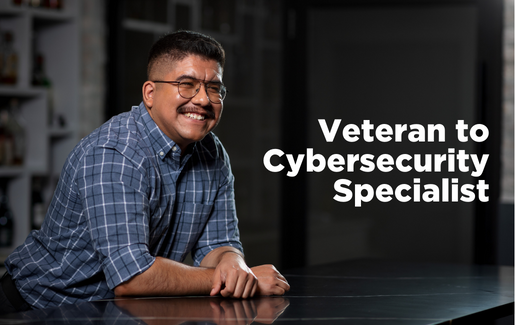 Does art imitate life, or does life imitate art? In Eduardo Gijon's case, it's a little bit of both. Gijon, a veteran turned cybersecurity specialist, was first hooked on the concept of a cybersecurity career by watching Mr. Robot. The drama-thriller series, airing from 2015 to 2019, piqued his interest and actually taught him some surface-level information about penetration testing and ethical hacking. That interest paired with the tech skills he learned in the military, primed him for a career that would provide more than he ever imagined, including the opportunity to buy a house and a chance to give back.
The Path to Cybersecurity Begins With IT
Gijon says that one of his favorite things about Mr. Robot was seeing how actual attacks were run. He realized that it was sped-up content but found each episode really interesting, later recognizing that what he watched on TV was very close to what he deals with in real life.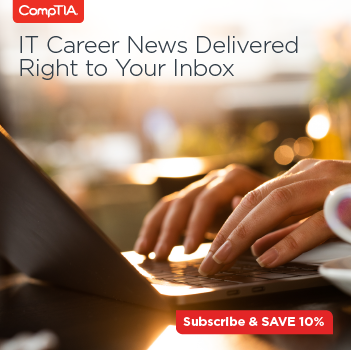 But watching a television show doesn't exactly translate to real-life skills, so Gijon started playing around with different tools and forensic suites. When he enlisted in the Marine Corp, he says he gained a variety of skills as a generator mechanic that allowed him to develop a troubleshooting mindset. When he reenlisted with the Army National Guard, he became a classified IT systems administrator. During that time, he also became CompTIA Security+ certified – a milestone he says opened many doors for him.
"Having CompTIA Security+ has opened up opportunities I didn't think were possible," Gijon said. "It's a requirement for many organizations, especially government ones, seeing as it's a baseline certification."
One of those opportunities was a summer internship at AON Cyber Solutions.
"That was my first preview of how penetration testing worked in a civilian setting," Gijon said. "My internship really helped me understand cybersecurity better while working with consultants that guided and mentored me."
The First Cybersecurity Job
Gijon's internship soon turned into a full-time job offer. Now a cybersecurity specialist for AON Cyber Solutions, he works through an incident response rotation.
"It's a rotational-based program, so the first one is incident response, followed by digital forensics and then penetration testing for a total of 10 months," he said.
He hopes his next step will feed into a consulting role within a specific practice.
In his position, Gijon says he is looking for threats via malware, ransomware and business email compromises. His role is to prevent breaches from happening and to remediate and fix what's already occurred. He thrives on the challenge that his job provides him with, followed by the satisfaction gained when you solve a case.
"I love going to work because it's a brand-new experience every day," Gijon said. "I get to pretty much work on different tool sets, systems and interesting client work in incidence response and digital forensics."
He describes cybersecurity as an ever-evolving field – something you have to stay on top of.
"These threat actors come with different ways to get into systems, different ways of compromising people and organizations. The enemy is essentially trying their best to go against you. Like I learned in the military, you have to try your best in return," Gijon said.
The Reward of a Fulfilling Career
Transitioning from a general IT role to a cybersecurity role can be challenging. It's a whole new set of skills and knowledge that are acquired through training and hands-on experience. Gijon likens the experience to climbing a second mountain – after already climbing your first. But that's what he loves about the field in the first place, the vast amount of knowledge there is to conquer. And while you may never find yourself at the very peak of the mountaintop, it's a rewarding journey to say the least.
"When I enlisted in the Marine Corps back in 2010, I remember getting off the bus and thinking: What did I get myself into?" he said. "Now, looking back, I'm doing very well for myself, and I credit that to a bunch of different experiences I've had in my life."
Some of those perks include a solid work-life balance that allow Gijon to focus on his other life passions while also studying for more certifications. Another perk? The pay. His most recent accomplishment – closing on a house.
"My transition to IT has really helped me get to a place where I have a salary that allows me to pay the bills, save money and still have leftover income to spend as I see fit," he said.
The Opportunity To Give Back
When Gijon was a community college student, he participated in One Million Degrees, a Chicago-based organization dedicated to providing support to low-income, highly motivated students to help them succeed. He was assigned a mentor who helped him see his potential. He now finds himself in the mentor position.
"I currently volunteer as a coach for different students going through the same process I went through," Gijon said. "I not only get the gratification of working on cybersecurity objectives, but I also am working to help mold tomorrow's great leaders."
Representation within One Million Degrees is something that Gijon thinks about. "I'm that Latino Hispanic role model to a bunch of 18-year-olds," he said. "They can see that I did it and they can too."
His advice to anybody going through a challenge, especially veterans transitioning into the IT space, is to ask for help.
"I had to ask for help many times from people who others would consider my juniors – or somebody else. But there's always somebody there to help you," he said. "Don't stop. Don't quit. Ask for help, network and keep up the good fight. I've been through my ups and downs but look at me now!"
Learn the skills you need with CompTIA CertMaster Learn. Sign up today for a free trial today!