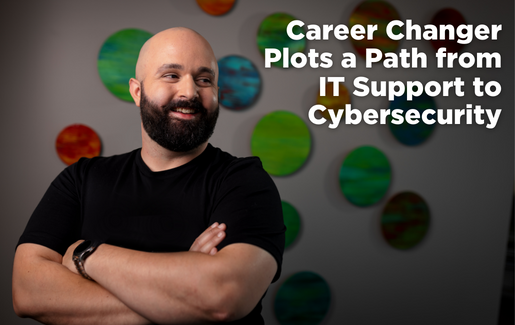 Drew Richards has always had a passion for technology. He's been building his own computers at home, troubleshooting and upgrading his own systems, and tinkering with various IT applications, programs and concepts for close to 20 years. This love for problem solving and working with his hands led to a career as an auto mechanic and eventually a 7-year stint in retail management. But the hours required in both fields soon became tiring and Richards was ready for a change.
IT was the first place he turned. He began doing some research and found that CompTIA was the best place to get started.
Step 1: Getting Certified
Richards' research showed him that CompTIA was the gold standard for certifications and that getting CompTIA A+-certified was his first step – and so he did it.
"I decided to study for my CompTIA A+ certification. I bought a book, studied the material, took the tests and got a job with Impact Networking," Richards said. "It was the best thing I've ever done. This job gives me stability and the chance to work with cool people in a field that keeps me thinking and problem-solving. I thoroughly enjoy it."
Richards has a process for studying that he plans to replicate for future certifications. His process includes finding the most current book and supplementing with resources from Udemy, Mike Meyers and Professor Messer to learn as much as he can. He takes notes and then transfers those notes to flashcards that he practices until the material is drilled into his head.
With CompTIA IT Fundamentals (ITF+), CompTIA A+ and a solid IT job under his belt – his process seems to be working.
Step 2: Getting Hired
Richards is a senior service desk analyst. He is charged with taking phone calls from the 300+ companies that Impact Networking manages IT services for.
"I do Tier 1 and Tier 2 support – anything from password resets to troubleshooting other issues as they arise," he said. "Working for a managed service provider is a fast-paced environment where I get to learn something new every day. I get to try new things and solve different problems. It's never the same thing and it's not boring. I enjoy going to work every day."
CompTIA certifications are designed to ensure the skills you learn are the skills you'll use in your job – and Richards affirms this.
"Throughout my studying, I've learned concepts that I use daily. Not only for troubleshooting, but in my interactions with customers," he said.
He notes that when you know what you're talking about, your customers have confidence in your expertise and that confidence turns into respect.
"CompTIA has unlocked my ability to be what our customers need in an IT professional. It allows me to make sure they are being taken care of as quickly as possible," he said.
Step 3: Navigating the Vast Field of Technology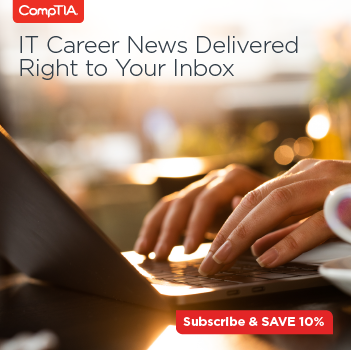 Richards says that becoming CompTIA-certified opened the door for him and gave him the opportunity to work for a managed service provider.
"That allowed me the opportunity to experience so many aspects of IT," he said. "As we all know, IT is a broad field. Working for a managed service provider gives me the chance to learn and experience multiple facets of IT and figure out where I want to take my talents next."
His plan includes earning more CompTIA certifications.
"I'm CompTIA ITF+ and CompTIA A+ certified," Richards said. "I'm working on CompTIA Network+ next and after that I'll be doing CompTIA Security+ to get the trifecta that will allow me to work on the cybersecurity side."
With cybersecurity jobs continuing to increase in demand, Richards' plan is on point.
Richards' Advice To Emerging IT Pros? Study!
When asked what advice he would give to IT job seekers and career changers, Richards' answer is succinct: Study!
"If you're trying to get into IT, you have to know these concepts like the back of your hand," he said. "Make sure IT is something you enjoy doing. There is nothing worse than going to a job you don't like. But once you decide this is for you, put everything into it. Make sure you study and get the certifications you need to advance your career."
And when you do that, you'll never have to work again.
"Everything CompTIA has done has opened doors for me. I wouldn't be where I am today without CompTIA," Richards said. "It's allowed me the opportunity to follow my passion."
Learn the skills you need with CompTIA CertMaster Learn. Sign up today for a free trial today!