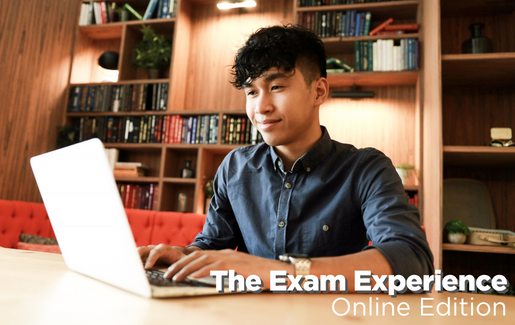 Having the option to take your CompTIA certification exam online, from the comfort of your own home or office, should make exam day a little bit less intimidating – especially if it's your first CompTIA exam! But, if you're not adequately prepared, taking your exam at home can quickly become more of a distraction than a convenience.
To ready yourself for your online exam, we've put together "The Exam Experience." Read on to learn what your online exam day should look like and how to set yourself up for success. If in-person certification exams are more your speed – or if you simply want to learn more – check out our article about the in-person exam experience.
Is Online Testing Right for You?
Online testing (vs. in-person testing) sounds like a slam dunk – why wouldn't you want to take your test from home? After all, it's likely that you'll feel more comfortable and less anxious in a familiar spot.
First, in order for online testing to work, you must have access to a private and distraction-free location. Exam proctors will be monitoring you via camera for the duration of your exam, so you must be alone.
Secondly, but just as important, you must have reliable internet access. The last thing you want to happen is for your Wi-Fi to disconnect mid-exam.
Third, you must take the exam on a dependable device that has a webcam.
If you can properly address these issues, then read on!
Before Your Exam Day
Aside from studying the material and preparing for your CompTIA certification exam, there are few other things you must check off your to-do list before taking your online test.
1. Review the Testing Policies and Procedures
This is an important first step to making sure that online testing is right for you – and to save you time on exam day. Online testing is powered by Pearson OnVUE, so you must review policies from both CompTIA and Pearson OnVUE.
Review the CompTIA Testing Policies, CompTIA Candidate Agreement and Pearson OnVUE Testing Policies.
2. Perform a System Test
You'll want to download the OnVUE online proctoring software before your exam day to ensure your system will work with the software. Take a look at these minimum system requirements (including an internet connection with a minimum speed of 1 Mbps down/up) and make sure you shut down all non-essential applications before launching the software. You should also make sure you have a webcam (internal or external with a minimum resolution of 640 x 480 at 10 frames per second (fps)).
3. Create a CompTIA Account
Before you take your online CompTIA certification exam, you have to purchase a voucher and schedule the exam.
The first step in doing that is creating a CompTIA account. Make sure you use an active and valid email address when creating your account. This is where you'll receive important information about your exam results and certification status.
4. Purchase an Exam Voucher
The exam voucher is your ticket for scheduling and sitting for your certification exam – online or in-person. Note that there isn't a price difference between in-person and online exams.
There's no doubt that putting the work into earning a CompTIA certification is a great investment in yourself and your career – but every investment comes with a cost. The retail price for exam vouchers can be daunting, but there are ways to save money, such as purchasing a bundle or using a promo code.
If you choose, you can pay for the exam via credit card payment as part of the exam scheduling process. Also, keep in mind that each voucher comes with an expiration date and those dates cannot be extended under any circumstances.
Check out this page for current CompTIA exam prices.
5. Schedule Your Exam
When you're ready to take your exam, sign into your CompTIA account to schedule your online exam and choose a date and time that works for you. Confirm that your time zone preferences are correct because the times that appear in the scheduling system correspond with the time zone in your profile.
Once you schedule your exam, you will receive a confirmation email containing your exam appointment time. If you do not receive this email, please contact Pearson VUE immediately.
6. Request Accommodations
Accommodations for people with disabilities may be available on a case-by-case basis for online proctored exams. To ask for accommodations, candidates should make a request with Pearson VUE. Time accommodations, however, can be handled by stopping the exam at any time by closing your browser. This will stop the clock, and you can resume the exam when you are ready as long as it is within the time frame allotted and the exam time has not completed.
On Your Exam Day
When the day arrives, it's normal to feel a bit anxious. Here's what you can expect on exam day.
Read more on the Pearson VUE website.
1. Prepare Your Space
Give yourself plenty of time to get your space ready. You should be in a walled room with a closed door – like an office or a bedroom – and without distractions or excessive noise. Remember that no one else is permitted in the room with you while you are testing.
During the check-in process, you'll be asked to take photos of your work area to prove you meet these requirements. You won't be permitted to take the exam until you pass a room scan.
Make sure your workspace is clear of all books, paper, pens, etc. and you don't have any additional monitors or computers plugged in. You can have a beverage on your desk, and your phone should be nearby, but not in your workspace.
You will also have the option to use a built-in digital whiteboard feature to do scratch work or take notes.
2. Check In
You'll need two forms of valid identification handy. Acceptable forms of ID are detailed in the Candidate ID Policy. Your first and last name used to register for the exam must match the first and last name on both IDs that you present via your webcam on exam day.
Furthermore, the IDs must be originals – photocopies are not accepted. Candidates who are 17 years of age and under should have a single form of identification with them – a school ID counts.
Additionally, they should have guardian authorization for each testing event. The guardian should be present during the check-in process and willing to show their government-issued ID.
3. Smile for the Camera
Be prepared to get your picture taken. When you check-in, your photo will be taken to help maintain the highest level of security and authentication. You don't have to get dolled up – just understand that this is part of the testing process. You will also submit photos of your work area.
4. Take Your Exam
Most CompTIA exams are completed in a two-hour window – that includes 15 minutes to agree to the CompTIA Candidate Agreement and testing policies prior to beginning the exam, and 15 minutes after you've completed the exam for the post-exam survey.
5. Follow the Rules
There are a few rules you should be aware of on exam day. First, photos or videos of the exam screen are prohibited – including a photo of your exam result at the end. This is a violation of testing policies and can result in your score being invalidated and your certification being revoked.
In addition, candidates are not allowed to tamper with the operation of their computer or allow unauthorized software to run in the background.
Keep in mind that an exam proctor is monitoring you during the exam. If he or she sees your eyes wandering around the room, you will get a warning. Also, while you are not allowed to ask your exam proctor content-related questions, you are able to talk to or chat with them if you are having technical difficulties.
While most technical issues can be avoided by completing a system test in advance of your exam, Pearson OnVUE staff is on hand to offer support if needed. If you experience technical difficulties, you must bring it up during the exam. Waiting until the exam is over will be too late.
6. Get Your Results
You'll find out your test results immediately after completing the test. If you passed, the score report will instruct you to log in to your CompTIA account to request your wallet ID card and your official certificate. If you did not pass on your first attempt, there is no waiting period before you can try again. But, before your third (or any subsequent) attempt to pass, you must wait at least 14 days from the date of your last attempt.
After Your Exam Day
Once you have a CompTIA certification, you not only have an industry-recognized credential that employers rely on to find qualified candidates, but you also have access to free resources that will help you find and land your dream job in IT.
1. Claim Your Digital Badge
CompTIA digital badges enable you to share and validate your CompTIA certification achievements. A digital badge consists of an image and metadata that are uniquely linked to you. Together, they serve as a compelling digital showcase of your certification achievements. Clicking on your digital badge grants immediate access to validated information that features your knowledge and skills.
2. Use ZipRecruiter
Through CompTIA's partnership with ZipRecruiter, you can match your skills to new job opportunities and highlight those skills on your career profile. ZipRecruiter will promote your profile to employers looking for people with your skills – taking some of the leg work out of your job search.
3. Learn from CompTIA Resources
If you're new to IT, check out the career change section of our website, which includes quizzes, articles and step-by-step guides to help you get into IT no matter your previous experience. CompTIA resources can help you simplify your job hunt, perfect your IT resume, write an effective cover letter and rock your IT interview.
Ready to begin your CompTIA exam experience? Download the exam objectives for the certification of your choice to get started.