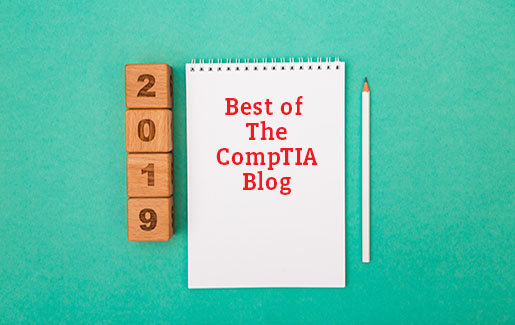 You may not know that CompTIA previously had three blogs that have now been merged into one that covers IT careers, the business of technology and advocacy. If you've previously followed just one, you may have missed some of our favorite articles. Here's our top 20 from the now combined CompTIA Blog that you can enjoy as you close out the year … and the decade.
The 2019 Top 10 Emerging Technologies list includes those technologies that would have the most impact for the business of technology.
Curious about what it means to be a SOC analyst? Read about job responsibilities, salary, job outlook and how to become one in this article from our Your Next Move series.
There appears to be a fundamental disconnect between the cybersecurity that companies have, what they need, and what could happen. That's not good, but it also spells opportunity for the technology channel.
Yes, you can get certified in 8 weeks. Our year-end countdown series outlines how you can get certified in 8 weeks, learn a new skill in 6 weeks and practice your hands-on technical skills in 4 weeks.
Stranger Things Season 3 is here! As you're getting ready to binge watch, take a look at some of the technology that's appeared in the last few episodes, and see what the show's vision of early-'80s tech tells us about where we are now—and where we might be soon.
This article about phishing emails is part of a series on security awareness training, which also includes articles on passwords, how to detect phishing attacks, corporate acceptable use policies, incident response planning, network segmentation.
Guiding a business through a natural disaster is extremely stressful for management, employees, and customers. But if you take the proper precautions, plan out a strategy, and rely on everything around you, you can not only survive, but thrive. This three-part series looks at how to manage employees, customers and lessons learned from those that have lived through a disaster. Part 1. Part 2. Part 3.
Google and CompTIA have teamed up to get more people into high-growth IT jobs with the Google IT Support Professional Certificate and CompTIA A+. Read about how the two credentials complement each other and give people the skills they need to land a tech support job.
Tech investor, entrepreneur, deejay and basketball star Dr. Shaquille O'Neal kept the ChannelCon audience laughing as he shared investment advice, his personal tech story and all the reasons he's proud to be more cerebral than celebrity.
The latest version of CompTIA Linux+ launched in April 2019, and it underwent quite a transformation. The biggest difference was the change from two exams to one, but the content was also updated to reflect the Linux skills needed in today's tech environment.

MSPs are under attack. Security vulnerabilities have made them lucrative targets for cybercriminals to launch ransomware attacks at multiple small clients. The incidents can tarnish reputations, but here's how a few are fighting back.
We could give you our opinion on what the best IT certifications are, but instead we went to the industry's leading publications to see what they're saying about what certifications command the highest salary and offer the most job opportunities.
The CompTIA Tech Town Index analyzes tech hiring, job growth and cost of living, and ranks 20 US cities where IT pros can find work, earn lucrative salaries and enjoy rewarding lifestyles. Find out this year's No. 1 city.
Similar to our article on the best IT certifications, we hit the news feed to see what others have to say about CompTIA cybersecurity certifications and how they compare to others in the market.
CompTIA's IT Industry Outlook 2020 zooms out to take a high-level view of the industry, and there are four big takeaways for companies that make their living in technology.
Each year Global Knowledge surveys IT pros from around the world to learn more about IT jobs, the skills needed and how much money people are making. Take a look at the 2019 data, and stay tuned for updated numbers in January 2020!
As an FBI investigator, Eric O'Neill developed a reputation for capturing some of the most sinister cybercriminals in the world, including Robert Hanssen, accused of selling secrets to Russia. The case was later turned into a Hollywood movie, "Breach," starring Ryan Phillippe. On Aug. 6, O'Neill spoke at CompTIA ChannelCon 2019 about his career, spies and cybersecurity today.
CompTIA A+ may have been around since 1993, but every three years it gets a refresh, and 2019 was one of those years. The new version has an increased focus on cybersecurity, cloud, virtualization and IoT. It also now covers scripting and continues to focus on problem solving.
Netflix's speculative fiction fan favorite Black Mirror is more than just engaging television – it tells us stories about ourselves and our interaction with technology in our rapidly-changing, tech-enhanced world. Take a look at recent tech stories that felt ripped from the show.
Looking to save money on your CompTIA certification voucher? Here's your one-stop shop for all the options you have to get a voucher discount for less. This popular article from 2018 got a refresh this year to include the new CompTIA Store Club and updates about student discounts.
Thanks to all of our loyal readers. We appreciate your time, we love hearing your comments and we hope these articles give you insight into what's going on in tech. Wishing you a happy, healthy holiday season and success in the new year!

Looking Back
Read our greatest hits from previous years: