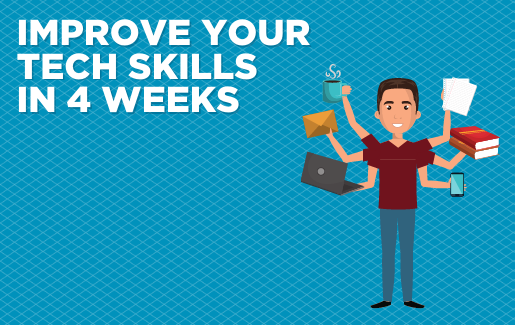 You now know that you can get certified in eight weeks and train in six weeks. No doubt, you've been reading and studying and taking lots of notes. But you and I both know that hands-on experience is the best way to put all of that new-found knowledge to the test before your certification exam. In just four weeks you can focus on the hands-on part of your learning and improve your tech skills. Here are four ideas to help you get started.
1. Practice Your Tech Skills In Virtual Labs
The great thing about lab study is that you can do it virtually or in person. For example, with CertMaster Labs, you can gain practice your tech skills and gain hands-on experience with real equipment and software in a virtual environment. All you need is an internet browser to access virtual environments, step-by-step lab guides and pre-configured exercises. Use CertMaster Labs to practice what you've learned at your own pace.
CertMaster Labs are available for the following certifications:
You can also check out the CompTIA section of LabEveryday's certification tools to see how Du'An Lightfoot prepared for CompTIA A+, CompTIA Network+ and CompTIA Security+.
LabEveryday is a community of IT professionals striving to improve themselves. This is a great place to find resources and connect with peers on similar pathways. Networking with people who have the same interests and talents may open some doors in the near-term or long-term future.
2. Volunteer Your Tech Skills
If you're currently working in the technology field, you're probably able to easily identify someone in a role that you wish to be in one day. Put yourself out there and ask if you can shadow him or her. Perhaps this individual would be willing to hand over a project or two that he or she needs to cross off their to-do list. Shadowing also provides a great opportunity to get an insider's perspective on the daily tasks of the job you're after.
If you're not yet working in tech, find an internship. Small businesses and nonprofits that don't have robust IT departments may welcome another pair of willing and ready hands. Paid or unpaid, an internship can not only provide invaluable experience when it comes to your tech skills, but also boost your customer service skills if you have the opportunity to interact with customers.
3. Offer Your Tech Services
If adding extra hours at work or finding an internship aren't possible with your schedule, hit up your family and friends for opportunities to practice your tech skills.
Contact those closest to you and let them know about your job aspirations and what training and certification you are pursuing. Then, offer your services as their resident IT pro. You can help fix hardware and software issues, connection problems or even refurbish an older device that can then be gifted to someone else. This not only helps you practice what you've learned, but you'll also be helping out those who matter the most in your world.
4. Set Up a Home Lab
You can always gain hands-on experience in a less formal way – by breaking things. Of course, we mean taking things apart and putting them back together. Find online deals for new or used equipment to build your own network or set up a router, for example. Or, just clean out your storage closet and pull out some antiques you can work on without the pressure of messing anything up.
A home lab is also a great place to start if you don't yet feel comfortable putting your tech skills to work on your friend or family member's devices. Log some hours getting your hands dirty first, and once you feel at ease, graduate to working on devices that are currently in use. Starting small and ramping up is always a great place to start if you feel a little nervous.
Working on your hands-on experience isn't only smart studying – it's necessary for the CompTIA performance certifications (A+, Network+, Security+, Cloud+, Linux+, CySA+, PenTest+ and CASP+). During these exams you'll be required to complete performance-based questions.
And adding volunteer hours of any kind to your resume shows your dedication and initiative.
What are you waiting for? You have four weeks to improve your tech skills – use them wisely!
Ready to start studying? Writing out your plan will set you up for success. Download our free training plan worksheet to help get organized and make your dream a reality.