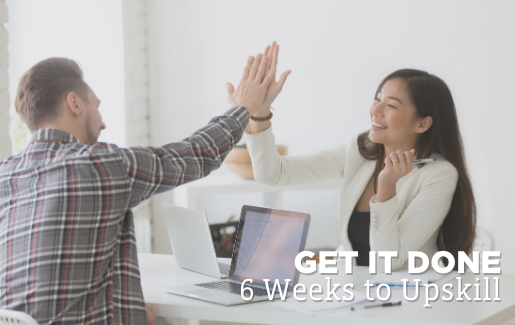 We all know that practice makes perfect. That's even more important in the business of technology, where IT pros are not only expected to be experts in their field, but also to be knowledgeable about new and emerging technologies.Six weeks is more than enough time to improve your IT skills – it's time to upskill. We've identified three areas where you can focus your efforts: continuing education, new technical skills and new leadership skills
3 Ways to Upskill Now
Continuing Education
Your CompTIA certification expires three years from the date you earned it – and it must be renewed before that expiration date. Are you up for renewal? If you don't know, log into your certification account to find out. If renewal is in your future, read on to see how you can knock this off your end-of-year list. If not, skip to the next section on technical skills.
Choose Your Renewal Path

We've made renewing simple and straightforward. You can renew via CompTIA CertMaster CE, earn a higher CompTIA certification, acquire a higher non-CompTIA certification or pass the latest release of your CompTIA exam. Read more about each of these certification renewal options.

If none of these options are a good fit for you, you can instead renew your certification with a combination of activities.

Earn another CompTIA certification,
Earn a non-CompTIA IT industry certification,
Complete training and higher education
Participate in IT industry activities.
Publish a relevant article, whitepaper, blog post or book,
Gain related work experience

Submit Your CEUs and Renew

If you have already completed a qualifying renewal activity, it's time to put together the required documentation and upload it to your CompTIA certification account – and check that off your to-do list!
New Technical Skills
If you're up to date on your current certifications, consider learning a new skill that will advance your IT career. You could take a class or self-study with books, online training and video training.
Not sure what to study? CompTIA research identified the most in-demand skills in large metropolitan areas across the United States. Some of these skills are broadly applicable across IT disciplines, and others align with specific jobs.
New Leadership Skills
No matter what the role, IT pros needs a good balance of technical and leadership skills. Skills like communication, organization, problem solving and collaboration are highly desired and often overlooked. Cultivating these skills will undoubtedly take you from IT pro to IT superstar.
Identify Your Skills

Start by taking inventory of the leadership skills you exercise on a daily basis. These could be skills like analysis of current situations, listening, composure, time management or working well with a team. As you identify them, write them down.

Sometimes it can be difficult to self-assess. It's okay (and recommended) to ask your current and former colleagues to name a few skills that come to mind when they think of you. After you compile your list of strengths, make sure you're including those skills on your resume – they are important!

Of course, you also need to take inventory of the areas where you can improve. Perhaps you have some constructive feedback from a manager in a past review or can self-identify skills you want to improve upon. Write those down too – and then work on them.

Improve Your Skills

Nowadays there are multiple ways to strengthen your weaker skills. Online courses, self-reflection resources, working with a coach, or simply role playing with a co-worker or friend can help beef up your critical thinking, organization or negotiation skills – to name a few.

Of course, the most effective way to achieve results is to keep an open mindset that allows you to welcome new learning and processes and document your progress.
Ready to start studying? Writing out your plan will set you up for success. Download our free training plan worksheet to help get organized and make your dream a reality.