To paraphrase Ferris Bueller, technology moves pretty fast. If you don't stop and look around once in a while, you could miss it.
Being a successful IT pro means keeping pace with everything that changes and evolves so you can make the right decisions for your organization. If you've ever been at a loss for words when asked to compare two new technologies or your stomach has dropped when seeing the names of tools you're unfamiliar with, it may be time to update your IT skill set. The good news is that there are a number of ways to keep your finger on the pulse of all things tech.
But first, let's gauge where you're at.
7 Signs Your IT Skills May Need a Refresh
If you can relate to any of the following, it may be time to give your IT skills some TLC:
Coworkers who have less seniority and experience than you are now your supervisors.
You don't feel confident at work.

If you are a private contractor, you're being passed over for the cool jobs you want most.
You aren't getting the endorsements on LinkedIn you need.
You haven't gotten a promotion in years despite wanting one.
You often find yourself asking your coworkers for help.
Your coworkers rarely ask you for help.
How to Bring Your IT Skills Up to Speed
If your skill set is not where it needs to be, don't beat yourself up. It's more common than you think to feel like you're behind the eight ball. Luckily, with IT training, IT certifications and resourcefulness, you can get yourself up to speed.
1. Why Are Your Skills Out of Date?
This doesn't have to be the blame game – but in order to move forward, you need to understand what you need to change.
Were you so busy doing what you love that you didn't have time to update them, or because you were so drained from a job you hate that the last thing you could think about was continuing your education?
If you have been too busy to upskill, find a way to make time. Make a plan to get a new IT certification and block time on your calendar for studying. Some employers support IT pros doing this on the job, but you may need to sacrifice personal time to make it happen.
Every little bit helps – whether you study during your lunch break, wake up an hour earlier to hit the books or swap out a few hours per week of gaming for studying, it will be worth it when you advance your career.
If you are drained, you may be either in the wrong job role within the IT field or with the wrong employer. Take a hard look at what type of IT specialty you want to have, what makes you happy at work and which employer you'd like to work for. Then take steps to make the change.
2. Which Skills Do You Need to Refresh?
Your next step is to take stock of which of your IT skills need updating. If you want to stay in your current specialty, focus on refreshing and validating the skills you already possess, as well as gaining any core skills your role calls for that you have made do without.
But if you want to switch roles (for example, you are a computer programmer who wants to become a cybersecurity analyst), you'll need a new skill set.
3. Which IT Certifications Can Validate Those Skills?
Some IT skills can be learned on the job, and all skills can be strengthened there, but the best place to update your skill set is through IT training — either in a classroom or through self-study. IT certifications provide a direct route to a refreshed or brand new skill set.
Here are a few CompTIA certifications for IT professionals just like you who want a more competitive skill set: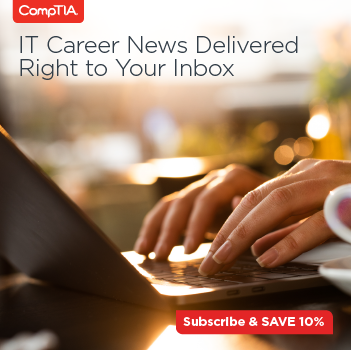 CompTIA Network + validates the knowledge and skills to troubleshoot, configure and manage common wired and wireless networks.
CompTIA Security+ provides the baseline knowledge and skills required of cybersecurity professionals.
CompTIA Cybersecurity Analyst (CySA+) is an intermediate cybersecurity certification that applies behavioral analytics to networks and devices to prevent, detect and combat cybersecurity threats.
CompTIA Cloud+ validates the expertise needed to maintain and optimize cloud infrastructure services.
CompTIA Linux+ validates the skills needed to configure, monitor and support servers running the Linux operating system.
Whether your current skills need to be revitalized or you want a whole new skill set, an IT certification can help you reach your goals.
Learn more about CompTIA certifications by downloading the exam objectives to see what's covered.