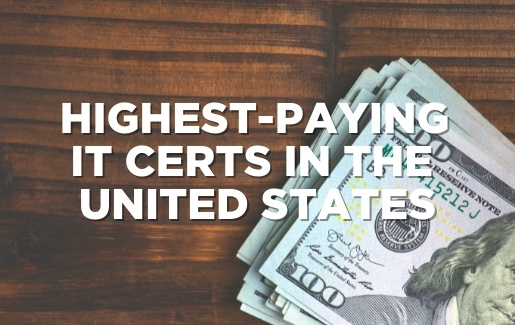 On average, IT pros earn 43 percent more than people working in other occupations, according to the U.S. Bureau of Labor Statistics. And if you work in IT, you may have heard that a combination of skills, certifications and experience can help you land those lucrative positions. But which IT certifications are so in demand that employers will pay top dollar for the people who hold them? Global Knowledge has the answers in its 2019 IT Skills and Salary Report. Spoiler alert: Two are from CompTIA.
Global Knowledge's Top-Paying Certifications
Top-Paying IT Certifications Worldwide
AWS Certified Solutions Architect – Professional – $120,136
Google Certified Professional Cloud Architect – $118,756
Certified Information Systems Security Professional (CISSP) – $116,573
Google Certified Professional Data Engineer – $114,888
AWS Certified SysOps Administrator – Associate – $114,800
TOGAF 9.1 – $111,984
Project Management Professional (PMP) – $111,196
AWS Certified Developer – Associate – $111,178
AWS Certified Solutions Architect – Associate – $110,429
Google Certified Professional Associate Cloud Engineer – $106,044

Top-Paying IT Certifications in the United States
Google Certified Professional Cloud Architect – $139,529
PMP – $135,798
Certified ScrumMaster – $135,441
AWS Certified Solutions Architect – Associate – $132,840
AWS Certified Developer – Associate – $130,369
Microsoft Certified Solutions Expert (MCSE): Server Infrastructure – $121,288
ITIL Foundation – $120,566
Certified Information Security Manager (CISM) – $118,412
Certified in Risk and Information Systems Control (CRISC) – $117,395
CISSP – $116,900
Certified Ethical Hacker (CEH) – $116,306
Citrix Certified Associate – Virtualization (CCA-V) – $113,442
CompTIA Security+ – $110,321
CompTIA Network+ – $107,143
Cisco Certified Networking Professional (CCNP) Routing and Switching – $106,957
Salaries based on self-reporting from IT pros responding to Global Knowledge's 2019 IT Skills and Salary Report survey. Certifications must be included in at least 100 responses to qualify for the list.
Foundational Knowledge for a Lucrative IT Career
Four organizations – CompTIA, Amazon Web Services (AWS), Google and ISACA – appear multiple times in the lists. AWS and Google certifications are vendor-specific and cover skills related to using those products. Certified Information Security Manager (CISM) and Certified in Risk and Information Systems Control (CRISC) from ISACA dive deep into security and risk management, validating the skills of experts with years of experience.
But CompTIA Network+ and CompTIA Security+ are both vendor neutral – meaning the skills covered can be applied to any products and systems – and they can be taken early in your IT career. When paired together, the certifications lay the foundation for a successful IT career by covering the skills you need to build, maintain, troubleshoot and secure computer networks. In fact, combined with CompTIA A+, they make up the CompTIA Secure Infrastructure Specialist stackable certification.
IT pros who get CompTIA A+, Network+ and Security+ move up the ranks in computer networking, cybersecurity, cloud computing and more. The skills, experience and certifications they gain early in their careers set them up for success – and six-figure salaries, according to Global Knowledge.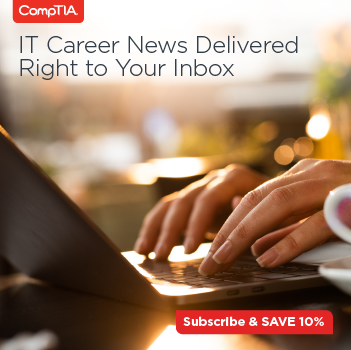 CompTIA Network+
CompTIA Network+ helps you develop a solid foundation of computer networking and IT infrastructure skills. It covers the following tasks related to jobs like network support specialist, junior network administrator, systems engineer and network analyst:
Design and implement functional networks
Configure, manage and maintain essential network devices
Use devices such as switches and routers to segment network traffic and create resilient networks
Identify benefits and drawbacks of existing network configurations
Implement network security, standards and protocols
Troubleshoot network problems
Support the creation of virtualized networks
CompTIA Network+ is recommended for IT pros who have CompTIA +A or the equivalent experience plus 9 to 12 months of computer networking experience.
Everything in IT is built off of networking concepts, so starting with the basics and earning CompTIA Network+ proves you have the knowledge and understanding of networks that will help you succeed in areas like cloud computing, cybersecurity and more.
Get the Official CompTIA Network+ Study Guide.
CompTIA Security+
CompTIA Security+ covers baseline cybersecurity skills, including the following, and prepares you for a cybersecurity career:
Install, configure and deploy network components, identity and access services, management controls and wireless security settings
Assess and troubleshoot issues to support organizational security
Implement secure network architecture concepts, systems design and public key infrastructure
Detect various types of compromise
Understand penetration testing and vulnerability scanning concepts
Implement and summarize risk management best practices and the business impact
Cybersecurity jobs often require several years of experience in roles such as technical support and systems or network administration. Getting CompTIA Security+ while working in these roles will not only reinforce and validate the experience you're gaining in your job, but also prove to employers you have a the foundational knowledge needed to move up the cybersecurity ladder.
Get the Official CompTIA Security+ Study Guide on Amazon.
CompTIA Certifications Lead to a Lucrative IT Career
It's clear from the Global Knowledge rankings that CompTIA certifications can lead to IT success. With skills, CompTIA certifications and experience, you can grow in your IT career and become a computer network architect, cybersecurity engineer, cloud architect or whatever high-paying, in-demand IT job that your heart desires.
Download the exam objectives for CompTIA Network+ or CompTIA Security+ to learn more.