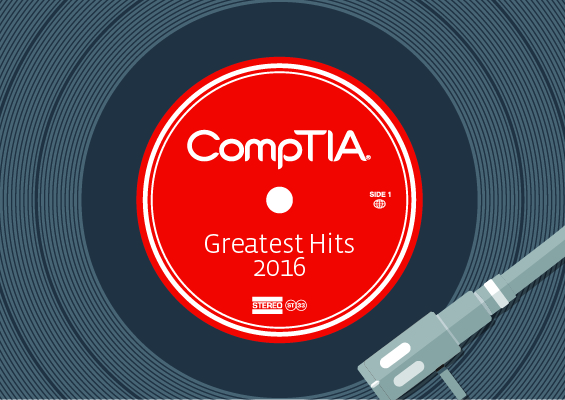 Every year we cover a wide range of topics in IT Career News, and 2016 was no exception. We went into great detail about cybersecurity this year and will continue to do so as we roll out
CompTIA Cybersecurity Analyst (CySA)+
certification in February 2017. We also wrote about IT industry trends, career development and even geography!
Today, we're counting down CompTIA's Greatest Hits of 2016 – the articles you read the most! Thanks for reading, and stay tuned for more great content in the new year. As Casey Kasem, long-time host of American Top 40, would say, "Keep your feet on the ground, and keep reaching for the stars!"
Debut: July 19
Weeks on the Chart: 21
Most of us have, at one time or another, worked away from the office. We may have enjoyed a conference call during a commute, worked on a business plan on the plane and even built websites on the go. As telecommuting becomes more common for professionals within the tech world who may be zigzagging between meetings, conferences and conventions in different time zones, having the right arsenal of gear can mean the difference between getting the job done and getting left behind.
Debut: January 21
Weeks on the Chart: 47
In IT, traditional education becomes that much powerful when paired with certifications, which keep pace with the rapidly evolving needs of the IT job market. Here are 10 reasons why certification should be the cornerstone of any IT education.
Debut: January 15
Weeks on the Chart: 48
The world needs more IT professionals, specifically those with non-traditional IT skills, hybrid IT skills, adaptive IT skills, commodified data analytics ability and simple creativity. These are the skills to watch in 2016 … and beyond.
Debut: January 4
Weeks on the Chart: 49
It's that time of year, when many resolve to make personal improvements that may have eluded them for the past 12 months. But regardless of whether you're still getting any use out of that new gym membership come spring, now is the perfect time to learn about or just start training for one of CompTIA's IT certifications.
Debut: February 19
Weeks on the Chart: 43
Learn how a fledgling journalism student switched over to IT and went on a certification spree to jump start his career.
Debut: January 7
Weeks on the Chart: 49
CompTIA A+ 900 is here. With a deeper focus on mobility, security and multiple operating systems, the exam updates the gold-standard of entry-level IT certification to address the latest developments in workplace technology. Read about the changes and hear from some of the subject matter experts who helped make them.
Debut: October 6
Weeks on the Chart: 7
All that's standing between you and a career-enhancing, skill-confirming CompTIA certification is the exam. But even if you really know the stuff in your area of IT, a formal exam can be nerve-wracking. Here are seven ways to prep for a CompTIA exam.
Debut: October 24
Weeks on the Chart: 7
Knowing technology is an essential first step to a career in IT, but to truly excel, it helps to build these seven personality traits into how you approach the industry and plot your path through it.
Debut: October 11
Weeks on the Chart: 9
With the upcoming release of the CompTIA Cybersecurity Analyst (CySA+) exam on Feb. 15, 2017, CompTIA will enter uncharted territory. For the first time, a vendor-neutral CompTIA cybersecurity career pathway will exist for IT professionals to achieve cybersecurity mastery, from beginning to end.
And our most-read article of 2016 was…
Debut: May 18
Weeks on the Chart: 30
Cities and markets have an allure. They have a strength that draws people in, and when they stay, that's when the city develops its vibe. We've identified 10 parts of the United States where the vibe is skewing toward IT and will continue to do so for the foreseeable future.
What was your favorite article this year?