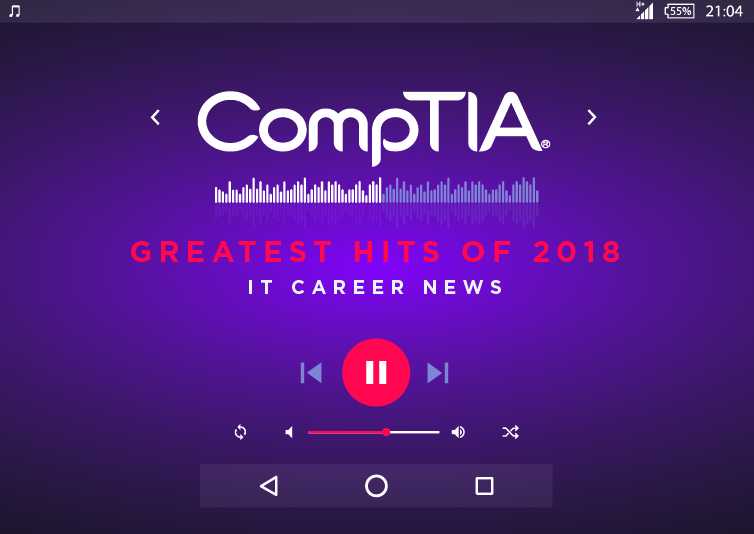 In 2018, we covered a wide range of topics, including cybersecurity, cloud, computer networking and, of course, training and certifications, just to name a few. More than 1 million people visited the blog to learn how to get into IT or advance their IT careers. We're glad to see so many people reading, and we hope we've inspired them and empowered them to build successful tech careers.
We're counting down our greatest hits of 2018, from number 10 to number 1, in case you missed them earlier this year. CompTIA IT Career News will be off for the holidays, but we'll be back in January 2019 with more career advice, tech trends and everything you need to be an amazing IT pro. Happy Holidays!
Debut: January 11
Weeks on the Chart: 49
To kick of 2018, we introduced the CompTIA Career Pathway, which organizes CompTIA certifications based on IT function and experience level. The CompTIA core skills certifications cover the foundational skills needed in all areas of IT and give IT pros a solid start to their careers. These include CompTIA IT Fundamentals (ITF+), CompTIA A+, CompTIA Network+ and CompTIA Security+.
Debut: August 6
Weeks on the Chart: 19
Global Knowledge's annual report on IT skills and salaries identified the top 20 highest-paying IT certifications. Three CompTIA certifications made the cut, and another got an honorable mention. If you want to earn more cheddar, bring home the bacon or simply grab more cash, see if your certifications are on the list and how you can leverage them to increase your salary.
Debut: November 5
Weeks on the Chart: 6
CompTIA CertMaster was originally introduced as an exam prep eLearning platform. But in 2018, we expanded the CertMaster suite of products to guide you through the certification process, from learning to labs to exam prep and continuing education. This article walks you through how CompTIA CertMaster is with you step by step as you get certified.
Debut: January 3
Weeks on the Chart: 50
While article number 10 on our list focuses on the CompTIA core skills certification, this article gives an overview of the full CompTIA Career Pathway, explaining what it is and how you can use it to plan your next career move.
Debut: August 10
Weeks on the Chart: 19
The cybersecurity job field continues to grow, and you may be wondering how to get your foot in the door. Check out the top nine cybersecurity jobs, according to CyberSeek, to find the opportunity that's best for you.
Debut: January 12
Weeks on the Chart: 49
CompTIA had a busy year in 2018, and this article outlines just a few of the things we had planned. Stay tuned in January for a preview of what's coming in 2019, including new CompTIA A+ and CompTIA Linux+ exams and even more training products.
Debut: August 31
Weeks on the Chart: 15
IT certifications are expensive. There's no way around it. The investment is certainly worth it when they get your foot in the door for your dream job and help you get the skills needed to grow in your career. But everyone could use a break, so we've outlined some of the ways you can save money on your certification vouchers.
Debut: October 1
Weeks on the Chart: 11
With two articles about cybersecurity jobs topping the charts in 2018, it seems CompTIA IT Career News readers can't get enough on the topic. Here's even more info about what cybersecurity jobs are out there, and what skills and certifications employers are looking for.
Debut: August 8
Weeks on the Chart: 19
CompTIA PenTest+ has a lot of similarities to EC-Council's Certified Ethical Hacker certification, but there are some distinct differences as well. This article highlights four advantages of CompTIA's certification and why it's been gaining momentum since it's launch in July 2018.
Debut: February 5
Weeks on the Chart: 45
CompTIA certifications generally follow two career paths – the CompTIA Cybersecurity Certification Pathway and the CompTIA Infrastructure Career Pathway. This article introduces the CompTIA Infrastructure Career Pathway, which includes CompTIA Linux+, CompTIA Server+ and CompTIA Cloud+ and builds upon the foundational skills covered by CompTIA A+, CompTIA Network+ and CompTIA Security+.
Wishing you a happy and healthy holiday season and new year! Thanks for reading, and we'll see you back here in 2019.