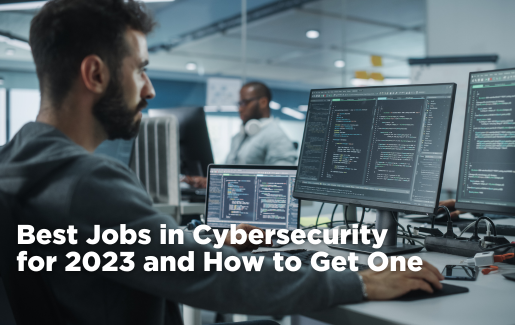 Interested in a career in cybersecurity? With more than 663,430 job postings for open cybersecurity positions in the United States between May 2022-April 2023, you chose a great time to join a booming industry – but where to start?
To help close the cybersecurity skills gap, CyberSeek provides detailed, actionable data about supply and demand in the cybersecurity job market, which helps job seekers identify what they need to transition between cybersecurity roles and advance in their careers.
In this blog post, we will share the top seven cybersecurity job titles within the U.S. cybersecurity job market and the education requirements, certifications and skills needed to find a job in one of these high-demand roles.
To begin, here are the highest-paying cybersecurity job titles and their average salaries, according to CyberSeek:
Security architect: $151,547
Cybersecurity manager: $128,665
Cybersecurity engineer: $127,094
Penetration and vulnerability tester: $120,662
Security analyst: $107,517
Cybersecurity specialist: $106,265
IT security auditor: $105,692
It's important to note that a cybersecurity salary can vary depending on a variety of factors including the size and scope of the employer, geographic location and a candidate's experience.
Wondering how much you can make? Check out the CompTIA IT Salary Calculator.

How to Get a Job in Cybersecurity
While some job roles are responsible for a specific part of the overall system, cybersecurity talent must be able to take a step back and see the big picture to keep it secure from cyberattacks and data breaches.
Follow these four steps to get a cybersecurity job and build your cybersecurity career.
Inform your job search: Research where the jobs are, what job titles are most popular, how much they pay, what certifications employers are looking for and what a cybersecurity career path might look like.
Assess your cybersecurity skills: Determine what level your cybersecurity skills are at, your strengths and areas for improvement.
Find your place on the cybersecurity pathway: The CompTIA Cybersecurity Career Pathway ensures that you have the foundational skills needed for a successful cybersecurity career.
Become a certified cybersecurity pro: Getting certified proves to employers that you have the skills needed to get the job done.
Is it Hard To Get a Job in Cybersecurity?
If you already have some technical skills under your belt, the first step is discovering how your knowledge transfers to the cybersecurity field. For example, if you understand code, you'll be able to identify and protect against malicious code.
Of course, in technology there's always something new to learn – and when fighting cybercrime, it's even more true. Start by taking inventory of your transferable technical skills and make note of the skills you'd like to learn to land a job in cybersecurity. This applies to professional skills as well.
For those without a technical background, the entry to cybersecurity is a little different, but there's still plenty of opportunity. For example, cyber policy analyst and technical writer are positions that you could obtain without the technical know-how. Think of these early career jobs as steppingstones to more advanced cybersecurity jobs as you gain more experience and training.
What Are the Benefits of a Career in Cybersecurity?
A cybersecurity career is extremely fulfilling! You get to do things like:
Protect your organization's computer networks and computer systems from malware attacks
Perform risk assessments
Respond to security incidents, and more!
If you want to be the cyber law enforcement at your organization in a field that continues to grow and offer financial stability, a cybersecurity career is calling your name.
Education Requirements for Cybersecurity Jobs
Many cybersecurity jobs require formal training and education. CyberSeek breaks down education requirements and shows the percentage of online job listings requiring either less than a bachelor's degree, a bachelor's degree or a graduate degree.
For example, cybersecurity specialist is a term used to categorize early career cybersecurity jobs or jobs that perform cybersecurity tasks in addition to other IT tasks, such as tech support or networking. The job postings for this role don't require as much education as others – 19% of cybersecurity specialist postings require less than a bachelor's degree, which is higher than more advanced job titles.
In contrast, a cybersecurity engineer is on the advanced-level career track, so if you're interested in a career as such, you should know that over 50% of job openings require higher education. In fact, 76% of cybersecurity engineer postings require a bachelor's degree and 23% require a graduate degree.
You can dig deep into CyberSeek's data for any of the top seven job titles and discover what education level is most common for your dream job.
IT Certifications in Cybersecurity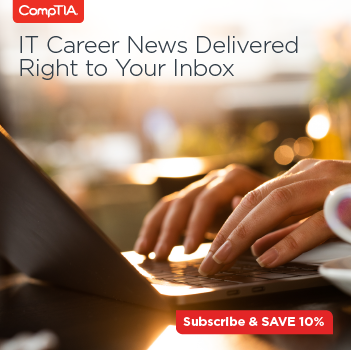 If you've done any research on the topic, you know that the choices in information technology (IT) certifications are endless! We've combed through the recommendations for these top nine cybersecurity job titles and identified the most requested certifications:
The CompTIA Cybersecurity Career Pathway: With CompTIA A+, CompTIA Network+, CompTIA Security+, CompTIA Cybersecurity Analyst (CySA+), CompTIA PenTest+ and CompTIA Advanced Security Practitioner (CASP+), the CompTIA Cybersecurity Career Pathway helps technical specialists achieve cybersecurity mastery, from beginning to end.
Certified Information Systems Security Professional (CISSP): CISSP is an advanced-level cybersecurity certification put out by (ISC)2. It focuses on cybersecurity management skills.
Cisco Certified Network Associate (CCNA): At the associate level is where Cisco certifications begin to specialize, and some of the most common ones include CCNA Routing and Switching, CCNA Security, CCNA Cyber Ops and CCNA Data Center.
GIAC: GIAC certifications cover topics including cyber defense, penetration testing, digital forensics and incident response, developer and information security management.
Skills Needed for Cybersecurity Jobs
It's easy to assume that a top skill set recommended for any of these job titles would contain the word "security." But what about the less obvious skills? As with IT certifications, we've filtered through the most popular skills on the job postings:
Linux: If you have an Android phone or a security system running at your house, they very well could be running on Linux. Because of its versatility and broad use, it can only help you in a cybersecurity career. CompTIA Linux+ will validate your Linux skills, showing employers that you have what it takes to work on a wide variety of operating systems and devices.
Project Management: IT professionals need to manage many projects at once, and strengthening this professional skill can give you a leg up. Consider CompTIA's project management certification, CompTIA Project+. CompTIA Project+ goes beyond one specific methodology or framework, covering essential project management concepts. Added bonus: CompTIA Project+ is one of the top-paying IT certifications, according to Global Knowledge.
Information Systems: An information system is an organized system for the collection, organization and storage of data. Having a knowledge of information systems is essential to a successful career in cybersecurity.
Get Into Cybersecurity From Other Roles
CyberSeek identified five feeder roles that often serve as steppingstones into an IT security career because of the similarities in skill requirements and significant skill overlap with multiple core cybersecurity roles. Click below to learn more about what these career paths look like:
Learn more about cybersecurity from CompTIA.
What Are the Best Locations for Jobs in Cybersecurity?
The CyberSeek interactive heat map provides a granular snapshot of the demand for cybersecurity pros with the number of job openings in a state or metro area, and the number of active cybersecurity professionals in that area, too.
Top 3 States and Metro Areas for Cybersecurity Jobs
California: 69,213 job openings
Top metro area: Los Angeles
Virginia: 61,648 job openings
Top metro area: Washington, DC
Texas: 57,878 job openings
Top metro area: Dallas-Fort Worth

What Type of Jobs in Cybersecurity Can Be Done Remotely?
The COVID-19 pandemic forced IT pros to work remotely, and it even reinforced that many thrive in this type of work environment. You can check out our full list of top 11 remote IT jobs, and one particular cyber role made this list: Cybersecurity analyst. If you're hoping to score a full-time remote security job, check postings for this role first!
Now that you know more about what education, certifications and skills are recommended for these particular security job titles, you can plan your career journey accordingly. CyberSeek data is constantly updated, so come back often to find new skills or certifications you can add to your repertoire to make yourself a more attractive job candidate. If you are currently in an early career role and looking to get ahead, hone in on the items needed for that dream job, and you'll be on your way to cybersecurity expert status.

Check out the CompTIA Cybersecurity Career Pathway to see how CompTIA certifications can help you get into cybersecurity and advance your cybersecurity career.