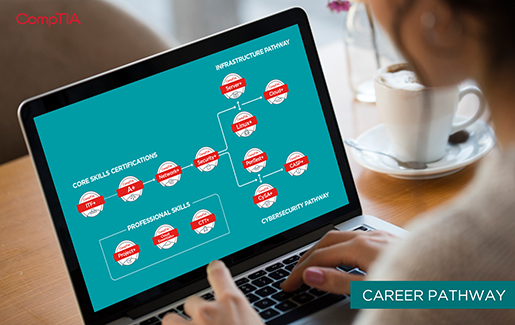 IT offers numerous opportunities for career growth, but it can be tough to decide which step to take next. To help you better understand which certifications can help you reach the next level in your career, CompTIA introduces its career pathways. Along these pathways, each certification builds upon the last to help you move ahead in your career.
The CompTIA Infrastructure Career Pathway and the CompTIA Cybersecurity Career Pathway validate the skills you need to reach your full potential. If you're just starting your IT career, CompTIA core skills certifications can lay the groundwork for future growth. And additional certifications supplement the technical work you're doing with professional skills that will help you take on new challenges.
But just because we've mapped out these pathways does not mean you need to take CompTIA certifications in this order. Jump in at whatever point makes the most sense for your career. Some IT pros will start with CompTIA A+ and work their way through the core skills before following their chosen pathway while others may start at a more advanced level or even go back and get CompTIA Network+ or CompTIA Security+ after earning more advanced certifications.
With no prerequisites, you can decide which certification is right for you at what time. That said, each certification has recommended experience levels, so choose the one that fits your experience best to set yourself up for success. For example, if you are new to cybersecurity, you wouldn't want to jump ahead to CompTIA Cybersecurity Analyst (CySA+), which is recommended for people with three to four years of cybersecurity experience. You may, however, be ready for CompTIA Security+, which is designed for IT pros with two years of IT administration experience with a security focus. To get a better idea of what's covered by each exam, you can download the practice questions and exam objectives or sign up for a free trial of CompTIA CertMaster to gauge your skills.
CompTIA Core Skills Certifications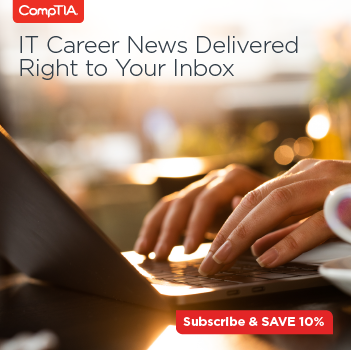 Whether you're new to IT or simply need a refresher, the following certifications validate the foundational skills needed by all IT professionals.
These certifications set a baseline of knowledge to level the playing field across IT. They cover topics like operating systems, hardware, networking and more that apply to every IT discipline.
CompTIA Infrastructure Career Pathway
IT infrastructure is the bedrock of IT operations and necessary for any business to function. For years, employers have used the following CompTIA certifications to identify IT pros who can support and manage data center and network operations.
When taken together, these certifications deepen your mastery of skills and broaden the number of IT infrastructure roles in which you can contribute.
CompTIA Cybersecurity Career Pathway
With the increase in cyberattacks and the number of new connected devices, the need for skilled cybersecurity professionals is growing at a rapid pace, and cybersecurity specialists must nurture their practical, hands-on skills. The following certifications on the CompTIA Cybersecurity Career Pathway help technical specialists achieve cybersecurity mastery, from beginning to end.
CompTIA PenTest+ Is Now DoD Approved
CompTIA PenTest+ is now approved by the U.S. Department of Defense (DoD) 8570 for three cybersecurity job categories.
CompTIA Additional Certifications
In addition to the specialized skills validated along the CompTIA career pathways, IT pros can benefit from additional skills, like project management or instruction. The following certifications cover these versatile skill sets that help take your career to the next level.
Map out your IT career with the CompTIA Career Pathways. Whether it's infrastructure, cybersecurity or something else, CompTIA certifications and training can help you get the skills you need to get ahead.