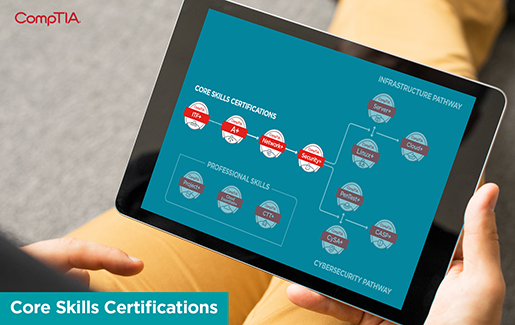 Every career has a path, and some are more defined than others. In medicine, for example, you complete medical school and a residency before getting a job as a doctor. In IT, that path is not as cut and dry, and some people bounce around from one area to another. No matter what IT role you aspire to, there's a foundational set of skills that will set you up for success, and those skills are validated by CompTIA's core skills certifications: CompTIA IT Fundamentals+ (ITF+), CompTIA A+, CompTIA Network+ and CompTIA Security+. These certifications focus on specialist roles to help you become a well-rounded IT professional that can move into whatever career path you choose.
CompTIA IT Fundamentals+
If you're considering a career change to IT or if you love the idea of working in IT but need help getting the right skills, CompTIA IT Fundamentals+ (ITF+) can help you decide if IT is right for you.
It covers the essential skills and knowledge needed to perform common IT tasks, including the following:
Using features and functions of common operating systems
Identifying common software applications and their purpose
Setting up a workstation
Establishing network connectivity
Using security and web browsing best practices
CompTIA ITF+ can also provide background knowledge for people who work in the tech industry but not in tech roles. And CompTIA CertMaster for IT Fundamentals+ can help you learn the skills you'll need to know to pass the exam.
CompTIA A+
As the industry standard for getting a technical support job and establishing an IT career, CompTIA A+ goes beyond PC repair. It prepares candidates to troubleshoot and problem solve a wide variety of issues, from networking and operating systems to mobile devices and security. It truly is a stepping stone to careers in infrastructure, cybersecurity and more.
People who have CompTIA A+ can complete the following tasks:
Configure, install and upgrade operating systems, including Windows, Apple OS X, Linux, iOS, Android and Windows Mobile
Install and image virtual machines
Set up and troubleshoot peripheral devices
Assemble and disassemble computing hardware
Set up and support basic home and small office networks
Implement cybersecurity controls appropriate to help desk and technical support roles
Troubleshoot and support end-user access to applications and data
CompTIA A+ goes beyond training to map skills and knowledge to job roles including service desk analyst, help desk tech, technical support specialist, field service technician, associate network engineer, data support technician, desktop support administrator, end-user computing technician and system support specialist. If you're thinking about getting CompTIA A+, CompTIA A+ On-Ramp is a great way to get started.
CompTIA Network+
CompTIA Network+ verifies that you have the essential knowledge and skills in networking to develop a career in IT infrastructure. Unlike other vendor-specific certifications, it prepares you to support wired or wireless networks regardless of the platform, making you a more versatile IT pro.
CompTIA Network+ addresses the following skills: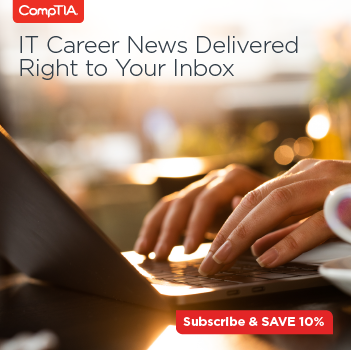 Designing and implementing functional networks
Configuring, managing and maintaining essential network devices
Using devices such as switches and routers to segment network traffic and create resilient networks
Identifying the benefits and drawbacks of existing network configurations
Implementing network security, standards and protocols
Troubleshooting network problems
Supporting the creation of virtualized networks
CompTIA Network+ (N10-007) will launch in March and include updates to reflect current networking technologies as well as security, cloud computing, virtualization, disaster recover and device hardening. The certification was designed for network field technicians, network administrators, IS consultants, network field engineers, computer technicians, help desk technicians, systems engineers, network support specialists and network analysts.
CompTIA Security+
CompTIA Security+ serves as a springboard for cybersecurity careers, ensuring security professionals are better prepared to solve a wide variety of issues when securing and defending networks in today's complicated business computing landscape. It emphasizes hands-on practical skills, preparing the security professional for a wide variety of issues.
CompTIA Security+ covers the following topics:
Hands-on network security
Risk management
Threat intelligence
Data and host security
Identity management
Cryptography and public key infrastructure (PKI)
If you're looking to get into cybersecurity, CompTIA Security+ should be your first step. It establishes the core knowledge required of any cybersecurity role. Job roles related to CompTIA Security+ include systems administrator, network administrator, security administrator, junior penetration tester, security specialist, security consultant and security engineer.
Whether you want to go into infrastructure, cybersecurity or something else, CompTIA's core skills certifications will give you the foundation you need for a successful IT career.
Sign up for our newsletter to get 10 percent off your next CompTIA certification or training product.