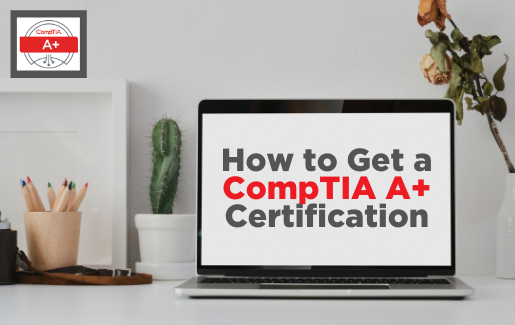 You may be thinking about getting an IT certification to help launch or boost your career. Or perhaps your employer requires you to be certified. Whatever the reason, if you want or need to get IT certified, it can be hard to know where to begin. That's why we created CompTIA A+ On-Ramp.
As we launched the updated CompTIA A+ exam last year, we wanted to help people better understand what to expect and how to get started. CompTIA A+ On-Ramp simplifies the certification process and can help you go into your CompTIA A+ exam feeling confident and prepared.
This short training program gets you ready to get certified. By going through the series of three videos, each followed by a quiz and supported by additional content, you'll learn what our tests are like, how to study, where to take them and what to do after you earn your CompTIA certification.
We teamed up with three CompTIA A+ experts to draw from their experience of taking the exam, teaching others who are preparing to take it and helping people find jobs once they get certified.
Jean Andrews has written more than 30 books about CompTIA A+. In the first video, she will help you compare your training options based on how you study best, how it's delivered, your experience level, how much it costs and how much time you have to prepare.
Stephen Schneiter teaches CompTIA A+ to other instructors. In the second On-Ramp video, he will outline the eight skills you'll master after completing CompTIA A+.
Logan Murphy earned our 1 millionth CompTIA A+ certification and now coaches IT pros on how to start and succeed in their IT careers. In fact, he recently contributed to our blog post on how to crush your first year in IT. In the third On-Ramp video, he will help you understand what to expect from the testing experience and how to leverage your new CompTIA certification to propel your career.
In addition to the lessons, you'll find video testimonials, infographics, cheat sheets, personality quizzes, simulations and even a template you can use to write a letter to your boss about the benefits of CompTIA certifications. Although some of the elements focus on CompTIA A+, many can apply to any CompTIA certification.
We made On-Ramp flexible so that you can go through it all in one sitting or you can break it up into smaller chunks and watch the videos as your schedule allows. People who have completed On-Ramp find it helpful, with nearly 92 percent rating the program as excellent or good. They describe it as straightforward, concise, comprehensive and easy to understand.
If you are interested in getting a CompTIA certification but don't know where to begin, check out CompTIA A+ On-Ramp to get ready to get certified.