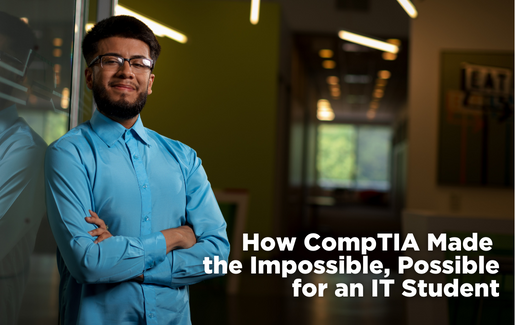 David Vasquez is a busy IT student who is simultaneously pursuing his bachelor's degree in computer science and cybersecurity as well as working at the help desk in the IT department at Aurora University. He is also certified in CompTIA A+, CompTIA Network+ and CompTIA Security+.
Earning CompTIA certifications was life-changing for Vasquez. It helped him land his first IT job quickly, motivated him for the future and proved to him that he could overcome anything life throws at him.
Getting CompTIA Certified Helped David Vasquez Get His First IT Job as a Student
Most hiring managers are looking for candidates with credible IT certifications, and just two weeks after earning CompTIA A+, Vasquez was hired for his current help desk position. His employer told him that he stood out to her because he was the only student job candidate she had ever met that already had an IT certification, "Especially one that is as well recognized as CompTIA," Vasquez quoted. She was impressed that he had certifications that even the techs didn't have.
After starting his help desk job, another opportunity opened for Vasquez: a cybersecurity internship, which he accepted.
Cybersecurity hasn't always been Vasquez's career aspiration. Earlier in his degree program, he was taking classes to become a developer. He soon learned that programming wasn't something he enjoyed. "I accidentally took a cybersecurity class, and to my luck, my school had just introduced cybersecurity as a major," he explained.
Once he began the class, Vasquez's interest in cybersecurity was piqued and he began seeking out resources on how to get started in cybersecurity. The first thing most books on the topic recommended was to get CompTIA certifications.
Vasquez then made the decision to become CompTIA certified. His aim was to learn more about cybersecurity and separate himself from the competition. He ended up gleaning so much more from his certifications and the overall process of certification.
Vasquez acknowledges CompTIA as a well-respected, widely known organization that is at the forefront of the IT movement. "Having a CompTIA certification on your resume really shows that you have displayed a wealth of knowledge," he said. This gives any student or IT pro a competitive edge with employers.
Want to get started in IT? Check out 5 Jobs You Could Get with CompTIA A+.
The Real Value of CompTIA Certifications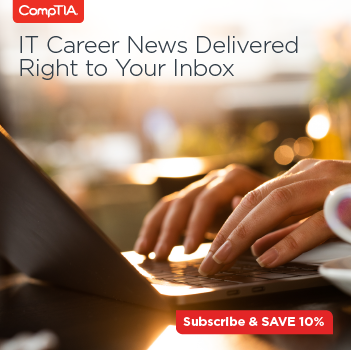 All IT certifications have value. For example, without at least one certification, it can be more difficult to get your foot in the door to IT. Vasquez values his CompTIA certifications for two primary reasons:
1) They gave him the technical knowledge he needed to get into IT.
2) They imparted many valuable, transferable soft skills, such as the ability to teach himself and learn on his own.
Vasquez shared that most people in college are simply instructed to read a book and do homework, and he explained that with CompTIA certifications, there is no homework and no one to hold you accountable. This teaches IT pros to be self-starters and take ownership of their learning experiences.
According to Vasquez, the process of getting CompTIA certified taught him more than just IT terms and essential tech skills. It also taught him problem-solving skills, how to motivate himself and how to be more determined – a few invaluable lessons to those working in IT.
"I am forever thankful for these certifications because they taught me what I need to know to become successful," Vasquez said. "They really equipped me with the toolkit that I need to have a career in IT."
Wondering if an entry-level IT cert is worth your time? Take a look at Is the CompTIA A+ Certification Worth It?
How CompTIA Made Getting Certified With a Hearing Impairment Easier for Vasquez
David Vasquez has a hearing impairment, and his unique experience has made both hearing and speaking a challenge. CompTIA and CompTIA's delivery partner, Pearson VUE, provided the support he needed to get certified despite his differing abilities.
"I was beyond happy to find out that CompTIA and Pearson VUE helps support people with disabilities," Vasquez said.
He was also thrilled that the disability approval process was quick, easy and didn't require a lot of paperwork or much physician involvement. Vasquez was able to provide the information CompTIA needed to approve him for accommodations in an expedited fashion.
Once he was approved, CompTIA asked Vasquez what kind of accommodations he would need and what they could do to assist him throughout the certification process. CompTIA later accommodated him by giving him extra time on his exams and providing an exam space with few to no other test-takers.
"This helped cut out all the noises, such as mouse-clicking, that could distract me," he explained. "Not only did CompTIA give me time-and-a-half, but they also put me in a room to help me zero out distractions."
With CompTIA's accommodations, Vasquez was able to focus on and pass his certification exams.
Making the Impossible, Possible
When asked how CompTIA unlocked his potential as an IT professional, Vasquez said that CompTIA literally made the impossible, possible for him.
"I found out about CompTIA six months ago," he said. "Since then, I got CompTIA A+, CompTIA Network+ and CompTIA Security+. I got a cybersecurity internship and three months of help desk experience. I'm in a cybersecurity bootcamp. I'm a kid from south Chicago, and now the opportunities I have are endless."
Getting CompTIA certified helped Vasquez unlock his career potential by assuring him that he has what it takes to succeed in IT.
Vasquez is passionate about influencing people who have differing abilities and want to get into IT. He wants them to know that he was able to overcome personal challenges and get started quickly on his IT career journey. If he can do it, so can they.
It's important to Vasquez that others understand how being CompTIA certified can open doors of opportunity. Specifically, being certified helped him make connections in the IT industry and gave him a greater vision for his future in IT.
"CompTIA is really changing lives," he shared.
Vasquez acknowledged that CompTIA certifications not only helped him, but also helped a lot of the people around him. By seeing how knowledgeable he had become through getting certified, some of his coworkers and classmates became inspired to get certified themselves.
David Vasquez has great things ahead of him in his cybersecurity career.
Interested in earning CompTIA Security+ and getting on the fast track to a career in cybersecurity?
Here's everything you need to know about CompTIA Security+ exam prep
.