What does value mean to you? For most, value means that you get more out than what you put in. Getting a good deal on a house or buying a car at below market price is often equated with value. Sometimes value is measured by return on investment, or ROI. Other times value takes on a more elusive quality. For example, an unpaid internship doesn't reward you with money, but instead experience – which in itself is often invaluable.
What about the CompTIA A+ certification? Is it valuable? Is CompTIA A+ worth the time and money you put in to studying and taking the exam? Keep reading to find out.
Is the CompTIA A+ Certification Worth It?
When it comes to what you put in versus what you get out, the CompTIA A+ certification is most definitely worth it – just ask the people who hold the almost 1.2 million CompTIA A+ certifications issued to date.
Those looking to start an IT career likely have aspirations to move up the ladder and eventually specialize in something they are passionate about like cybersecurity or software development. But everybody has to start somewhere. And the first step to launching that career is landing an entry-level position. That's where CompTIA A+ becomes valuable.
CompTIA A+ is widely recognized as one of the very first IT certifications that prospective IT professionals should obtain. It's the industry standard for launching IT careers. It not only validates your foundational knowledge, but it also shows employers that you are willing to learn and advance your career, and you have ability to study and pass an exam.
Simply having CompTIA A+ on your resume can place you above non-certification holders in line for an interview. And when you're trying to win your first IT job, that's a big deal.
"I got my A+, and it is the best thing I ever did."
- Andy MacLeod, Computer Systems Analyst, Chugach Alaska Corporation
Who Should Take the CompTIA A+ Certification?
If you're looking to enter information technology as a
service technician
or
IT support
and then move up, CompTIA A+ is the right starting point. Individuals with some hands-on experience (9-12 months) in the lab or field will find themselves the most prepared. But anybody can learn.
"An entry-level worker who has earned CompTIA A+ is a proven problem solver, someone who's able to address complicated IT issues," CompTIA Senior Director, Certification Product Management Teresa Sears said. "That frees up senior-level employees to work on strategic, higher-level projects that enable a business to operate more efficiently and impact a company's bottom line in a positive way."

Skills You'll Learn with CompTIA A+
Being CompTIA A+ certified means that you understand the cutting-edge fundamentals of computer hardware and software. You'll learn how to troubleshoot a wide range of devices, from computers to smartphones and mobile devices.



Specifically, the CompTIA A+ Core Series covers the following new topics:
Demonstrate baseline security skills for IT support professionals
Configure device operating systems, including Windows, Mac, Linux, Chrome OS, Android and iOS
Administer client-based as well as cloud-based (SaaS) software
Troubleshoot and problem solve core service and support challenges while applying best practices for documentation, change management and scripting
Support basic IT infrastructure and networking
Configure and support PC, mobile and IoT device hardware
Implement basic data backup and recovery methods and apply data storage and management best practices
Details of the CompTIA A+ Exam
When you get CompTIA A+ certified, you know that your knowledge matches the expectations actual employers are setting for their IT staff today. How can we be so sure? Well, CompTIA certifications are built and continuously updated by a group of IT industry experts in various industries and professions.
Here's what you need to know about the CompTIA A+ exams.
The CompTIA A+ Core Series requires candidates to pass two certification exams:
Core 1 (220-1001)
Core 2 (220-1002)
Each of the two exams has no more than 90 questions. Questions include a combination of multiple-choice questions, drag-and-drop activities and performance-based items. Performance-based items test your ability to solve problems in a simulated environment, which is why CompTIA A+ is recognized as a performance certification.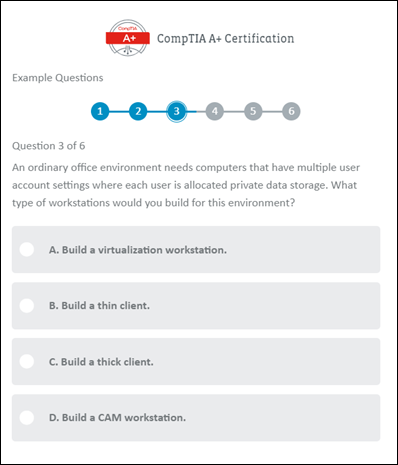 Time management is extremely important when it comes to taking IT certification exams. By design, most of the performance-based questions will appear at the beginning of the exam, and you won't be able to see a clock when working on each one. Practice is important.
Try a sample of a performance-based question.
Benefits of the CompTIA A+ Certification
The obvious benefit of earning your CompTIA A+ certification is the knowledge you've earned and can validate to potential employers. But there's more to sweeten the pot. Here are a few more benefits of getting CompTIA A+.
You Have the Skills Employers Demand

CompTIA A+ is the industry standard for establishing an IT career. It's trusted by employers around the world to identify the go-to person in end point management and technical support roles.

You Can Go Anywhere

Since CompTIA A+ does not focus on vendor-specific hardware and software, it allows you to focus on building a very general foundation of tech knowledge that will apply no matter which career path you choose.

Your Certification Is Trusted

CompTIA A+ holds ISO/ANSI accreditation status, which means they meet or exceed the global benchmarks set forth by ISO – the worldwide organization that sets the standard for certifications, processes and products – and ANSI – the U.S. representative to ISO.

You Can Make More Money

CompTIA A+ sets you on a path of lifelong learning and experience that will give you the opportunity to thrive in your career and achieve your income goals.

You Can Achieve a Work–Life Balance

CompTIA A+ is a starting point for a career in IT that often come with manageable stress levels, a sense of accomplishment, ways to improve your mental and physical health, and opportunities for promotion. This all factors into a better work–life balance.

You Are Part of a Community

CompTIA A+ certification holders have formed a strong community you can learn from, interact with, ask for advice from and give back to.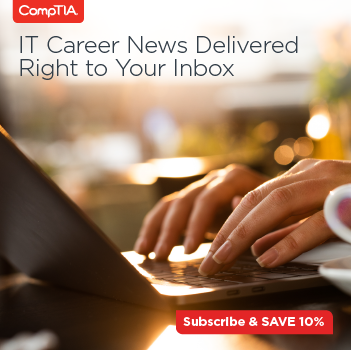 What Is the Cost of CompTIA A+?
In order to take the CompTIA A+ certification exams, you'll need to buy an exam voucher. If your employer, school or training facility do not provide you with one, you can purchase exam vouchers from the CompTIA Store. You'll use the unique code from your voucher to register for your test, either
in-person
at Pearson VUE testing center or
online
. In the United States, the cost is $226 per exam. Remember, you need to take and pass two exams to earn CompTIA A+, so you'll need two exam vouchers.

This is where ROI comes in. What are your goals? When compared to a college degree, you can earn CompTIA A+ faster and gain the hands-on skills you need to dive right into tech support and start your IT career.
What Should You Expect on CompTIA A+?
The new CompTIA A+ exams feature a greater emphasis on the problem solving and critical thinking skills necessary to operate today's enterprise networks.
"Workplace technology continues to change, sometimes radically," CompTIA Chief Technology Evangelist James Stanger said. "CompTIA A+ captures the critical skills that IT professionals need to support and secure today's end points, from traditional and mobile platforms to cloud-enabled IoT devices. No other certification in the marketplace offers this combination of skills assessment and validation."

What Jobs Can You Get with a CompTIA A+ Certification?

Companies like Intel, Dell, Ricoh, Nissan, Blue Cross and Blue Shield, and HP all look for the CompTIA A+ certification when hiring for jobs like IT support specialist, IT field service technician, desktop support analyst and help desk tier 2 support.
CompTIA A+ prepares candidate for the following job roles:
Service desk analyst
Associate network engineer
Data support technician
Desktop support administrator
End-user computing technician
System support specialist
How Does CompTIA A+ Stack Up to its Competitors?
Budding IT professionals looking to get their foot in the door may also be looking at the value of other IT certifications like Microsoft MCSA, Microsoft MTA Infrast and Cisco CCENT, or maybe you're already looking forward to the next step of your CompTIA certification journey with CompTIA Network+. Regardless, the chart below compares these partner certifications to CompTIA A+.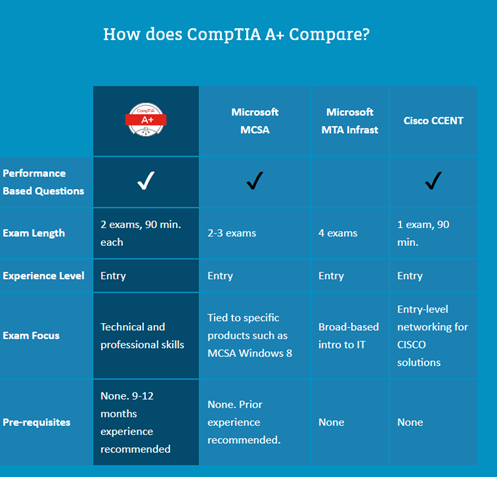 The biggest difference amongst these four is that CompTIA A+ is the only vendor-neutral entry-level IT certification, meaning the skills you learn when studying for CompTIA A+ are not directly associated with specific IT vendors. Instead, you are developing knowledge and skills that are universally applicable no matter what equipment you're working on.
Ready to get started? Download the exam objectives for free to see what's on the CompTIA A+ exams.