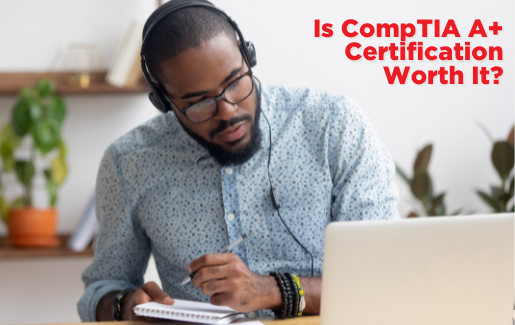 What does value mean to you? For most, value means that you get more out than what you put in. Getting a good deal on a house or buying a car at below market price is often equated with value. Sometimes value is measured by return on investment, or ROI. Other times value takes on a more elusive quality. For example, an unpaid internship doesn't reward you with money, but instead experience – which in itself is often invaluable.
What about the CompTIA A+ certification? Is it valuable? Is CompTIA A+ worth the time and money you put into studying and taking the exam? Keep reading to find out.
Is CompTIA A+ Worth it in 2021?
Making a decision to get an IT certification is a big one. It's important to identify what you want to learn and your ultimate career goals. You may ask yourself: How useful is CompTIA A+?
Well, if you're looking to break into the tech industry, it's worth it – here's why. You can't build a house without a foundation. CompTIA A+ is the industry standard entry-level certification that proves you have the foundational knowledge to begin a career in IT. And a career in IT is the way to go in 2021.
Case in point, while other industries were making budget cuts during the pandemic, many high-demand IT pros proved they had the skills needed to make themselves indispensable. In fact, according to the 2021 Dice Tech Salary Report, companies are pouring greater resources into technology and some of the largest companies in the world like Amazon, Twitter, JPMorgan Chase and Capital One are actively seeking IT pros with specific skill sets.
Those looking for a first job in IT likely have aspirations to move up the ladder and eventually specialize in something they are passionate about like cybersecurity, cloud computing or software development. But everybody has to start somewhere. And the first step to launching that career is landing an entry-level position. That's where CompTIA A+ becomes valuable.
Is CompTIA A+ Enough to Get a Job?

Even if the value is there, people still ask if CompTIA A+ is enough to get a job? It can be, but it depends on what kind of experience you have as well. Did you know that 1 in 10 IT support job ads cite CompTIA A+ (Burning Glass Technologies, US)? So simply having CompTIA A+ on your resume can place you above non-certification holders in line for an interview. And when you're trying to win your first IT job, that's a big deal.
But there are other things to consider. For example, employers are going to want to know how many years of experience you have. Having the knowledge is one piece of the puzzle, showing that you're able to act on that knowledge is the other.

There are a few ways to get that all-important hands-on experience. You can offer your technical expertise up to friends and family, you can ask to take on some tech support duties at your current job (even if that's not your primary responsibility) or you can simply ask the IT department if they need help with anything. The IT community is known for sharing information and collaborating on projects. When the IT pros at your company learn about your career goals, they'll be more inclined to teach you when they're able.

One of the reasons the CompTIA A+ exam is trusted for launching IT careers, is because it validates your foundational knowledge via performance-based questions. This means as you prepare for your exam you are thrown into simulated real-life scenarios that you will encounter on the job. In order to earn CompTIA A+, you have to actually perform tasks during your certification exam versus just answering questions to gauge your knowledge. Employers who look for (or require) CompTIA A+ understand this value.

How Much Does CompTIA A+ Certification Cost?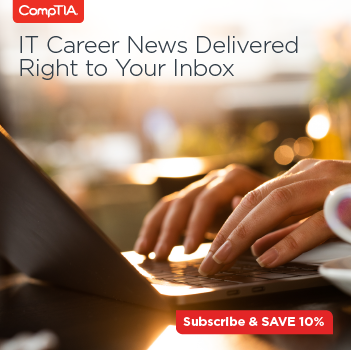 Understanding how earning your CompTIA A+ certification will impact your career is just the first step. Aspiring IT pros also want to know how much does CompTIA A+ certification cost, and how much money can you make with a CompTIA certification? Let's break that down.
The CompTIA A+ Core Series requires candidates to pass two exams: Core 1 (220-1001) and Core 2 (220-1002). Core 1 covers mobile devices, networking technology, hardware, virtualization and cloud computing and network troubleshooting. Core 2 covers installing and configuring operating systems, expanded security, software troubleshooting and operational procedures. Each exam requires you to purchase a certification voucher. U.S. retail price for each voucher is $232. Of course, there are many ways to save money with these voucher discount options.
It's important to remember that earning CompTIA A+ is an investment in yourself. It's one that will pay you back many times over as you advance your IT career. Most CompTIA A+ certification holders move on to a job in IT support, like a help desk technician.
Help desk technicians solve technical issues and work with people. According to the Dice report, help desk technicians earn $51,553 on average per year. As you gain more experience, you'll move up to a Tier II or Tier III specialist. As you hone these skills, you'll make more money.
The Dice report lists CompTIA A+ as one of the highest-paying IT certifications in the United States – with A+ holders earning $78,629. Keep in mind that this salary represents IT pros at all levels – both those who are just starting out and those who earned CompTIA A+ years ago and have advanced their careers.
There are so many different IT support job titles, it's hard to keep them straight. Luckily, the CompTIA research team compiled the top 16 IT support job roles for you – and you can see how much each one makes on average.
Is CompTIA A+ Right for Me?
If your goal is to start a new career in technology – CompTIA A+ may be for you. There are many other popular certifications available. The best choice for you is the one that will get you where you want to be.
What About Cisco Certifications?
Cisco certifications like Cisco Certified Technician (CCT) and Cisco Certified Network Associate (CCNA) are considered entry-level or associate-level certifications. CCNA is more closely associated with CompTIA Network+. However, whereas CompTIA certifications are vendor neutral, which means the skills covered can be applied to any vendor's platform and equipment, Cisco certifications are vendor specific. They teach only to the technical skills needed for Cisco solutions.
What About AWS Certifications?
Amazon Web Services (AWS) certifications validate cloud expertise for initiatives using AWS. More closely associating with CompTIA Cloud+, AWS is a vendor-specific certification for those in roles such as cloud practitioner, cloud architect and cloud developer. It bears repeating that all CompTIA certifications are vendor neutral, which means the skills covered can be applied to any vendor's platform and equipment.
What About Microsoft Certifications?
Microsoft certifications are categorized by fundamentals, job role and additional learning. Fundamental options in the Microsoft world include Azure Fundamentals, Microsoft 365 Fundamentals and Power Platform Fundamentals. Like the other certification options, these are vendor-specific credentials that validate the skills necessary to operate within the specified Microsoft platform.
Is the CompTIA A+ Exam Hard?
This is a subjective question. If you come from virtually zero IT experience, yes, you may find preparing for the CompTIA A+ exam harder than some. But that's the great thing about CompTIA exam preparation: You pick your starting point and you pick your learning style.
CompTIA offers everything from traditional instructor-led training to self-study options, and you can take your exam in person at an authorized testing center or online from the comfort of your home. We've even put together this study worksheet to help you plan out how you will prepare for your exam and how much time you need.
When it comes to what you put in versus what you get out, the CompTIA A+ certification is most definitely worth it – just ask the people who hold the almost 1.2 million CompTIA A+ certifications issued to date.
Ready to get started? Download the exam objectives for free to see what's on the CompTIA A+ exams.