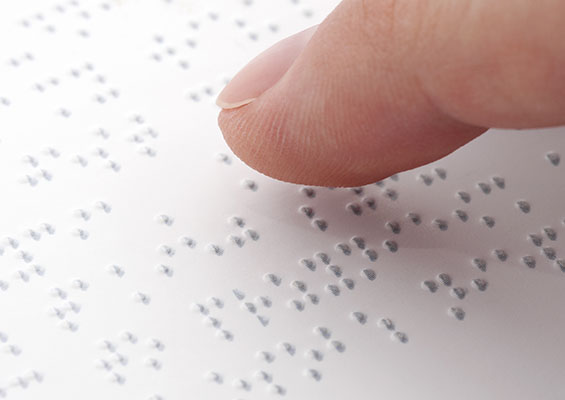 Getting certified is hard work, and for people with disabilities, it can be even harder. CompTIA's exam provider, Pearson VUE, makes Americans with Disabilities Act (ADA) accommodations during certification exams for people who need them and who qualify.
The Americans with Disabilities Act defines a disability as "a physical or mental impairment that substantially limits one or more major life activity, a person who has a history or record of such an impairment, or a person who is perceived by others as having such an impairment."
There is no set list of disabilities, however things like hearing and visual impairments and learning disabilities like dyslexia are some common examples. CompTIA and Pearson VUE are committed to providing testing access to people with disabilities and approve accommodations on a case-by-case basis.
To take a test with accommodations, it is important that you follow Pearson VUE's instructions to request them. It can seem daunting at first, but as you go through the process, you will see that it is easier than it may seem.
Many people with disabilities have questions about accommodations and testing. Following are some of our most common questions asked, along with their answers.
What ADA Accommodations Are Available?
Accommodations can be as simple as being able to take medication during an exam. Other accommodations may include having extended time, getting assistance from a reader or writer, taking the test in an alternative format (such as braille, large print or audio) and being allowed to take breaks during the test. This is very partial list, however, and when you apply for an accommodation, the type of disability you have will determine what sort of accommodation(s) you will receive.
What Do I Need to Do to Get an ADA Accommodation?
Give your evaluator a copy of the Guideline for Evaluators and get your supporting paperwork from that person. If it is not in a digital format, you will need to scan and upload it into the system.
Visit Pearson VUE's Reasonable Adjustments Request System.
Click on "First Time Request," and fill out all of the information the site asks for. You will need an active email account.
Once you have completed your registration and signed in for the first time, click on "Start Your Request Here" and follow the directions to request your accommodation.
Your final step will be to upload and submit your supporting paperwork. Make sure you hit "submit" button on the bottom of the page when you are done. Once your request is submitted, you will receive an email saying that your request was received.
Do I Need Paperwork?
Everything seems to require documentation these days, and requesting an accommodation is no exception. The last step of the CompTIA/Pearson VUE accommodation request process requires you to submit supporting documentation from your evaluator — your doctor or psychologist.
Though it isn't required, the following could also help make your case:
School records that show participation in special education services
Individualized Education Plans (IEPs)
Transcripts from middle school or high school
Any other record that shows a history of academic difficulties because of your disability
How Do I Get My Supporting Paperwork?
Your doctor or psychologist who evaluated your disability and gave you a diagnostic report or letter explaining it can also provide the paperwork to support your accommodations request. You can share Pearson VUE's Guidelines for Evaluators with them to make sure the documentation meets certain guidelines. Once you have this paperwork, you can upload it to the Pearson VUE website.
How Long Does it Take for My Request to Be Reviewed, and How Do I Schedule My Exam if My Request is Granted?
It takes up to 10 business days for an accommodation request to be reviewed by Pearson VUE, so give yourself plenty of time before your test to do so. Once you are approved for accommodations, you will receive instructions on how to schedule your test. Note: You cannot apply for an accommodation on a test you have already scheduled. Remember to wait to schedule your test until after you have heard whether or not you'll receive an accommodation.
How Will I Know if I Received an ADA Accommodation?
You will get an email telling you to check the status of your request on the Reasonable Adjustments Request system. Once you log in, you can see if your request was granted at Step 6 (where you uploaded your documentation). If your accommodation was approved, there will be directions there on how to schedule your exam.
What if I Get Denied?
If you are denied by Pearson VUE for test accommodations, there is an appeal process. To do this online, you can go to Step 6 and fill out the appeals form. Just like every request for accommodations, every appeal is reviewed carefully.
What if I Need More Information?
For more information about this process, see the Pearson VUE site or our help page.