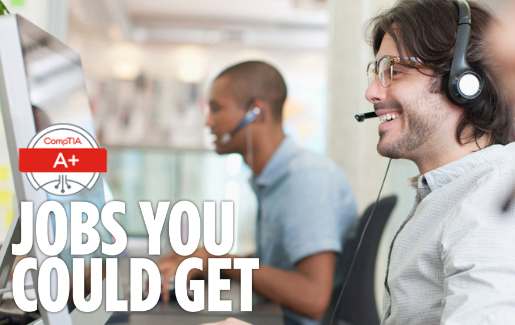 The technology industry is growing more and more every year. In March 2022, employer job postings for open IT positions grew from 383,000 to 412,000, according to Burning Glass – and that means more talent is being recruited for these roles. Whether you're a new grad or career changer, you are sure to find a role that fits your skills and interests – let CompTIA be your first stop at an emerging career in tech.
If you're looking to break into an IT role, take a look at CompTIA A+. The CompTIA A+ certification is the industry standard for establishing a career in IT and is the preferred qualifying credential for technical support and IT operational roles. And if you're still learning, CompTIA offers a full suite of training solutions to help you gain the skills you need on the job. Plus, CompTIA A+ covers the technical skills required to succeed in the IT workforce.

According to the U.S. Bureau of Labor Statistics, the median annual salary for tech support specialists in the US is $53,000 – 26% higher than the national median wage.
What Skills Does CompTIA A+ Cover?
Before we dive into each of these job roles, let's look at how CompTIA A+ prepares you for these positions. Compared to other professional certifications, CompTIA A+ is the only industry-recognized credential that proves candidates can think on their feet to perform critical IT support tasks. It is trusted by employers around the world to identify the go-to person in end point management and technical support roles.
CompTIA A+ appears in more tech support job listings than any other IT credential. From March 2021 to February 2022, U.S. employers posted 43,000 jobs seeking IT pros who have CompTIA A+.
CompTIA exams are developed through an intensive process where professionals come together and discuss what knowledge, skills and abilities are required to perform certain job roles. That means you can be sure the topics covered by CompTIA A+ match what IT support and help desk technicians need to know today.
After taking the CompTIA A+ exam, an individual would be able to do the following:
Troubleshoot common problems to diagnose and resolve issues
Configure end-user devices, software and network connections
Perform basic cybersecurity mitigations
Demonstrate basic knowledge of scripting, the cloud and virtualization
It's no surprise that these are the exact skills covered by CompTIA A+. (Check out the exam objectives for yourself – download them for free!) Companies are looking to hire qualified professionals who can troubleshoot and problem solve a wider variety of issues.
Let's take a closer look at how IT professionals who have CompTIA A+ are qualified for the following jobs:
5 Jobs You Could Get With CompTIA A+
If you earn CompTIA A+, you may be interested in one of the following in-demand IT jobs.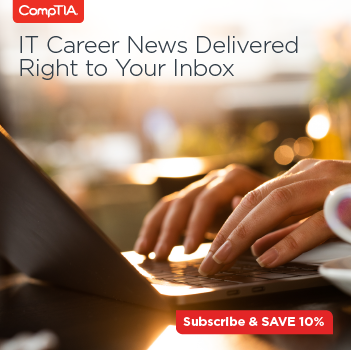 1. Help Desk Technician
If you like to solve technical issues and work with people, then help desk technician may be a good next step for you.
A help desk technician may have the following responsibilities:
Diagnosing and solving computer issues
Installing and training end users in new technologies
Providing remote technical support over the phone or internet
Backing up and restoring data files
Repairing hardware and configuring software to maintain operating systems
2. IT Specialist
Have you outgrown your role at the help desk? If you like working with people and computers and enjoy the challenges that come with problem solving, then a career as an IT specialist may be for you.
An IT specialist may have the following responsibilities:
Installing and configuring computer hardware, software, systems, networks, printers and scanners
Monitoring and maintaining computer systems and networks
Responding in a timely manner to service issues and requests
Providing technical support across the company (this may be in person or over the phone)
Setting up accounts for new users
Repairing and replacing equipment as necessary
Testing new technology
Possibly training more junior staff members
3. Tier II IT support Technician
Have you mastered your work as a Tier I IT support technician? If so, consider moving on up to Tier II.
An IT pro in this position is responsible for assisting internal or external clients in the following ways:
Resolving complex issues requiring detailed systems and applications knowledge that have been escalated from Tier I
Maintaining system capabilities by testing existing equipment and programs
Trying out new systems and software
Training users on proper use of hardware and software
Managing and training Tier I support technicians
4. Field Service Technician
If your excitement for technology intersects with your love of helping people, then field service technician could be your next move.
A field service technician is responsible for analyzing, troubleshooting and evaluating technology issues in the field. This role generally supports external clients or end users in the following ways:
Paying attention to customers' descriptions of computer problems
Asking questions to properly diagnose the problem
Walking customers through the recommended problem-solving steps
Setting up or repairing computer equipment and related devices
Training users to work with new computer hardware or software
Documenting changes, revisions and problems
Providing information to other team members and managers
Making data easily accessible to those who need it
5. Technical Support Specialist
If you enjoy problem solving and being part of the bigger picture of success, then being a technical support specialist could be your next move.
A technical support specialist does a range of tasks, from installing software to setting up computer workspaces, as well as solving technical issues that arise on a day-to-day basis. A technical support specialist may also do the following:
Maintaining system capability by testing computer components
Training users on proper use of hardware and software
Documenting hardware and software changes, revisions and problems
Testing an organizations' existing equipment and programs and trying out new systems and software to see if the organization would benefit from them
Clearly communicating with managers and co-workers to ensure understanding of the proper use of technology and any troubleshooting that may be needed
Learn the skills you need with CompTIA CertMaster Learn. Sign up today for a free trial!

Looking for more about the CompTIA A+ Core Series? Check out these articles: