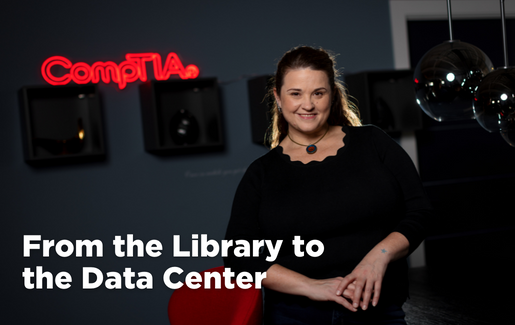 You won't find a love for Russian literature, a bird-watching hobby and a decade-long career working in libraries listed as qualifications for a tech job. But Allison Marchant, a data center technician trainer for Microsoft, will tell you that staying open to new things and practicing a growth mindset can open up doors and pathways – especially when it comes to a career in technology.
Don't Judge a Book by Its Cover
Marchant worked for several years in a library. With a degree in Russian literature, she was behind the scenes working in special collections where her primary responsibilities included maintaining the stacks, editing physical records to transition to online records along with some interaction with library patrons who were looking for something specific. In her work, she started noticing how important the integrity of data is.
"If you mark records wrong, you're not going to be able to find something unless it has the correct subject heading," she said. "We have to make sure the data is accurate and organized in the right way. Libraries have to keep a hold on all of those data points so you can find what you need."
Without even realizing it, Marchant was adding to her first tech skill set: How to keep your data clean. While a career in technology was never her goal, when she relocated and had to change jobs, she began to see how versatile her skills really were.
From the Library to the Data Center by Accident
Post-relocation, Marchant had a difficult time finding a library job in the same capacity. She reached out to a staffing agency and was placed in a data center with a tape library.
"It really came down to that word 'library,'" she said. "They had these huge arrays of quantum tape scaler machines that they referred to as 'tape libraries.' That's how I got the interview."
While it wasn't the kind of library that she was used to, and certainly not what she expected, Marchant didn't back out. Instead, she doubled down.
"Once I was in that position, in the physical space, I thought: What can I learn?" she said.
That first job, while just an operations role, allowed Marchant to reevaluate what she wanted to do and how she could apply her previous skill set, in combination with her new skill set, to build a career in technology. She discovered that the way her mind observes and analyzes data is valuable in today's marketplace.
Leveraging and Enhancing Transferable Skills
Working for one of the largest tech companies in the world offered Marchant ample opportunities for career growth. She now takes what she learned in the data center to train those following in her footsteps. Her job is to help people feel comfortable in their role so they can excel – something she has first-hand experience with.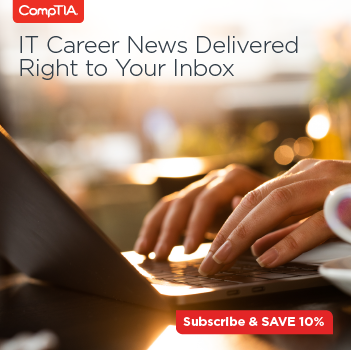 "Growth in the data center is absolutely skyrocketing," she said. "There's a need for people that can do this. Some come in with a lot of experience and some come in without any experience."
As a trainer, Marchant collects, analyzes and reports on data to measure the success of her program. To upskill, Marchant participated in the CompTIA Data+ pilot program when the certification debuted in early 2022. CompTIA Data+ is an early-career data analytics certification for professionals tasked with developing and promoting data-driven business decision-making.
CompTIA Data+ validates that certified professionals have the skills required to facilitate data-driven business decisions by mining data, manipulating data, visualizing and reporting data, applying basic statistical methods and analyzing complex data sets while adhering to governance and quality standards.
Looking Ahead and Making Plans
Looking back on her career to date, Marchant believes she was in the right place at the right time.
"Just thinking about the progress that I've made in the last decade is kind of remarkable and certainly was not planned. It wasn't premeditated. Tech was a completely new industry for me. I didn't know what a server was. I had never seen a hard drive. I didn't know what multi-mode, single mode, Y cable even meant," she said.
But with the skills she has added to her toolbox just in the last decade or so, she has been able to nearly triple what she earned as a librarian. And she says she isn't even close to her maximum earning potential.
"I am fortunate enough to work for a really large company that's growing a lot," she said. "My team is very supportive. There's a lot of room for opportunities and growth for me and the role I have right now. I absolutely see myself in a more refined role here. Maybe in the next eight to 12 months."
And while her career change was purely accidental, Marchant says it was still a scary experience.
"Change is inevitable. Looking to make a career change or an industry change, ultimately that's something that's going to be really scary and it's going to be really personal, but there's so much growth happening," she said.
Her advice to other career changers?
"Take what you know and start with the basics. Start where you feel comfortable because there is going to be a space for you no matter where you're coming from," she said.
Learn the skills you need with CompTIA CertMaster Learn. Sign up today for a free trial today!