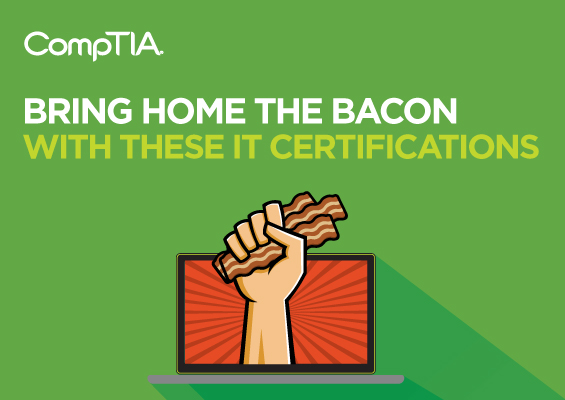 We know that IT certifications matter. But, it's always nice to have some third-party validation. The recently released 2018 IT Skills and Salary Report by Global Knowledge serves that validation up on a silver platter with its ranking of the top 20 highest-paying certifications.
The survey finds that in North America, the average salary difference between certified and non-certified IT staff is $15,913, or 22 percent. That said, it's no surprise that 89 percent of IT professionals worldwide hold at least one certification. Do you hold one or more of the top 20 highest-paying IT certifications?
The Top 20 Highest-Paying Certifications
(ISC)2 Certified Information Systems Security Professional (CISSP)
ISACA Certified in Risk and Information Systems Control (CRISC)
ISACA Certified in the Governance of Enterprise IT (CGEIT):
AWS Certified Developer – Associate
AWS Certified Solutions Architect – Associate
ISACA Certified Information Security Manager (CISM)
Project Management Institute Project Management Professional (PMP®)
Six Sigma Green Belt
COMPTIA PROJECT+
COMPTIA SECURITY+
ISACA COBIT 5 Foundation
EC-Council Certified Ethical Hacker (CEH)
ISACA Certified Information Systems Auditor (CISA)
Citrix Certified Expert – Virtualization (CCE-V)
VMware Certified Professional 5 – Data Center Virtualization (VCP5-DCV)
Scrum Alliance Certified ScrumMaster
Microsoft Certified Solutions Expert (MCSE): Server Infrastructure
COMPTIA NETWORK+
ITIL® v3 Foundation
Citrix Certified Professional – Networking (CCP-N)
Source: 2018 IT Skills and Salary Report, Global Knowledge
Read more about what Global Knowledge has to say about CompTIA certifications.
Project Management Pays
Certified project managers in North America have a leg up on their non-certified peers with average salaries above the norm. Ranking #9 on the list, those holding CompTIA Project+ earn an average salary of $87,416 in North America and successfully demonstrate expertise in managing the project life cycle, ensuring appropriate communication, managing resources and stakeholders, and maintaining project documentation.
Get the Official CompTIA Project+ Study Guide
Cybersecurity Scores Big
In the past three years of the Global Knowledge survey, certifications in cybersecurity hold the top spots for IT salaries. Of the top 20 highest-paying IT certifications, 6 are security certifications, including CompTIA Security+, ranking 10th on the list. In North America IT pros who hold CompTIA Security+ make, on average, $84,011. Since everyone in IT needs at least some exposure to cybersecurity these days, CompTIA Security+ prepares IT pros to problem solve a wide variety of issues.
Get the Official CompTIA Security+ Study Guide on Amazon
Foundational Skills Fortune
Three foundational certifications round out the top 20, including CompTIA Network+. With an average salary in North America of $73,785, CompTIA Network+ certainly gives you some bang for your buck. Ranking #18 on the list, CompTIA Network+ validates skills in IT infrastructure covering troubleshooting, configuring and managing networks.
Get the Official CompTIA Network+ Study Guide
Cloud Is Climbing
While CompTIA Cloud+ did not show up in the top 20 this year, Global Knowledge did highlight this certification as "new and emerging" of particular interest to early adopters and those who need to demonstrate cutting-edge expertise. The industry is recognizing the growing demand to validate one's expertise in more than one cloud environment to give certification holders the ability to stay ahead of the competition and widen opportunities.
Get the Official CompTIA Cloud+ Study Guide
The Value of IT Certifications
Overall, decision makers reported that certified team members troubleshoot issues and complete projects more quickly and have fewer skills gaps – especially notable among U.S. respondents. Like we said, this is no surprise to us, but in an industry where validation creates value, it's something to be excited about!
Thinking about getting CompTIA certified? Take our quiz to see which certification is right for you.