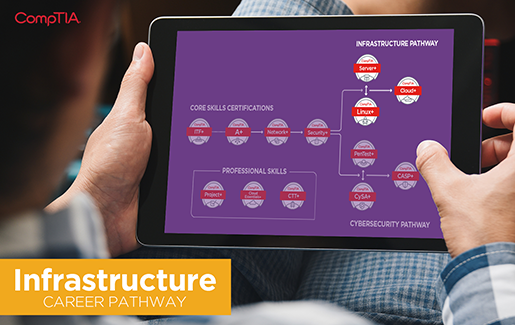 Infrastructure is the bedrock of IT operations. Security, mobility, agility and resiliency all depend on a solid network architecture. In order to implement, maintain and troubleshoot modern IT infrastructure, today's IT pros need skills in endpoint support, physical server maintenance, virtual system administration, network configuration and storage planning to support business needs, and security is a critical part of each of these responsibilities. The CompTIA Infrastructure Career Pathway aligns CompTIA certifications with the skill sets needed to support and manage IT infrastructure.
The complete CompTIA Infrastructure Career Pathway begins with the core skills certifications:
It then continues with three infrastructure-specific certifications: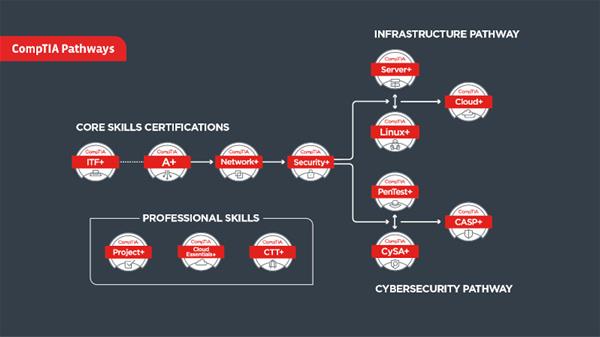 Build a Foundation with Core Skills
Working from network endpoints inward, CompTIA A+ focuses on user support and device connectivity. Its primary objective is to validate the skills needed to support a user and their ability to connect to the data they need to complete a task, from whatever device they're using. CompTIA A+ validates skills needed to support hardware and software for the devices that connect to the internet – whether the device is a PC, laptop, smartphone or IoT device.
While CompTIA A+ considers connectivity from the perspective of the user and their device, CompTIA Network+ takes the opposite view. It focuses on the connections from (and between) the core systems outward to the endpoint devices. It validates the skills used in managing and administering the connections that enable communications between and among systems and users.
No matter your job role within IT, an awareness of how your activities and work product impact an organization's security posture is a key part of your job. For IT infrastructure professionals, CompTIA Security+ validates baseline cybersecurity knowledge and skills. The cybersecurity skills gap cannot be closed by specialists alone; instead every IT pro will need to gain cyber competencies. This distribution of security knowledge best equips an organization to mitigate risk in an age where every organization is a digital one.
The CompTIA Infrastructure Career Pathway
CompTIA Server+, CompTIA Linux+ and CompTIA Cloud+ complement CompTIA Network+ with a focus on the systems themselves. Those systems may be on-premises, hosted or in the cloud. They may be owned or rented, entirely or in part. They are likely virtualized, but for some use cases, they are not. Nevertheless, servers and workload management remain a core component of systems operations.

CompTIA Server+ validates the knowledge and skills required to build, maintain, troubleshoot, secure and support server hardware and software technologies with a focus on physical server administration. It ensures that today's IT pros have the necessary skills to work in data centers, server rooms and cloud environments.
CompTIA Linux+ adds on facility with administering the Linux operating system – the dominant OS in the data center. It offers a comprehensive approach to designing, deploying and managing Linux systems. CompTIA Linux+ covers everything from how to configure systems and navigate command lines to how to customize your environment and create simple scripts.
CompTIA Cloud+ expands into virtual systems administration and hybrid cloud operations with a focus on deploying cloud computing solutions shaped to meet business requirements. It requires the ability to implement and manage the right combination of compute, network and storage resources to realize the benefits of rapid elasticity, robust self-service and measured use.
Your Next Move

The CompTIA Infrastructure Pathway helps you identify the next move for your career. Whether you're a help desk technician, systems administrator or database administrator, use the pathway to identify what direction you want to take your career and understand the skills you need to get to the next level.
Ready for your next move? Subscribe today and save 10% on your next CompTIA training or certification purchase.