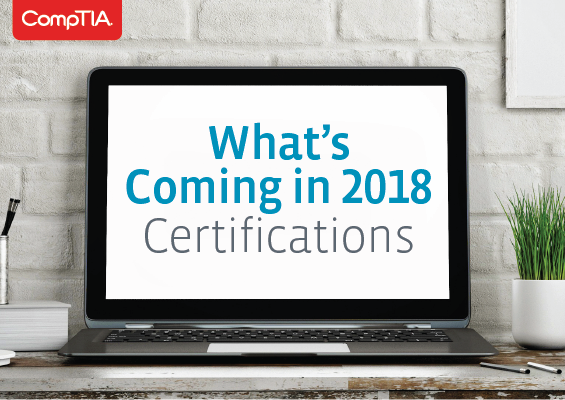 It's a new year, and CompTIA has a lot of exciting things planned, not only with certifications, but also with events, research and the CompTIA Association of IT Professionals (AITP). Whether you're looking to get certified, improve your IT skills, stay up to date on everything technology or connect with other IT pros, CompTIA has you covered. Here are the top 10 things we think IT pros will want to watch for in 2018.
CompTIA Career Pathways

As you may know, the CompTIA Cybersecurity Career Pathway helps IT pros achieve cybersecurity mastery, from beginning to end. This year, we're introducing the full CompTIA Career Pathway and the CompTIA Infrastructure Career Pathway to include more career options. The CompTIA Career Pathway includes core skills certifications, which lay the foundation for a successful IT career, no matter what path you take. The CompTIA Infrastructure Career Pathway will focus on the skills needed to create, manage and support a solid IT infrastructure within any organization. Watch for more details on the CompTIA Infrastructure Career Pathway next month.

Stackable Certifications

IT pros who have more than one CompTIA certification may now qualify for stackable certifications, which demonstrate you have the knowledge and experience needed to grow in your career. For example, CompTIA Linux Network Professional (CLNP) means you have CompTIA Network+ and CompTIA Linux+, and CompTIA Secure Cloud Professional (CSCP) means you have CompTIA Security+ and CompTIA Cloud+. Take a look at the list and plan your next move based on the pathways or stackable certifications that interest you.

New Certification: CompTIA PenTest+

This summer, CompTIA will release a new intermediate-level cybersecurity exam to complement CompTIA Cybersecurity Analyst. CompTIA PenTest+ (CPT) validates vulnerability assessment and management skills. Whereas CompTIA Cybersecurity Analyst addresses defensive "blue team" skills, CPT addresses offensive "red team" skills. The combination of penetration testing and vulnerability management in CPT means IT pros not only find and exploit vulnerabilities, but manage them to protect their organization's network.

Updated Certifications

CompTIA continually updates its certifications to make sure they address the current needs of the IT industry. This year, you can watch for updates to a number of our certifications. First up is CompTIA Cloud+ in February. This will be a completely new Cloud+ exam, as the objectives have evolved from building cloud-based infrastructure as a service (IaaS) offerings to managing cloud technologies and weaving solutions together to meet business needs. In March, the update for CompTIA Network+ will include critical security concepts and cloud computing best practices as well as virtualization, disaster recovery and network resiliency.

CompTIA Learning

In 2017, we began rolling out CompTIA CertMaster CE, a self-paced learning product that allows you to quickly renew your certifications. In 2018, we'll launch more versions of CertMaster CE to include more of our certifications as well as some exciting new products. Stay tuned to see how CompTIA can help you learn and grow even more in your IT career.

IT Pro Webinars

CompTIA will continue to host quarterly IT Pro Webinars, where you'll hear from experts in the field and earn CEUs toward the renewal of your CompTIA certifications. We're also introducing a webinar series where CompTIA Chief Technology Evangelist James Stanger will share his presentations and observations from various industry events. And, of course, there's the CompTIA Plus Virtual Conference – a full-day webinar that earns you CEUs and prizes.

CompTIA Research

CompTIA's research team keeps its finger on the pulse of what's happening in IT – everything from emerging technology to employment trends. In the first quarter, we'll release our 2018 IT Industry Outlook, which identifies the key trends and growth drivers shaping the IT industry and workforce. This serves as your definitive guide for where tech is today and where it's headed. Watch the Insight & Tools section of the website for the latest research.

The Technology Community

More and more, we're bringing people together who want to bring new technologies to market like cloud offerings, smart cities, the internet of things (IoT), artificial intelligence (AI) and augmented/virtual reality (AR/VR). Focusing toward the future and helping companies make successful transitions is where we have a huge role to play. To that end, CompTIA is launching three new advisory councils in 2018 and will host a number of live events for technology professionals to connect, including the D.C. Fly-In, CompTIA Community Forums, ChannelCon and EMEA.

CompTIA AITP

CompTIA AITP chapters host a range of events where students, tech professionals and CIOs can connect, share knowledge and shape their local IT industry. From hackathons to golf outings and chapter meetings to networking events, CompTIA AITP members have the opportunity to meet local influencers and give back to the technology community. Later this year, CompTIA AITP will host large, regional events across the country as well as a series of webinars to help you see how CompTIA AITP can boost your IT career. Watch the CompTIA AITP website for details about in-person and virtual events.

Creating IT Futures 20th Anniversary

This year marks the 20th anniversary of Creating IT Futures, CompTIA's tech workforce charity. Creating IT Futures is currently focused on two main endeavors: IT-Ready, its free eight-week, classroom-based tech training program for adults, and NextUp, its initiative to inspire more middle schoolers to seek tech careers. IT-Ready is one of America's most effective job training programs with an 88 percent graduation rate and 86 percent job placement rate. In 2017, IT-Ready expanded to Charlotte, NC, and plans to add more locations in 2018. NextUp, which interfaces with students via partnership, will add a new partner, the Technology Student Association, in 2018.
We're looking forward to a great year and have a lot in store to help you grow and advance in your IT career. Whether its certifications, continuing education, research or community, CompTIA has what you need to get to the next level.

Sign up today to get 10 percent off your next CompTIA exam voucher or learning product.