People prepare for IT certifications in a number of ways, using a number of tools. Some take classes, while others self-study with books, videos, eLearning and more. There's no one way to get certified, but no matter how you go about it, following these five basic steps will set you up for success.
Step 1: Build Your Knowledge
An IT certification validates knowledge that you already have, so your training journey needs to start with gaining that knowledge. If you're already working in the field related to your certification, you likely have some, if not all, of this knowledge. But everyone can benefit from a refresher.
Self-study training products come in all shapes and sizes – from exam objectives and practice questions to free online videos to books to eLearning courses. The most successful CompTIA certification candidates use a combination of these to get a well-rounded experience and cover all the bases.
CompTIA CertMaster Learn is a comprehensive, self-paced eLearning environment that uses videos, assessment and performance-based questions to prepare you for your certification exam. The system designs a personalized learning plan based on your completion goal – for example, the date of your certification exam. This plan keeps you on track with your studies while allowing you to work at your own pace.
CompITA CertMaster Learn includes hundreds of practice questions, flashcards to reinforce vocabulary and acronyms, achievement badges and confidence-level assessments so you can identify the topics you are sure about and the ones you need to look at more closely.
After you complete all of your lessons, you'll take a 90-minute, 90-question final assessment that brings together everything you've learned.

See what Du'An Lightfoot of #LabEveryday has to say about CompTIA CertMaster Learn.
Step 2: Gain Hands-On Skills
What Is a Performance Certification?
CompTIA performance certifications validate the skills associated with a particular job or responsibility. Performance-based questions include simulations that require the test taker to demonstrate hands-on skills, proving their ability to not only know what a job entails, but to actually do it.
CompTIA performance certifications require candidates to complete performance-based questions during their certification exam. Before you take your certification exam, make sure you've practiced the hands-on skills that will be assessed.
You may already have these skills from your job, or you may be able to practice on your home computer or by helping family and friends. You can also practice with a virtual lab, like CompTIA CertMaster Labs.
CompTIA CertMaster Labs helps you gain hands-on experience using a wide range of technologies in a self-paced, pre-configured browser-based environment so you can put your knowledge into practice. With CompTIA CertMaster Labs, you aren't simulating – you're actually working on live servers hosted in a data center.
CompTIA CertMaster Labs includes a set of lab guides that can be completed in any order. Each guide contains instructions on how to configure or administer the devices and software in a specific way. They present real-world scenarios – from basic configuration to troubleshooting – based on CompTIA exam objectives, taking you through tasks step by step.
After completing the exercises outlined in the guides, you can use the platform to do tasks on your own. CompTIA CertMaster Labs allows you to manage real server equipment, workstations and networks and monitor their status in real time.
Step 3: Prepare for Your Exam
When it comes to high-stakes exams, like those for IT certifications, knowledge is only half the battle. The pressure of the testing environment can get into your head. Knowing what to expect before you walk in will help set you up for success. After you've gained the skills and knowledge covered by the exam, you want to be able to test with confidence.
CompTIA CertMaster Practice, the original CertMaster product, is designed for exam prep. As you answer hundreds of questions based on CompTIA exam objectives, this adaptive knowledge assessment tool moves quickly through things you already know and focuses on knowledge gaps so you can efficiently master the content during your study sessions.
It identifies your strengths and weaknesses and provides repetition and remediation until you've successful mastered all the concepts. CertMaster Practice also helps move the things you know well from short-term to long-term memory, so you're more likely to recall them during your exam and on the job.
As with CompTIA CertMaster Learn, you can rate your confidence on each answer to tell the system what areas you feel like you need to work on more. Accessed online or through a mobile app, you can study anywhere and at any time.
Step 4: Test with Confidence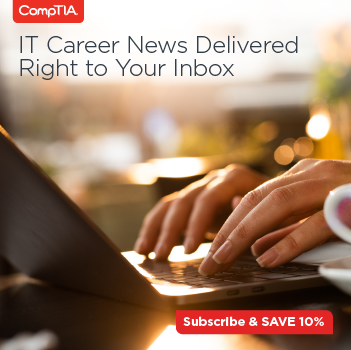 You've gained knowledge, practiced your hands-on skills and prepared for your exam. Now it's time to get certified. Read the exam polices in advance, get a good night's sleep, give yourself plenty of time to get to the exam room and don't be tempted to cram at the last minute.
If you've fully completed the steps above, you can go in knowing that you're prepared and ready to prove you have the skills employers are looking for. And if you don't pass, don't get discouraged. It happens to the best of us. IT certification exams are not easy – that's why there are so many tools and resources available to help you prepare. Many people who don't pass on the first try do so with flying colors the next time. Don't give up.
Step 5: Continue Lifelong Learning
IT jobs and the skills needed evolve as quickly and frequently as the technology they use. This is one of the reasons many CompTIA certifications are renewed every three years and have a continuing education (CE) requirement. We want to help you stay up to date on the skills you validated with your certification so you can remain competitive in the job market and continue growing in your career.
CompTIA CertMaster CE allows you to fully and automatically renew your certification. This self-paced online course builds on the skills you demonstrated when you first earned your certification and integrates topics from the most current exam objectives to help you stay current.
Similar to other CertMaster products, CompTIA CertMaster CE makes a learning plan for you based on your completion goal. We recommend setting this as a date prior to your certification's expiration date. The flexible eLearning environment takes you through lessons that integrate the newest topics from the field with the base of knowledge you already have. You can choose to review as much as you need, and when you feel ready, you'll take an assessment. After passing all assessments with 100 percent, your certification automatically renews.
Why CompTIA CertMaster?
Whether you are just starting to prepare for your certification exam or looking to keep your existing certifications current, the CompTIA CertMaster suite of products offers a training option for wherever you are in your learning journey. Built using the latest in learning technology, CompTIA CertMaster products align with current CompTIA exam objectives and can be accessed from anywhere with an internet connection, delivering an experience that is interactive, engaging and designed to help you meet your goals.
Ready to get started? Bundle CompTIA CertMaster products with your exam voucher – some bundles even include a retake voucher just in case.